"I Like to Pop Wheelies": 'Daredevil' Michael Jordan Rode A '210mph' Ducati in His MotoGP Debut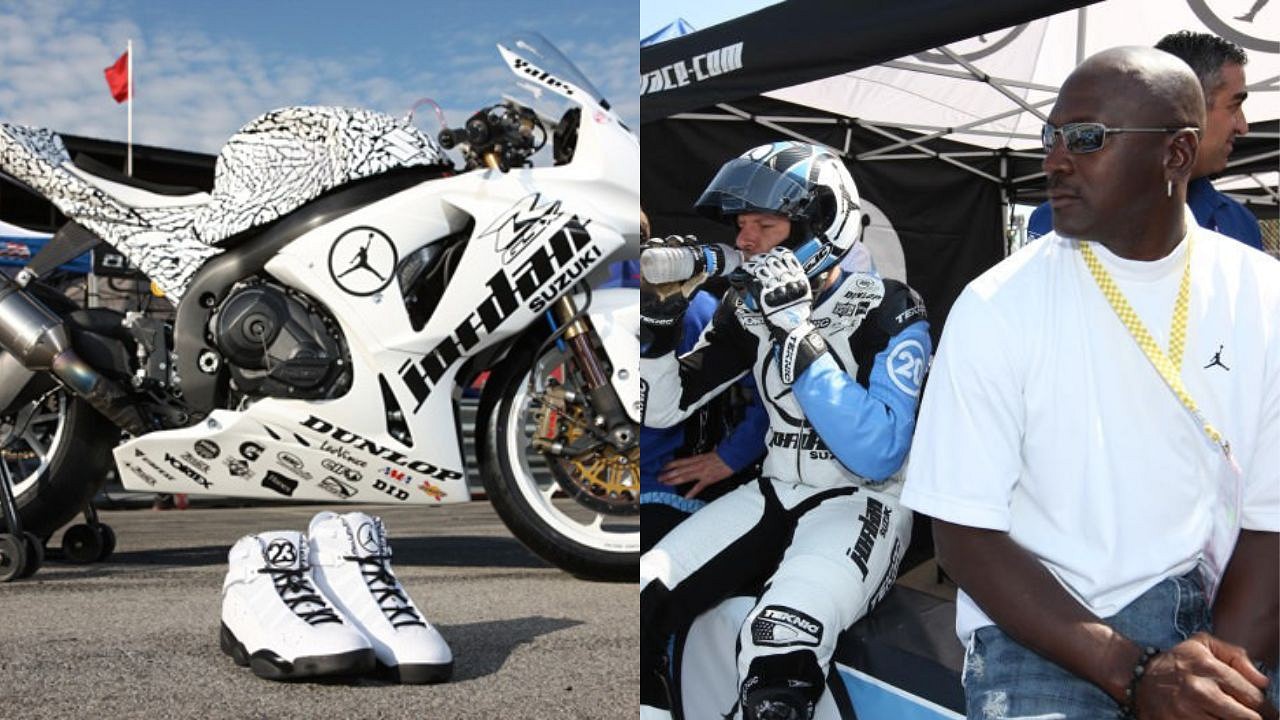 When people think of Michael Jordan, they rarely imagine motorcycles and race tracks. Although his recent success in NASCAR has brought him back to the racing scene, this isn't Jordan's first tryst with the sport. Back in the day, MJ was a huge motorcycle enthusiast. He admittedly often raced motorcycles when he was 12 until one day he crashed it. James and Deloris soon sold the bike thus ending Jordan's early dreams of being a daredevil.
Even when he became a successful athlete, MJ couldn't ride bikes because of his NBA contract and athletic career. Racing motorcycles on a track was too risky a business for a player carrying the hopes and dreams of an entire city on his shoulders.
In 2003, after retiring for the final time, Jordan got back into motorcycles. He quickly upped his skill. Soon, MJ had the craving to ride superbikes. His craving led to an unofficial MotoGP debut. Just MJ things.
Also read: "Michael Jordan threw away a $10 million check and said f**k off": Gilbert Arenas recalls how MJ received the boot from Washington
Michael Jordan rode a Ducati on a MotoGP track
In October of 2004, having finally retired from professional sports, Michael Jordan fulfilled a long-lost dream. He traveled to Spain in his private jet to watch the Valencia Grand Prix. The Spanish track is the last track of the season. Because the season was officially coming to an end, there was an air of celebration.
MJ's charismatic arrival only added to it. Sete Gibernau, a 9-time MotoGP race winner, convinced Michael Jordan to take control of Randy Mamola's Ducati Desmosedici which can reach speeds up to 210 miles per hour during a MotoGP race. Jordan rode four laps around the famous track. He was accompanied by MotoGP racer Sete, Kenny Roberts Junior, Colin Edwards, and Kurtis Roberts. Jordan was quite ecstatic about the spontaneous plan and spoke to the media with a certain childlike glee.
Jordan: "It was Sete who talked me into it! That was fun, but I only got it up to fourth gear, I can't imagine what these things are like wide open in sixth!" Michael continued: "The straightaways were no problem, but I was trying to find the markers for the corners, then I had these other guys riding alongside tapping me on the leg! These things have so much power, I was trying to pull a wheelie, but in the end I was a bit too afraid, so I just started waving! I guess you could say I need a bit more time to get used to all that power."
MJ started racing on motorcycles when he was 12
Michael Jordan once confessed that when he was 12, he, along with his brother, would race neighborhood kids on their motorcycles. He had a small one that he had to share with his brother. Their motorcycle was however snatched away once they got into an accident. But his love for bikes prevailed and Jordan got back into it after winning his first championship with the Bulls.
He claimed that the team had gifted Phil Jackson a Harley which rekindled the love for Motorcycles in MJ's heart. However, he did not ride properly until his final retirement from the NBA. Soon, Michael was doing everything he loved. Pulling Wheelies and stoppies on motorcycles.
Also read: What is Michael Jordan's Complicated 10 Year/$1 Million Divorce Clause With Wife, Yvette Prieto?
---
Share this article