Just 5 Days After His Father's Passing, Magic Johnson Turns 'Genie' and Mocks Charles Barkley in this Funny March Madness  Advert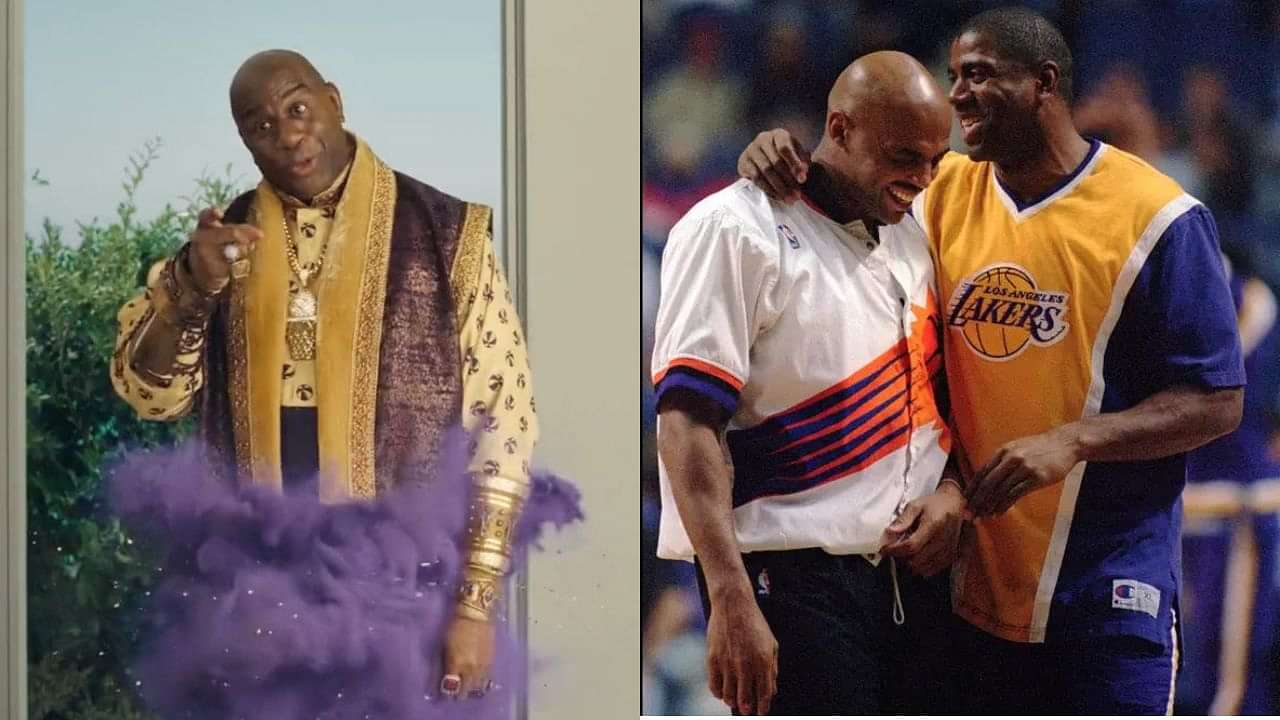 Magic Johnson is always one to see the bright side of things. The Los Angeles Lakers legend has gone through a bout with AIDS and he is still dealing with it. Just 5 days after his father's untimely demise, he is back in an advert. And thankfully, it will lift spirits for a moment or two.
It is time for March Madness and adverts are the need of the hour. Just ask any capitalist in the country and they will tell you the value of having ads in time for the NCAA extravaganza.
There is perhaps no attraction bigger than this one during the spring. The precursor to the NBA playoffs, March Madness marks a time when things get serious in the world of basketball.
But for Magic Johnson, who is also worth a whopping $600 million, it is time to appear in adverts and cash in some checks.
Also read: "I Was No. 1 in the State": Michael Jordan's Son Marcus Boasted of Being a Prodigious Basketball Talent
"Choose wisely": Magic Johnson is now a genie as he fulfills Charles Barkley's wish and mocks him!
Charles Barkley is in on the March Madness fever as he stars in the advert for Capital One Bank. But the real star is Magic Johnson, who is the genie inside Charles' magical lamp, the March Madness lamp.
Magic then pops out and grants Charles' wish, but before that, he gives an ominous warning. Just watch the whole clip, and we promise you'll find it funny.
Loading embed tweet https://twitter.com/MagicJohnson/status/1635747632143536141?ref_src=twsrc%5Etfw
The wish is granted and it is Charles getting wings but not the ones he loves to eat. We love this joke!
Also read: "They Come To the Door, They Ring the Bell": Juanita Vanoy Revealed Why Michael Jordan Built a $14.9 Million Mansion in Chicago
Magic Johnson's father and his untimely demise
While Magic might be back in social media and is already cheering his audience up. We think he might still be reeling from the loss of his father.
A person he described as his idol. Johnson's dad was perhaps the ideal representation of what it means to be one. To support your kid when all the chips are down is nothing short of heroic.
From us all, we'd also like to salute a father like him. Rest in Peace Earvin Johnson Sr.
Loading embed tweet https://twitter.com/MagicJohnson/status/1633830554545319942?ref_src=twsrc%5Etfw
Also read: Having Never Played 1v1 For $1 Million, Shaquille O'Neal Once Admitted Hakeem Olajuwon Was Better Than Him
---