"They Come To the Door, They Ring the Bell": Juanita Vanoy Revealed Why Michael Jordan Built a $14.9 Million Mansion in Chicago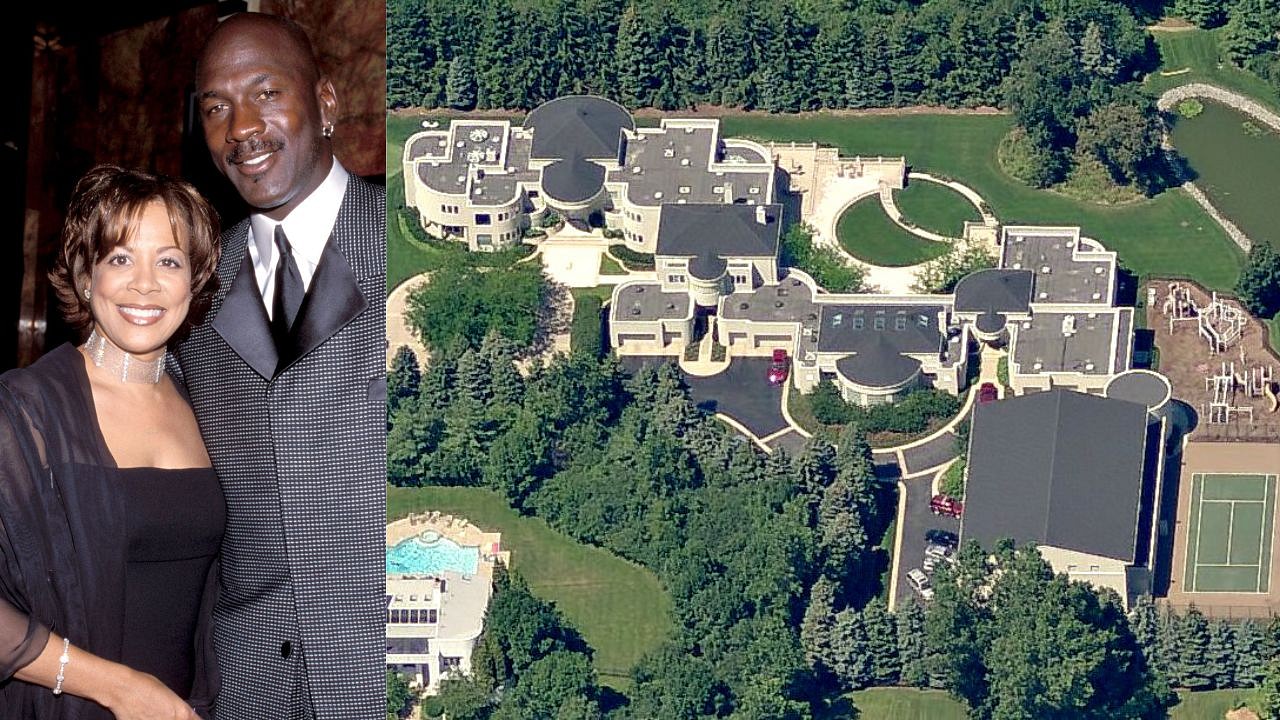 Michael Jordan is one of the richest men on planet earth. His Airness, who wowed NBA fans for 15 seasons has accumulated a lot of wealth over the course of his career. To the point, where he now has a massive net worth of $2.2 billion. So, what does the six-time NBA Champion spend his money on?
Well, one of his earliest purchases was back in his playing days with the Chicago Bulls. A beautiful $14.9 million mansion in the Windy City. One that his ex-wife Juanita Vanoy revealed was bought because fans would always ring the doorbell for an autograph.
Also Read: "Michael Jordan and Kobe Bryant Never Had NBA Friends": Giannis Antetokounmpo Revealed His Strategy To Maintain His Edge
MJ's ex-wife Juanita Vanoy revealed that a $14.9 million Chicago mansion was bought because of the fans
In 1992, Michael Jordan and his then-wife Juanita Vanoy purchased a plot of land in Highland Park, Illinois. It was upon this land, that the couple built their infamous Chicago mansion. An amazing 56,000-square-foot estate estimated to be worth $14.9 million.
But, why exactly was the mansion bought? One would think that it was just Jordan buying a property that he could call home. After all, he had spent eight years of his life in the Windy City.
However, the truth is far more interesting, as Vanoy revealed in an interview. According to her, the couple made the purchase due to the lack of privacy they faced, with fans coming up to their door and ringing the bell. All for a glimpse of His Airness and maybe an autograph.
"Well because right now we really don't have any privacy where we are. And, we constantly have people coming to the house and they're asking for autographs. They come to the door and they ring the bell and it's distracting. I draw the line when people start to come to the home. And, if I don't do that we will never have any privacy. We have to have some and that's where I draw the line."
Well, safe to say Juanita had no such problems in the mansion. The estate had a massive gate with No.23 on it keeping nosy fans away. And, that wasn't the only feature it boasted.
Michael Jordan outfitted the mansion with some of the coolest features available
A gate to keep intruders out isn't the only amazing thing about Michael Jordan's mansion. It also includes a home theatre, a fireplace, a concrete patio, an infinity pool, nine bedrooms, a regulation-sized basketball court, a card room, a home gym, a tennis court, and a putting green.
INSIDE MJ'S HOUSE: Originally listed in 2012, Michael Jordan's $14 million Chicago area mansion has still not sold. 😱😱

MJ once offered a pair of every edition of signature Air Jordans as an incentive to prospective buyers.

🎥 IG: beverlyhillsrealestate pic.twitter.com/KQQKmQBI9c

— Sole Retriever (@SoleRetriever) January 21, 2023
Talk about a tricked-out mansion. It has it all and is available to anyone willing to shell out $14.9 million for probably the biggest piece of Jordan memorabilia.
Also Read: Is Joel Embiid Copying Michael Jordan? Kobe Bryant's Emulation of Bulls Legend May No Longer Be the Best
---
Share this article