"Kevin Durant Is Going To Get Drug Tested For That": Markieff Morris and 'Slim Reaper's' Handshake Has NBA Twitter Speculating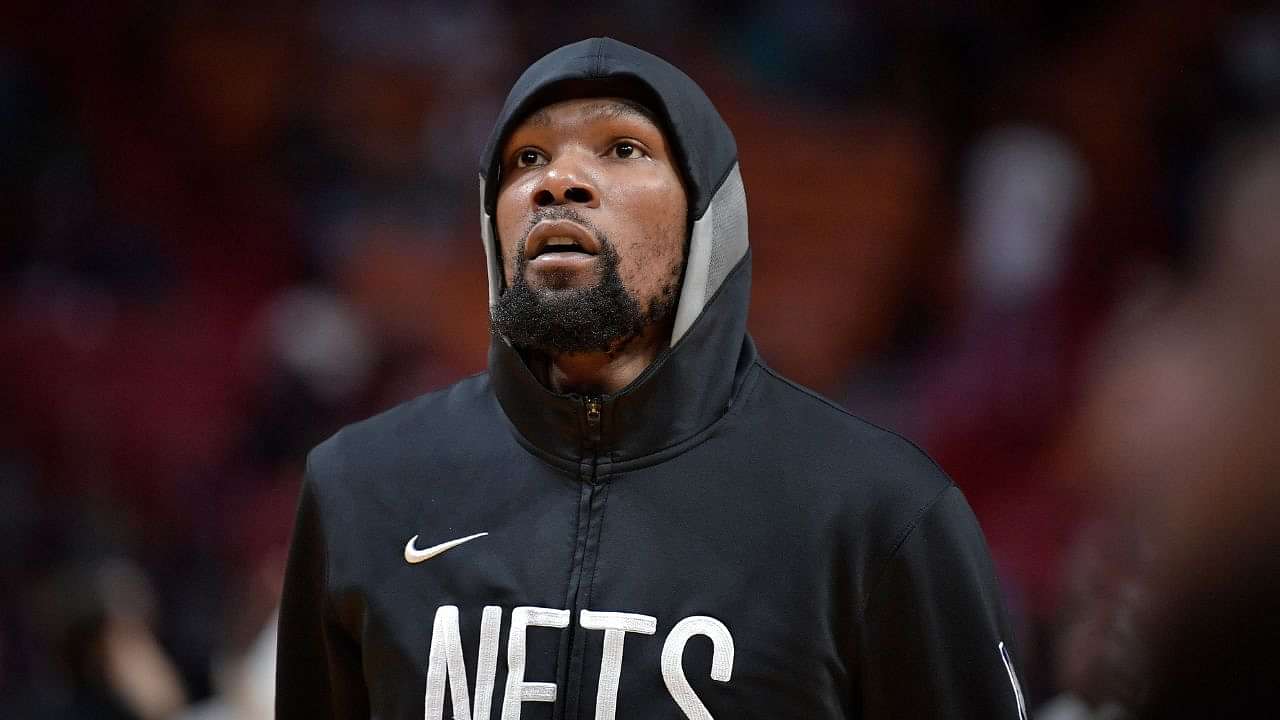 Kevin Durant has been leading the Brooklyn Nets to greatest regular season stretch in Nets history. They recently had an 18-2 stretch of games, making it the first time this has happened since the franchise's inception. This is quite remarkable considering just how much negativity was surrounding the roster over the summer. 
Durant made headlines over this past offseason when he not only demanded a trade out of Brooklyn, but also called for the firing of both Steve Nash and Sean Marks. However, he would eventually rescind his trade request and return to the Nets to start of their 2023-24 campaign. 
Despite all of the drama from the summer, it seems as though the Nets players never took it personally against KD. They have welcomed him with open arms and putting their ego aside has helped given just how well the Nets have been playing as of recent.
Also read: Kevin Durant All-Star Game Stats — Numbers Behind the Slim Reaper's 12 Appearances In the Annual Exhibit
Kevin Durant and Markieff Morris's handshake goes viral
Chemistry is one of the biggest factors for a championship contending team and the Brooklyn Nets seem to have every last bit of it. In this stretch of constant of wins for them, they look as happy as they can be, both while playing and while cheering from the sidelines. 
Kevin Durant has been a major catalyst for this and it makes sense as to how. If the leader of the pack of is in good spirits, so will the rest of the team. A perfect example of this would be him casually trying to make a new handshake routine with Markieff Morris during shootaround. 
Though, the handshake is a bit suggestive as KD looks to be rolling a joint and putting it behind his ears in the handshake. In fact, this is the entirety of the handshake. Morris also repeats the same action. It's a solid handshake but it's got NBA Twitter thinking that a drug test is coming real soon for KD and crew.
Loading embed tweet https://twitter.com/hoops_bot/status/1613621387314495488?ref_src=twsrc%5Etfw
Kevin Durant getting drug tested is highly unlikely
Kevin Durant getting drug tested is obviously a joke in the context above. And even if it wasn't, it would never happen, especially due to the nature of a handshake. 
The NBA, for the 3rd season in a row, will not be randomly drug testing players for the presence of marijuana in their system. While marijuana is still banned, without any obvious reason to test somebody, the NBA will not.
Also read: "Don't be a F***ing Crybaby": Kevin Durant Got a Vulgar and Rude Awakening from Kobe Bryant
---