Known for Hating Active Big Men, Shaquille O'Neal Shockingly Praises Anthony Davis For Breaking His Record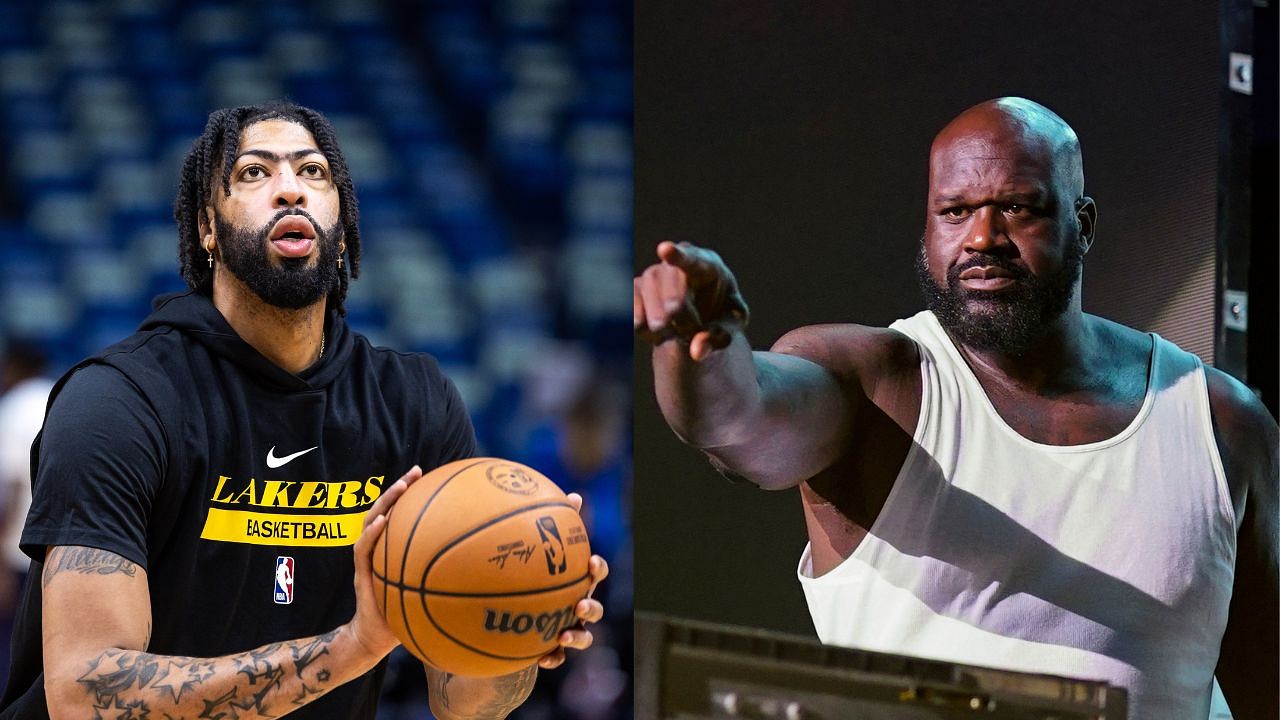 Shaquille O'Neal is a generational talent. His on-court dominance remains unparalleled. During his peak, the 7ft 1″ giant made his matchups look like 'puny humans.' His superhuman strength combined with unhinged aggressiveness combined with his complementing skills and moves made O'Neal a legend.
Since his retirement, O'Neal has rarely been impressed by big men. Though recent times have seen the resurgence of centers in Nikola Jokic and Joel Embiid, O'Neal still often criticizes the league for not producing enough big men like they did in the past. When the league hyped Dwight Howard, Shaq was the first to criticize him. Perhaps his career as a legendary big man demands that he scrutinize current players even more.
That being said, Shaquille O'Neal has surprisingly broken his usual protocol for Anthony Davis. The Lakers legend shared his admiration for the current Laker star on his Instagram.
Also read: Josh McDaniels' Inability to Keep a Secret May Just Be Keeping Darren Waller and His Wife Kelsey Plum Far Apart
Shaquille O'Neal praised Anthony Davis on Instagram
In last night's game, Anthony Davis broke a long-standing Shaquille O'Neal record. He finally registered more 35+ points and 15+ rebound games than Shaq in the 2000s. The record does not account for any such games Shaq may have recorded before the 2000s.
AD scored 35 points last night against the Pelicans in just 33 minutes with 61.1% efficiency from the field. He also had 17 rebounds in the game. With this, AD pushed his total tally of such games to 35. Shaquille O'Neal posted a graphic of AD breaking his record on his Instagram. This is rare for O'Neal who has on several occasions attacked Davis.
 

View this post on Instagram

 
Anthony Davis has still not broken Shaq's all-time record
In all fairness, despite O'Neal's praise, this is merely a forced stat. In reality, Anthony Davis is still 3rd on the all-time list. He has registered only 35 games with 35+ points and 15+ rebounds. Shaq on the other hand has had 51 such games. The man in the second spot with 39 such games is O'Neal's NBA on TNT cast member Charles Barkley.
It's hard to imagine if Davis could actually break Anthony's record in the future. However, Charles Barkley's spot is certainly up for grabs. Anthony Davis could, by all means, rise to the second spot soon.
Also read: Years After Fining Stephen Curry $100/Turnover, Mother Sonya Curry Gets into a Tussle with Draymond Green
---
Share this article