"Kyle Kuzma, it's all about your growth": LeBron James heaps praise on Lakers forward after game-changing performance vs Indiana Pacers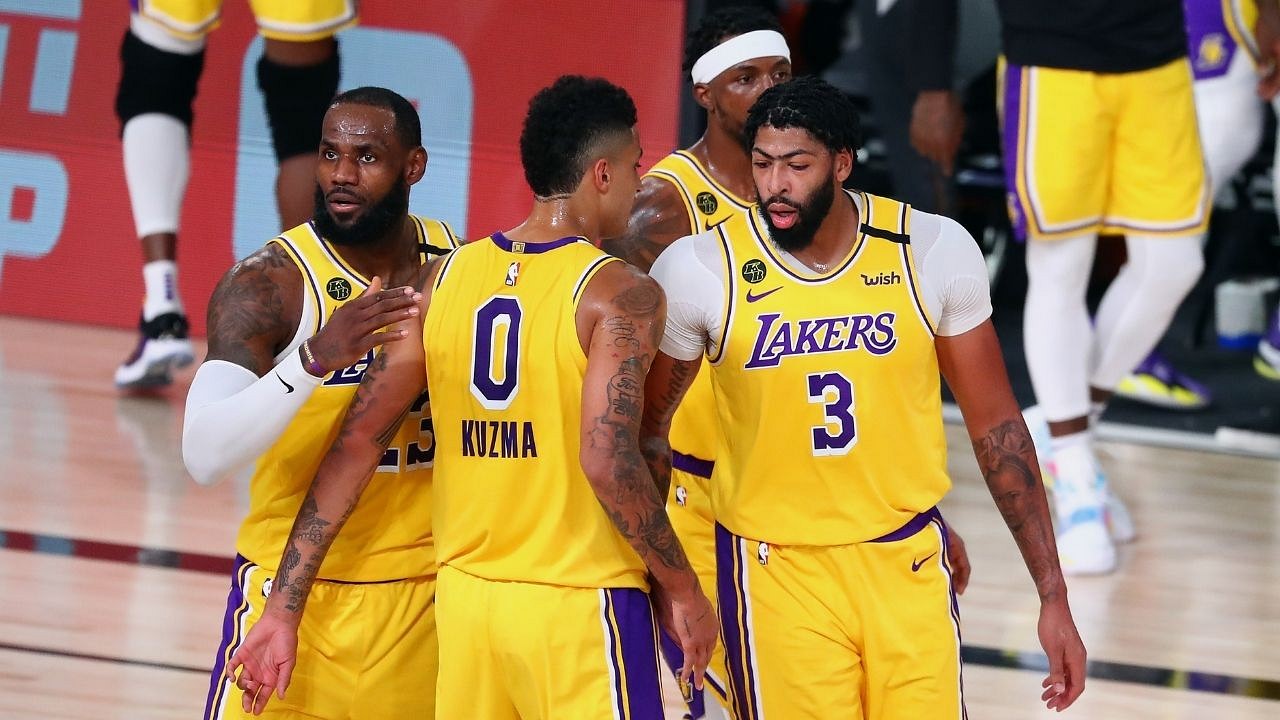 LeBron James applauds Kyle Kuzma on his performances in recent weeks for the LA Lakers in the absence of Anthony Davis.
Kyle Kuzma's abilities have almost always divided the opinions of those in the NBA community. The player was a huge surprise in his first year and had a very productive rookie campaign. But since then, the player has struggled to find himself at times, raising questions about his future with LeBron James and the franchise.
Also Read: Pelicans All-Star has more points than any NBA player in their first 60 games since the Bulls legend
Recently though, Kuz has been on a hot streak. Kuzma is currently averaging 11.8 points, and 6.8 rebounds on 44.4% from the field, and 37% from beyond the arc. These numbers may not pop off the page, but his impact on the team on both ends is beyond palpable.
Many different teammates of Kyle Kuzma have spoken out on how well he plays his role for the LA Lakers. And it seems the arguable greatest of all time has decided to join the party as well.
"It's all about growth": LeBron James praises Kyle Kuzma for improvements this season
Kyle Kuzma played a massive role in the LA Lakers' win against the Sacramento Kings. The players came off the bench to score an impressive 25 points for the franchise. He also added 13 rebounds to this, recording his 10th double-double of the season thus far.
"I'm just trying to be a beast defensively and a beast on the boards and offensively it's going to take care of it." @kylekuzma talks post-game with @LakersReporter after going for 24 points with 13 rebounds against Indiana. pic.twitter.com/3c4Mdd637g

— Spectrum SportsNet (@SpectrumSN) March 13, 2021
When asked about what he thought of Kyle Kuzma's performance during this game, this is what he had to say.
"It's all about growth, and the game has just slowed down every year for him…He knows his role with this team, and he does it to a high level, and tonight was another example of that."
Also Read: Wizards' play-by-play announcer casually indicts Sixers All-Star for his inability to score
Kyle Kuzma was also asked about his performance, as well as how he was fitting into his role. Speaking enthusiastically on the matter, he responded with this.
"I'm just trying to be a beast defensively and a beast on the boards and offensively it's going to take care of it."
Kyle Kuzma has proved to everyone that he can be an important piece on a championship team and has silenced all his doubters in the process. We just hope that the 25-year-old keeps improving and wins plenty more rings in the future.
---