Kyrie Irving to Lakers: NBA Insider Believes Trading Russell Westbrook Could Reunite LeBron James with 8x All-Star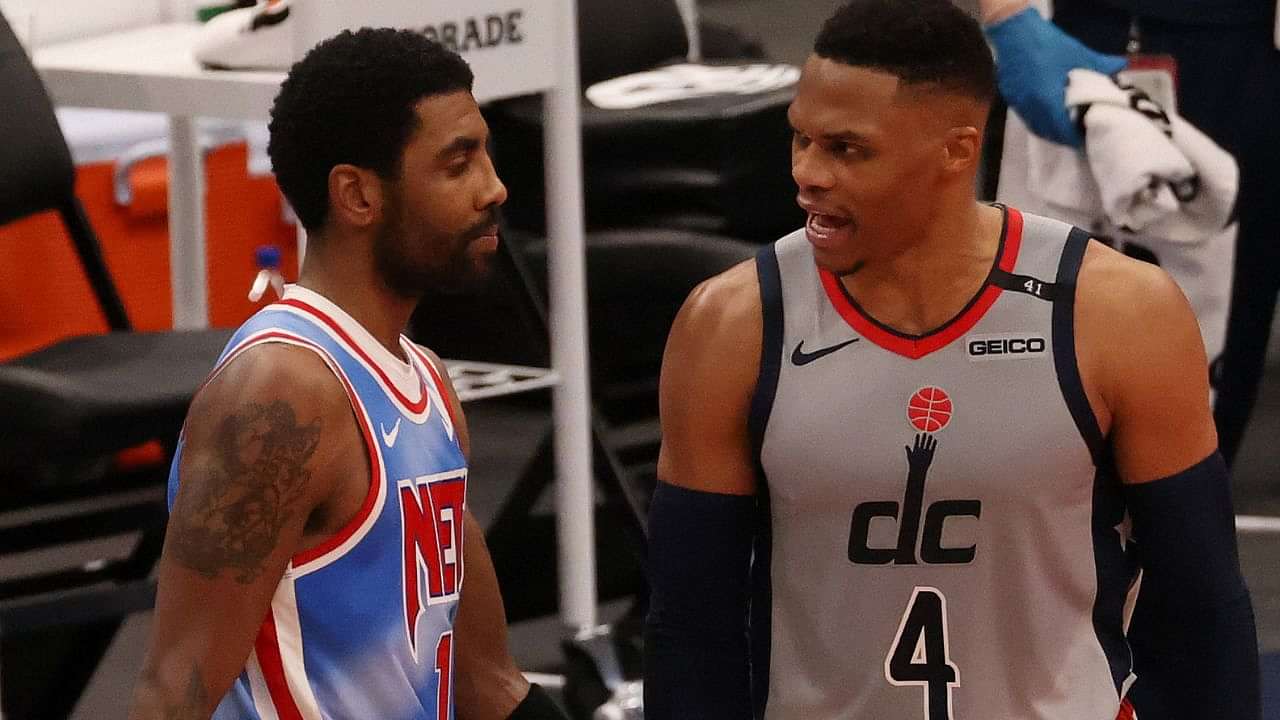 Kyrie Irving and the Brooklyn Nets are at an impasse. Again. For the New York-based franchise, this is the latest in a series of conflicts with the 8-time All-Star. Irving has been quite difficult for the team. That being said, they have not been too kind to him either. For a star of his caliber, the past drama aside, a team must secure loyalty. The Nets have failed to do so on multiple levels.
Now, their decision to not give Irving the contract to his liking has opened up trading avenues for a few teams in desperate need of a guard with Kyrie's skill set. The Lakers, who were also interested in Irving in the off-season, are again in the race to trade for the guard.
Loading embed tweet https://twitter.com/ShamsCharania/status/1621582468762460161?ref_src=twsrc%5Etfw
As per the Athletic's Jovan Buha, the Lakers are willing to part with their star guard and two first-round picks for Kyrie Irving.
Also read: "Kyrie Irving, this was supposed to be Michael Jordan Day": ESPN's Kendrick Perkins Blasts Nets All-Star For His Trade Request Bomb on 2/3/23
Lakers ready to trade Russell Westbrook and two first-round picks
Jovan Buha, in his article for the Athletic, suggested that a Kyrie Irving to Lakers trade is highly plausible. The suggested proposal would involve Russell Westbrook and two first-round picks. Of course, the Lakers will look to add lottery protection to at least one of the picks. This will ensure that in case they rank among the bottom 14, they can sign a highly valued first-round draft.
Buha wrote: "The framework of a potential deal would be Russell Westbrook and the Lakers' 2027 and 2029 first-round picks — with the Lakers pushing to add lottery protection to at least one of them — in exchange for Irving and another Nets role player (likely Joe Harris), according to those sources. Depending on how the Nets value the Lakers' picks and what happens with Kevin Durant in the wake of this news, the Lakers could reroute one of their picks to a third team, who would then send additional players to Brooklyn to help the Nets remain competitive."
So, it's safe to say, the trade for Kyrie Irving is now on. Even if the Nets do not want to receive Russell Westbrook, Rob Pelinka may attempt to work out a trade with a third party. Something that will make Sean Marks happy as well.
LeBron James and Kyrie Irving will be a great combination
James and Irving are easily the most formidable duo in Cleveland Cavaliers' history. Unfortunately, the domination of Stephen Curry-led Golden State Warriors limited them to just one championship.
In case the plan works out and the Lakers are able to get Kyrie Irving, the team would definitely benefit from their already-established bond. They both know each other's game well. Unlike Westbrook, Kyrie is also a much better shooter from the mid-range and the 3-pt range.
Basically, Kyrie is exactly the kind of guard the Lakers need right now. His hands-on defense and improved ability to get back for in-transition defense are also slightly better than Westbrook's making him not just a better offensive threat, but the perfect combo guard with LeBron James.
Also read: "We Know You From An Old Rap, Shut The F**k Up": Austin Rivers Goes At Mo Bamba Following Their Magic-Timberwolves Fight
---