"LeBron James is Out of the Walking Boot": Lakers Take on the Knicks as The King is Finally Back Courtside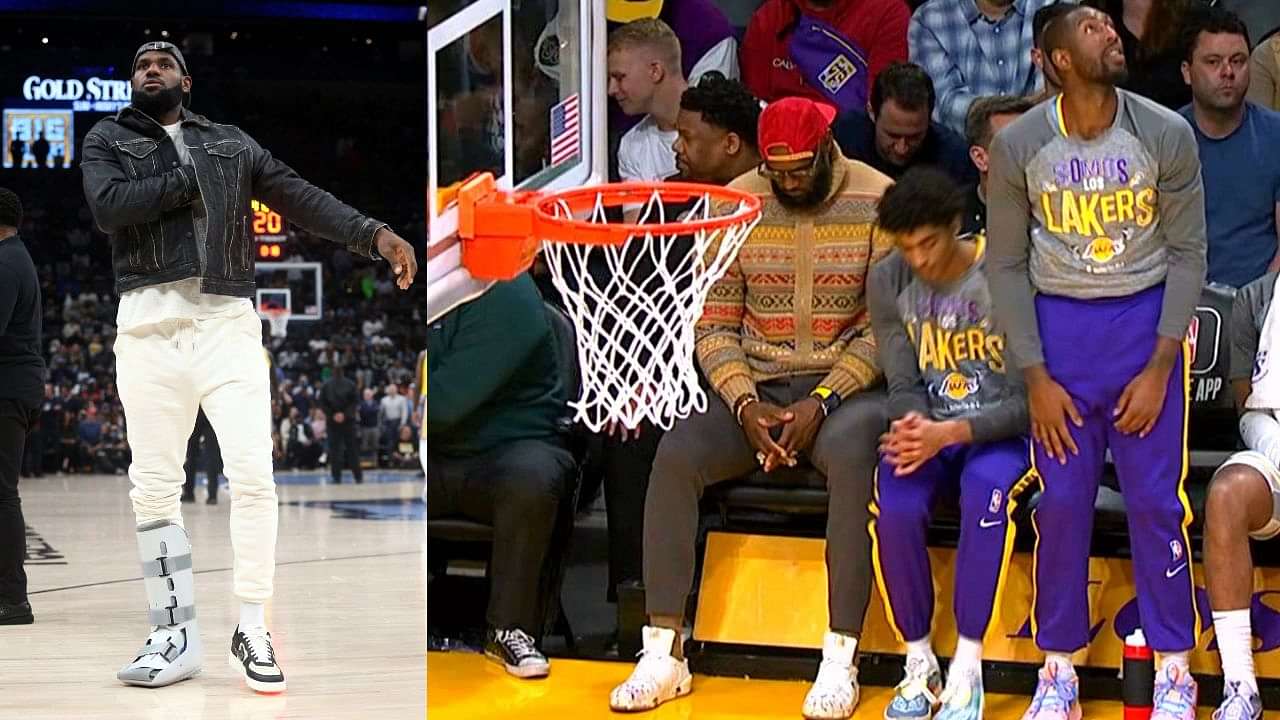 LeBron James was not a constant presence courtside since his foot injury that has made him miss 6 straight games. Although these no-shows were the first time since the 38-year-old has been in LA, people were questioning his absence.
It's not like he is the James of the old, he has been missing quite a few with the Lakers since 2018 compared to any of his previous 15 years. And he has been a consistent presence courtside all these years if not playing.
So, his absence from the courtside should not have been as much of a big deal as it became, so much so, that Darvin Ham himself had to explain the situation.
Also read: "How Do you Guard LeBron James?": Andre Iguodala Recalls When He Gained Respect for Andrew Wiggins as a Defender
LeBron James needed to 'unplug' according to Darvin Ham
Before the game against the New York Knicks on Sunday, the Head Coach revealed that the 4x champ is back with the team with his recovery as planned and that it was good for him to unplug a little bit.
Loading embed tweet https://twitter.com/mcten/status/1635083682338983936?ref_src=twsrc%5Etfw
James was also without the walking boot for the first time since his injury.
Loading embed tweet https://twitter.com/TreShonRouse/status/1635084461837787138?ref_src=twsrc%5Etfw
Having the team's leader courtside should be a motivation for the home team to put away the Knicks who are on a three-game losing streak while the Lakers themselves are on a 6-2 run since the All-Star break.
Also read: "LeBron James Asked My Fiancée If There's a Tic Tac In Her Blouse": Chael Sonnen's Drug Allegation on NBA Superstar Isn't His First
How would the Lakers look with James back?
There is something about Russell(s) not being able to play enough games alongside LeBron and AD for some reason or the other. We saw it with Westbrook and now it is happening with D'Angelo Russell.
The former Wolves guard has also missed 6 straight games, but since his return against the Raptors in the last game, Purple and Gold have looked different. He had 28 points and 9 dimes in a  122-112 win. And as we speak he has 23/5 against the Knicks at just halftime.
If they make it to the Playoffs with a fit LeBron James, the Lakers are going to be a problem for anybody in a 7-game series.
Also read: "I Slept 3 Hours a Day": Kobe Bryant Reveals Why He Had to Change, Despite Outworking LeBron James
---