"How Do you Guard LeBron James?": Andre Iguodala Recalls When He Gained Respect for Andrew Wiggins as a Defender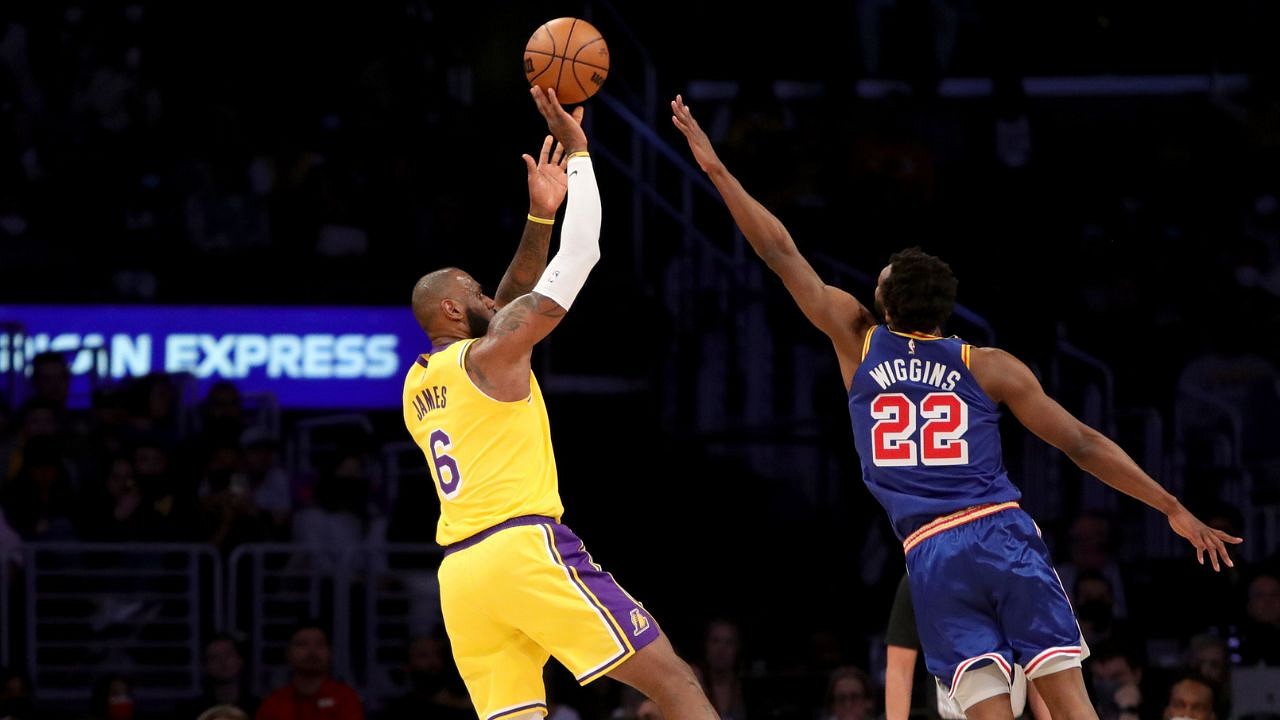 LeBron James is a freak of nature. His longevity and performance have put him in the stratosphere of basketball achievements. At 38, he broke Kareem Abdul-Jabbar's all-time scoring record. Fascinatingly, he did so while averaging 29.5 points per game. No other player apart from LeBron has managed to average 29 points after crossing the 37-year mark.
At 6ft 9″ equipped with his agility, explosiveness, and strength, James is virtually unstoppable on the court. He can score at will, cut through any defense, and post up rival big men. But, once in a blue moon, there are defensive players who can manage to stop even James. But players like James are challenges that help young talent to evolve.
LeBron became one such challenge for Andrew Wiggins. The Warriors youngster asked his veteran teammate Andre Iguodala for advice on how to defend LBJ. That is when Iguodala knew Wiggins was special.
Also read: "LeBron James Asked My Fiancée If There's a Tic Tac In Her Blouse": Chael Sonnen's Drug Allegation on NBA Superstar Isn't His First
Andre Iguodala helped Andrew Wiggins grow as a defender after the youngster asked for advice on guarding LeBron James
Iguodala is a certified Warriors veteran.  He has won four championships with the team and even won a Finals MVP. During the intense Warriors vs Cavs rivalry, Iguodala was one of the most ferocious GSW defenders. He was one of the few players who actually guarded LeBron James satisfactorily. So, it was only natural for Wiggins to ask him for help.
Iguodala, while on Club Shay Shay, told Shannon Sharpe he was impressed when Wiggins came to him for advice. The veteran recognized the potential in Wiggins and quickly developed a mentorship. Andre claimed he has since formed a bond with Andrew Wiggins.
Iguodala: "I remember one of our first game vs the lakers. Early in the season, we played LeBron. Wiggs [Andrew Wiggins] pulled me to the side and said 'I want some tips guarding LeBron.' I said 'oh, s**t, he listening.' This the type of player I like. A guy that ask me questions, to me that means he is listening. And from there me and Wiggs have built this great rapport."
Andrew Wiggins has fared well against LeBron
Wiggins has faced James 18 times in the regular season. Of those 18 appearances, Wiggins' team has emerged victorious only 5 times. Although this means LeBron has had far more success winning when facing Wiggins' team, it doesn't automatically undermine his performance.
In all the matches he has faced off against LeBron James and Co., Wiggins has managed to average 21.4 points while landing at least 2.6 threes per game on 47.9% efficiency. In conclusion, Wiggins has performed impressively even when matched up against a living legend.
With his defense becoming finer with every season, it is safe to say that Andrew Wiggins will, in the near future, be one of the best two-way players. Maybe someday he'll be able to shut down LeBron James completely. However, that day is not yet here. In the last two games LeBron has played against Wiggins, he dropped 56 points and 31 points. Moreover, James registered a double-double in both of these games. Unfortunately for Wiggins, it will take a bit more than Iguodala's advice to productively guard King James.
Also read: "Joel Embiid is So Much Better than Nikola Jokic!": Skip Bayless Childishly Dishes Out Sizzling Hot Take After Insane Game-Winner vs Blazers
---
Share this article