LeBron James Scoring Title: How Many Points Does the 6ft 9″ Lakers Star Need to Surpass Kareem Abdul-Jabbar?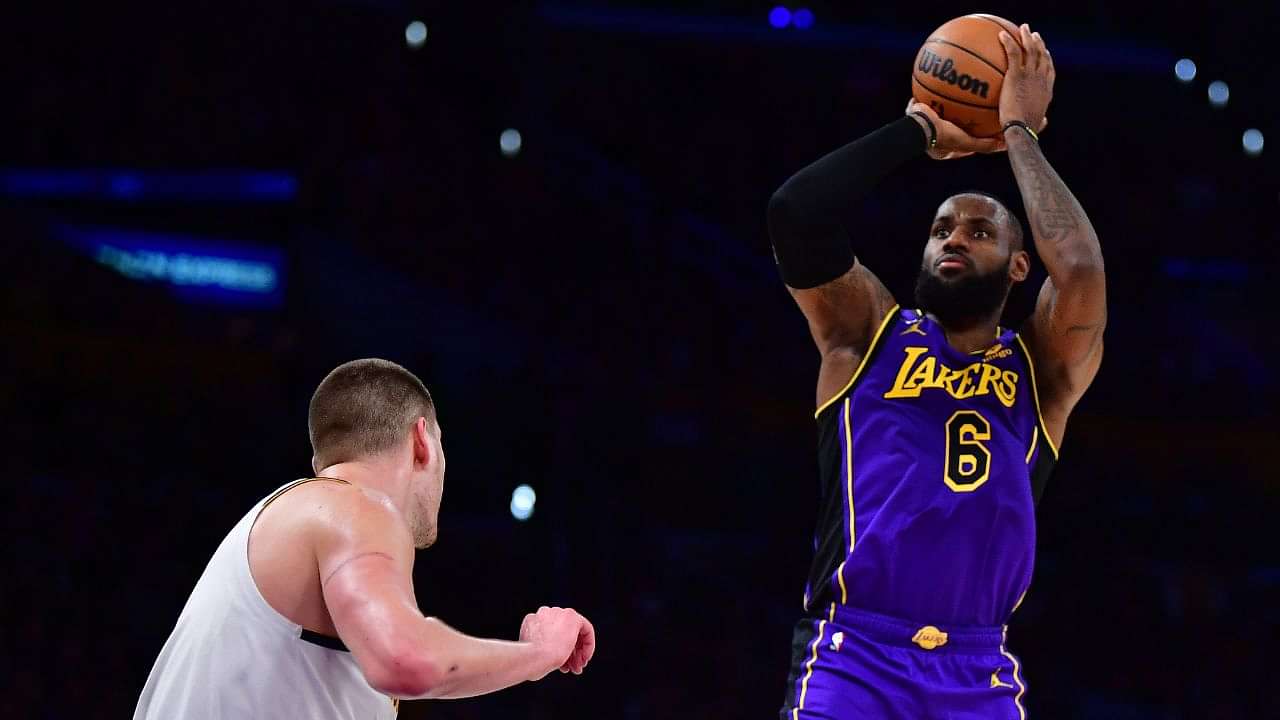 The Los Angeles Lakers pulled off a huge victory last night against back-to-back MVP Nikola Jokic and the Denver Nuggets. With Anthony Davis having to leave the game early, LeBron James led the team to a 126-108 win at home. This is their second win over the Nuggets this season in three contests.
LBJ led the Purple and Gold with 30 points, nine rebounds, and six assists. Russell Westbrook came off the bench with a 15-point triple-double. Along with the two stars, there were five other Lakers in double-digits, helping the team win their 12th game of the season.
With this win, and the thirty points, LeBron inches closer to catching up with Kareem Abdul-Jabbar and the NBA's All-Time scoring record. Let us take a look at how far the King is.
Also Read: 37-year-old LeBron James Surpasses Michael Jordan in "Rare Scoring Feat" vs Nuggets
How many points does LeBron James need to surpass Kareem Abdul-Jabbar?
Playing his 20th season in the league, LBJ is doing something we've never seen before. He's averaging 26.7 points, 8.6 rebounds, and 6.3 assists so far in his 20th year.
Loading embed tweet https://twitter.com/LakersDailyCom/status/1603963290119389184?ref_src=twsrc%5Etfw
After his 30 points tonight, LeBron has moved up to 37,622 points in his regular-season career. Kareem Abdul-Jabbar notched 38,387 points in his regular-season career.
| | | | | | | | |
| --- | --- | --- | --- | --- | --- | --- | --- |
| RANK | PLAYER | PTS | GP | MIN | FGM | FGA | FG% |
| 1 | Kareem Abdul-Jabbar | 38,387 | 1,560 | 57,446 | 15,837 | 28,307 | 55.9 |
| 2 | LeBron James | 37,622 | 1,387 | 52,899 | 13,775 | 27,272 | 50.4 |
That means that LeBron James trails the Big 'A' by 765 points.
Seeing how the Lakers are playing, there is no indication of LBJ slowing down anytime soon.
Also Read: Who does LeBron James Support Between Lionel Messi and Kylian Mbappe? LA Lakers' $1.2 Billion Worth Superstar Expresses His Excitement for the World Cup Final
How soon can the Lakers star catch up with KAJ?
Seeing how LBJ is averaging 26.7 points per game, if we take the same as his average for the rest of the season, LBJ would need 28.65, or if we round off, 29 games. If LBJ plays all the games from here on out, the 57th game of the season falls on February 11th, against the Warriors.
However, taking things realistically, and considering time for rest-games, the 6ft 9″ forward should surpass Kareem Abdul-Jabbar by March, i.e., if he stays healthy.
Also Read: When a $165 Billion Brand Denied Anthony Davis From Wearing LeBron James' No.23 
---