"Luka Doncic got done dirty, his PE's look like off brand Steph Curry's!": Dallas superstar unveiled his first exclusive sneaker against the Utah Jazz and the fans don't like it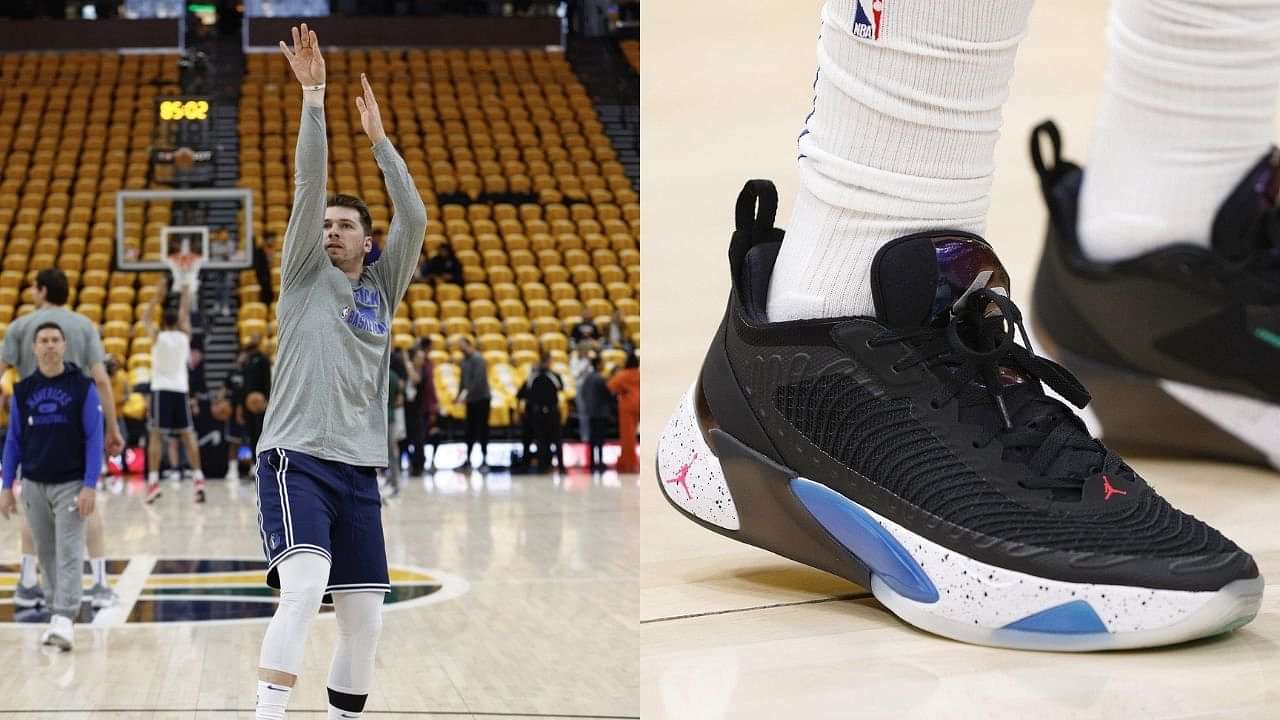 Luka Doncic has been one of the biggest names Jordan brand has signed in the near past – they just gave him his exclusive. 
Ever since Luka Doncic came into the league in 2018, he has been a revelation. Sacramento Kings must be kicking themselves every day that they chose Marvin Bagley over him. Since winning the rookie of the year in 2019, his level of superstardom only rose.
With each passing game, the fans of the Dallas man kept asking for a player exclusive shoe, just like Zion Williamson got his. After years of asking, JB finally agreed to it and decided to give him his line. While Jordan was known to make epic shoes for Michael Jordan himself, the other people under the umbrella have not been as blessed.
Luka seems to be one of the latest victims of that lineage because his shoes while being packed chock full of tech, also look like they could off the wall in any retail store. They look so bland and NBA fans had a lot to say about them. Making their debut against the Utah Jazz, fans were less than impressed, to say the least.
Also Read: "Choosing your favorite sneaker is like picking your favorite child!": Michael Jordan breaks down which particular model of Air Jordans he was particularly fond of
Loading embed tweet https://twitter.com/NBAKicks/status/1517954909718695937?ref_src=twsrc%5Etfw
Luka Doncic deserves better – he's been putting two organizations on his back for a while
A superstar like Luka Doncic deserves a little more flair than a black and white version of a Steph Curry 8 lookalike. Sure it may be packed with tech from the future, but come on. The biggest design team in the world could only come up with this?
Loading embed tweet https://twitter.com/shadygonecray/status/1518130276748382208?ref_src=twsrc%5Etfw
Even Chris Paul or Carmelo Anthony have not got their line of sneakers, despite being with them for the longest of times. It looks like the new-age players may have escaped that route, but have not
Loading embed tweet https://twitter.com/CelticssUp/status/1517956963849543680?ref_src=twsrc%5Etfw
Loading embed tweet https://twitter.com/B_Bladez/status/1517978771206426624?ref_src=twsrc%5Etfw
There should be some kind of rule that the NBA has set because almost every new shoe to come out has been out in a black and white colorway. Would you not want your new model to come in the most flattering color scheme to sell the most.
Loading embed tweet https://twitter.com/_zGITS/status/1518061589324308481?ref_src=twsrc%5Etfw
What is with big dudes opting for low tops? From Kevin Durant to Giannis Antetokounmpo, all of the tall guys have at least one low top in their repertoire. Have they not seen what Kobe Bryant had gone through? Have they not had injuries similar to that themselves? Why do they approve designs that do not make sense for them to be physically safe?
Loading embed tweet https://twitter.com/KarterShakur/status/1517966596228136961?ref_src=twsrc%5Etfw
Also Read: "If I had to pick one shoe, it would be a Kobe; like a Kobe 4": PJ Tucker reveals how he signed an endorsement deal despite wanting the freedom of switching to any sneaker the Heat forward likes
---