"Magic Johnson was Being Selfish": When Charles Barkley Protested Lakers Legend's All-Star Appearance for HIV Awareness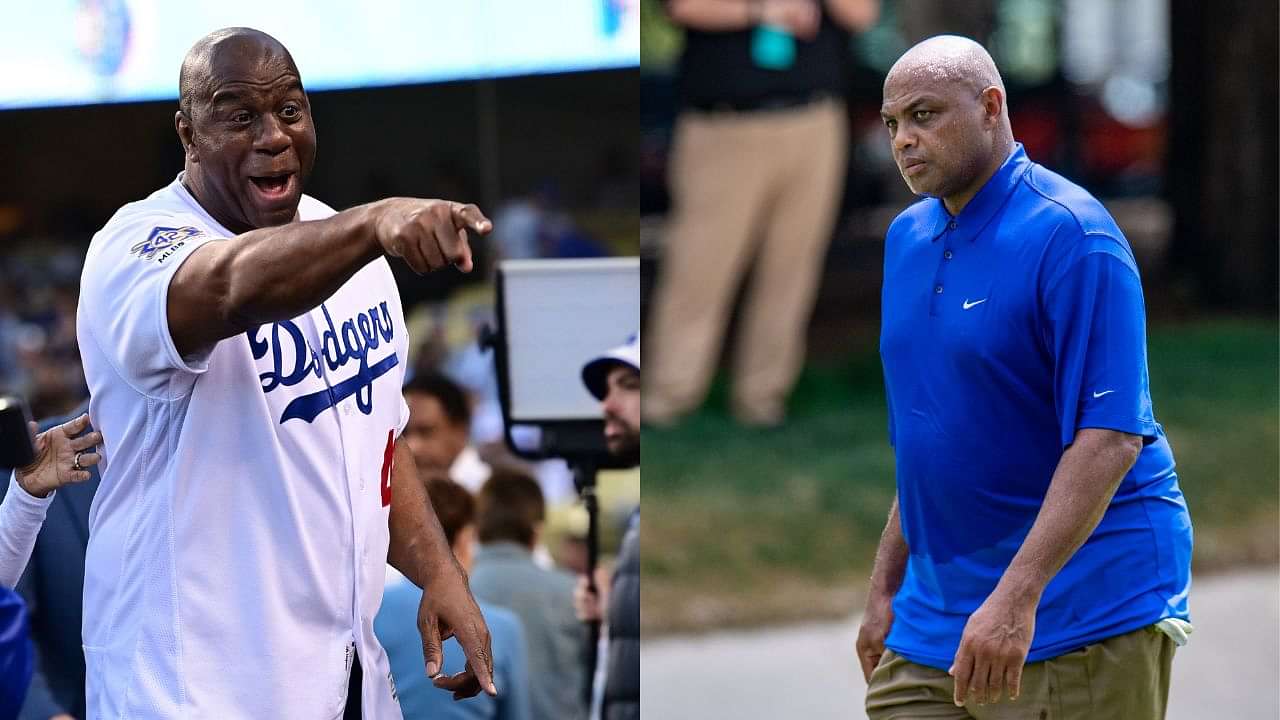 The 1990s was a tumultuous time in the NBA and there were a lot of superstar storylines contributing to it. Michael Jordan's retirement and return were probably the most discussed events, however, Magic Johnson's HIV diagnosis and the drama that followed trumped it and some.
Magic's HIV announcement was named ESPN's 7th most memorable moment of the past 25 years, in 2004. Such was the impact made by Johnson's announcement on the cultural fabric of the United States of America.
It was arguably the most high-profile announcement of the virus in history. The ramifications of the same took the league by storm owing to the unprecedented nature of the event.
Magic Johnson was still one of the most impactful players in the league and his forced retirement was stunning. Awareness regarding the virus wasn't advanced and there was a widespread concern when talk surfaced subsequently about a possible return to the league by Magic.
Magic's status in the league wasn't to be forgotten, however. The Lakers superstar was voted into the All-Star Game in 1992 by fans in a monumental moment. As the player contemplated playing, many were in disagreement. Including friend and Dream Team teammate Charles Barkley.
Also read: "You really think I give a flying F****?": Charles Barkley was Berated for his Magic Johnson Tribute
Charles Barkley deemed Magic Johnson's decision to play in the All-Star game "selfish".
While Barkley was one of the most supportive friends in the NBA community for Magic, he stood against this particular decision. In Chuck's eyes, Magic's return would mean a snub for another player.
Considering how Magic hadn't featured in the league, an All-Star appearance, in Barkley's view, took away the spot from a deserving player. And considering how Johnson had already enjoyed his fair share of All-Star veneration, Chuck might have raised a fair point.
The All-Star nod would probably have meant much more to a first or second-time All-Star who now possibly missed out owing to Magic's star turn alone. As revealed in When the Game was Ours:
"Philadelphia forward Charles Barkley, whom Magic counted among his NBA friends and who had petitioned to have his number changed to 32 in Johnson's honor once he was diagnosed, had no issue with Johnson's HIV status, but declared that it was unfair for a retired superstar to take away a spot from a younger player who might have been making his AllStar debut. The intimation: Johnson was being selfish". 
Despite changing even his jersey number in Johnson's tribute, Barkley was clearly disapproving of the All-Star nod. Barkley clearly wanted the next generation to be represented as they deserved. Chuck believed Magic was selfish in accepting the invitation on fan votes. This was particularly relevant, as the starter spot went Magic's way owing to Tim Hardaway's omission.
Tim Hardaway had voluntarily stepped down from his starter spot for Magic Johnson.
Hardaway was one of the up-and-coming stars of the league at the time. It would have only been Hardaway's second all-star appearance, and he would have been a starter too.
However, out of respect for Magic, Hardaway stepped down when the Lakers superstar announced his participation. A lovely gesture indeed, albeit at the cost of his first All-Star starter spot – something Barkley wasn't in agreement with.
The All-Star game, however, proved to be iconic as Magic ended up as the MVP. It also prompted discussions that eventually led to Johnson's inclusion in the Dream Team too. All's well that ends well, one supposes.
Also read: 36 Years After Fumbling 1st Meeting With Kareem Abdul Jabbar, Charles Barkley Gets a Gift From the Cap at All-Star Weekend
---