"Michael Jordan Dunked While I Grabbed His Face": 6ft 11' John Salley Once Thought He Had MJ, but His Airness 'Moved' Mid Air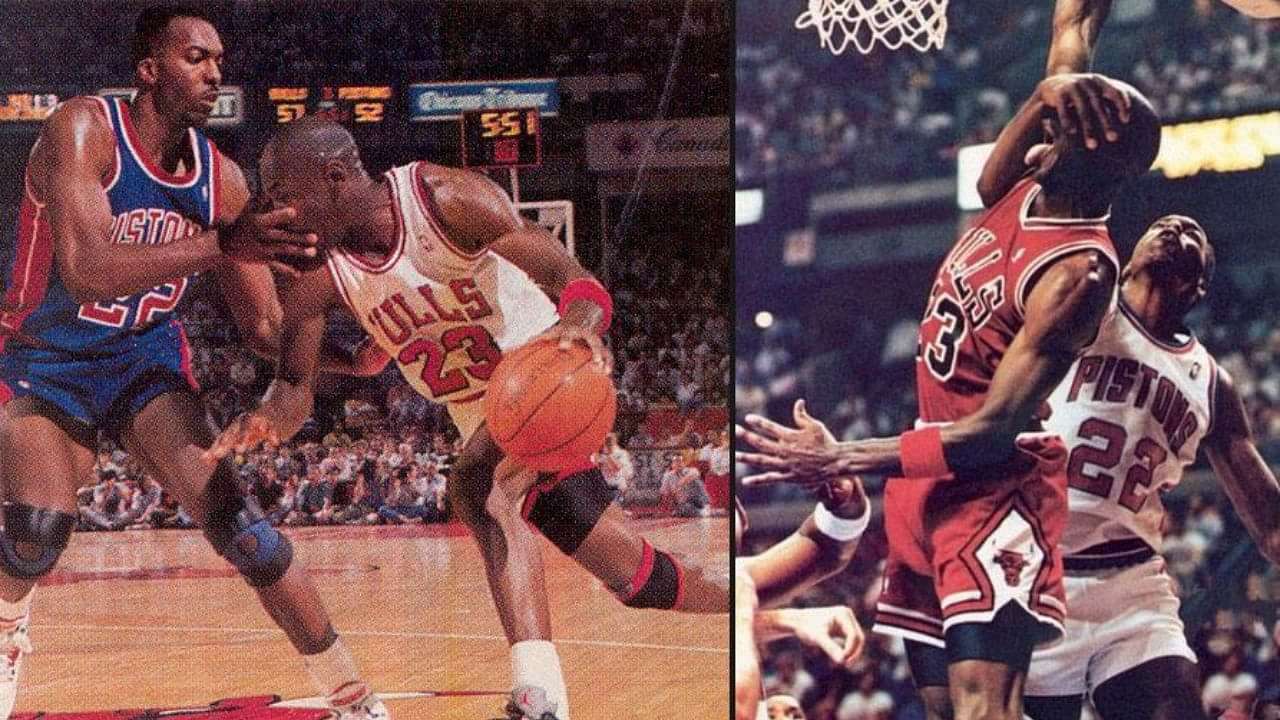 Michael Jordan was one of the fiercest athletes who was scared of nobody but instilled fear in everyone's heart whenever he took to the hardwood.
Such was the Chicago Bulls legends' dominance that much bigger guys than him thought twice before coming in front of him when he was dribbling down the court toward the rim.
Who would want to be a part of a humiliating MJ highlight reel for the rest of their lives? Not any 7-footers, for sure. That's why his lanes weren't generally covered by big men.
John Salley should have done the same, but the poor man tried covering MJ's eyes instead, just to stop him but failed even then.
Also read: "You Tell Them You're Tiger Woods": Michael Jordan Likely Turned Innocent Golf Legend Into a S*x Addict
Michael Jordan once dunked on John Salley with a hand on his face
The Bad Boy Pistons of the late 80s were the only team in the entire NBA that can say they dominated a prime Michael Jordan for not one, not two, but three-straight seasons from 1988 to 1990.
Their way was to torment the 6ft 6' guard and his team as much as they can. Most of the time they got what they wanted. But not always. Their 6ft 11' big man certainly wasn't the lucky one.
In a recent episode of all the smoke, the 4x NBA champ reminisced how he used to try to stay away from getting a poster by MJ because in his park back in the day he would have to take his shoes off if he got dunked on.
However, nobody got anything they wanted against His Airness. And he got everything he wanted against everyone he played basketball with or against.
Salley realized it when he was trying to block a shot by the 6x Finals MVP who was supposedly moving midair and his tongue out while John grabbed his face, MJ thumped the ball into the rim. Ouch!
MJ was a tremendous dunker of the basketball
Jordan wasn't the tallest of candidates among the players who used to be great dunkers, but his vertical jump, which, to this date is one of the best in the game, made him arguably the most prolific of all.
The two-time slam dunk contest winner not only used it fast breaks. Being a Dr. J fan, he dunked whenever he saw the opportunity. And Jordan never fell short of opportunities.
Also read: "Michael Jordan, Tiger Woods or Himself?": 'Stud' Dennis Rodman Once Revealed Which Star 'pulled' the Most Women
---