"Michael Jordan Was the Only One Who Could Back His Trash Talk!": Kenny Smith Revealed How Bulls GOAT Evolved During His Days at UNC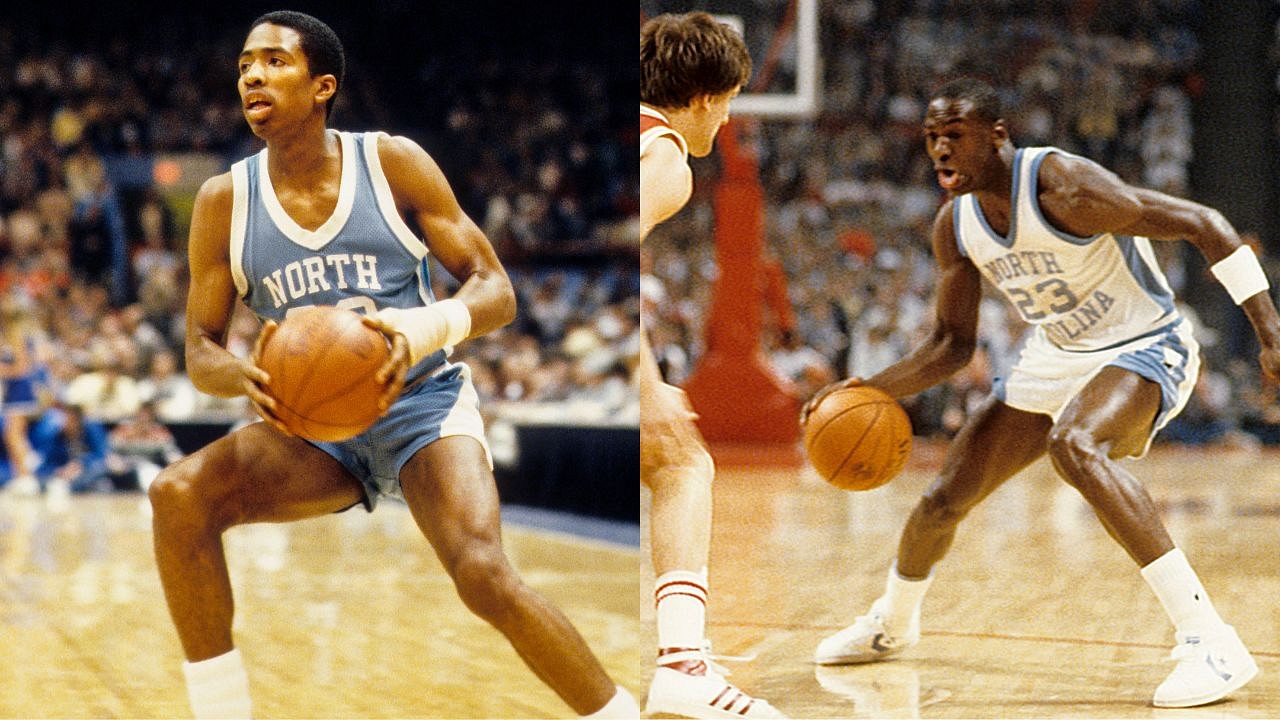 The University of North Carolina has proven to be quite the breeding ground for star NBA talent. Over the years multiple NBA stars have come into the league after securing Tar Heel education, including the GOAT, Michael Jordan.
Jordan was a Tar Heel from 1981-1984 and etched himself into the history books during his time there. However, MJ wasn't quite Magic Mike while he was a college student. Sure, he was talented and showed immense promise. But he wasn't a bona fide NBA phenom or even the consensus No.1 pick in the 1984 draft.
Even Jordan's teammates talk about how Jordan wasn't quite the complete player he molded himself into, as a Tar Heel. Kenny Smith, one of MJ's more illustrious contemporaries at North Carolina, while speaking about Jordan to Draymond Green, revealed the same.
However, one weapon from His Airness' arsenal was an ever-present. The trash talk.
Also Read: Michael Jordan NBA Draft: What position was His Airness drafted at, and who went ahead of him?
Kenny Smith revealed how MJ could back up everything he said while trash-talking.
Anyone even remotely familiar with Michael Jordan is aware of his competitive nature and how Jordan had almost made trash-talking a part of his game. The "Last Dance" also threw up anecdotes aplenty for the fandom to lap up. The myth associated with Jordan now comes with a trash-talk halo.
And the trash-talking persona wasn't built up overnight. Even as a college student, Jordan had already inculcated that part perfectly into his identity, as per The Jet.
The former NBA champion with the Houston Rockets stated that Jordan was a pro at the art of talking smack from their time together at UNC.
"I'm a trash talker, I'm from New York. That's all we do. Talk, talk, talk. But he (Michael Jordan) was the first guy that I saw that could back up everything he said" revealed Smith about his former teammate's mentality from a tender age.
Taking things personally and raking in the revenge and serving it with a side of trash talk was MJ's favorite dish to serve. And Mike's Magic in this department was no new story to his UNC teammates.
Jordan's handles on the other hand and how sharp they developed into, might have shocked a few. Including Smith himself.
Smith revealed how Jordan's handles were unrecognizable from his days at UNC.
Change is imminent, particularly in a competitive environment like the NBA. Especially if you aspire to place yourselves amidst the pantheon of greats to play the game. To become a fixture of the conversation regarding the greatest ever would require considerable malleability. Something MJ seemed to have been blessed with.
Calling the changes Jordan made to his game a blessing would however be disrespectful to the zero-minded work ethic that led to such changes. Jordan was an individual who strove to perfect his craft by the most extreme means.
A taunt from Kenny Smith regarding handles might have been a reason Jordan worked to improve it. The incident also provides the perfect canvas to paint a picture of the dogged determination to succeed, that was a part of the MJ mindset.
"He was good at darting to the rim, but he couldn't shake you. So I used to be like, "Oh, I got Mike" and he would go "Oh, you're gonna guard me?". I'd be like "You can't dribble, you ain't got no handle" because he didn't have a handle at the time. Next year comes, and he goes "You guarding me?" and I'm like "Yeah, I got Mike" and his handles are ridiculous. He's like "I got a handle now!" described Kenny of how his taunt backfired over the span of a year.
Being taunted by a clearly inferior player for not having a handle certainly hurt Jordan's ego. And within a year, MJ worked on his handle and weaponized it before dishing it back to Smith. If that isn't GOAT mentality, what is?
Also Read: "Michael Jordan did a lot of things illegal": Reggie Miller Once Hysterically Questioned MJ's Crossover
---
Share this article