"My First Dunk Was a 3-pt Shot": Charles Barkley Gives the TNT Crew, Especially Shaquille O'Neal more Fodder to Roast Him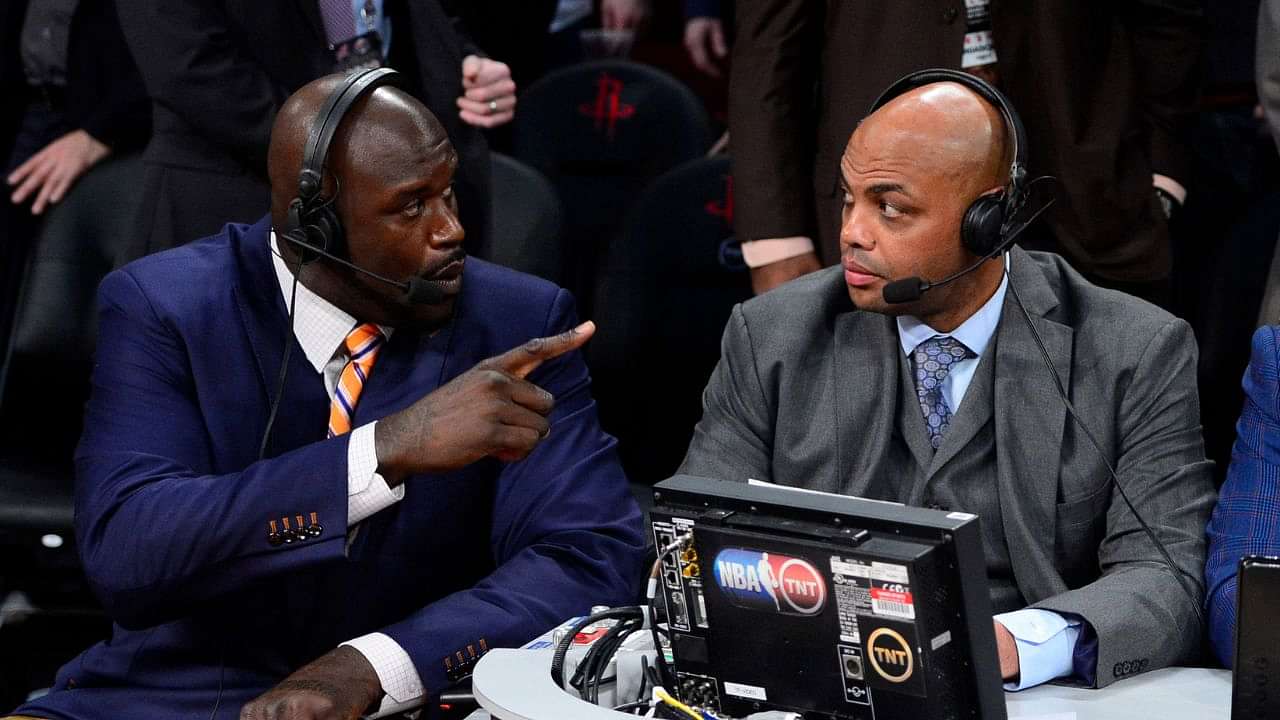 Charles Barkley, Shaquille O'Neal, Ernie Johnson, and Kenny Smith. The awesome foursome that the NBA fans love watching before and after the actual game. They have the most hilarious quips, quotes, quarrels, and quibbles, nobody has any qualms about them.
Each one of the four loves taking shots at one another, and the one getting the most riled up is Charles Barkley. Through nobody's fault but his own, Chuck presents the opportunities to the other guys on a velvet cushion. Sir Chuck is never one to skip speaking his mind, but he's not too wise with what he says.
Shaq is always the first one to jump at roasting the ex-Philly big man, and this time it was no different. Ernie Johnson asked the rest of the crew if they remembered their first-ever NBA points, and all of them had such varied answers. However, Ernie had all the receipts because he came prepared like he always does.
Also Read: "They Call Me and Kenny Smith, Six": Shaquille O'Neal Claps Back at Charles Barkley Who Claims to be Hired for his Good Looks
Loading embed tweet https://twitter.com/NBAonTNT/status/1597809970296238082?ref_src=twsrc%5Etfw
Shaquille O'Neal was no different – he's got caught many a time fibbing about his achievements
Shaquille O'Neal gave his answer with such confidence that a regular person would accept his story. Why wouldn't they? Because he sounded so confident! But not Ernie, because he did his research. Shaq had a full story about how he got his first NBA points on a dunk, but he got them from the charity stripe.
Shaquille O'Neal from the free throw line isn't something you hear every day. But that was the truth since he did score his first points from the stripe. He had 12 points and 18 rebounds, but the man has been caught lying about other things.
He's been caught saying other things about his bike and physical strength, to name a few. All in good fun, though, because those are harmless points.
Also Read: 4x NBA Champion Shaquille O'Neal Once Revealed Why Touching a Trophy Meant 'Bad Luck'
Charles Barkley and the Inside the NBA crew will not be together forever – we must enjoy them as long as they come
The good-natured ribbing is not going to last forever; there will come a time when it all ends. Charles Barkley has spoken about retirement, and Shaq is getting longer in the tooth. They may be youthful in their jokes, but their faces say otherwise.
As long as Shaq doesn't overstep his boundaries when teasing Barkley, it is all in good fun. He knows that, and they all should know that too. The last thing we want is an implosion causing a breakup more heartbreaking than One Direction's split.
Also Read: "If Kawhi Leonard Doesn't Want To Play, Clippers Wasted Their Season!": Charles Barkley Viciously Calls Out Paul George and His Co-Star
---