"They Call Me and Kenny Smith, Six": Shaquille O'Neal Claps Back at Charles Barkley Who Claims to be Hired for his Good Looks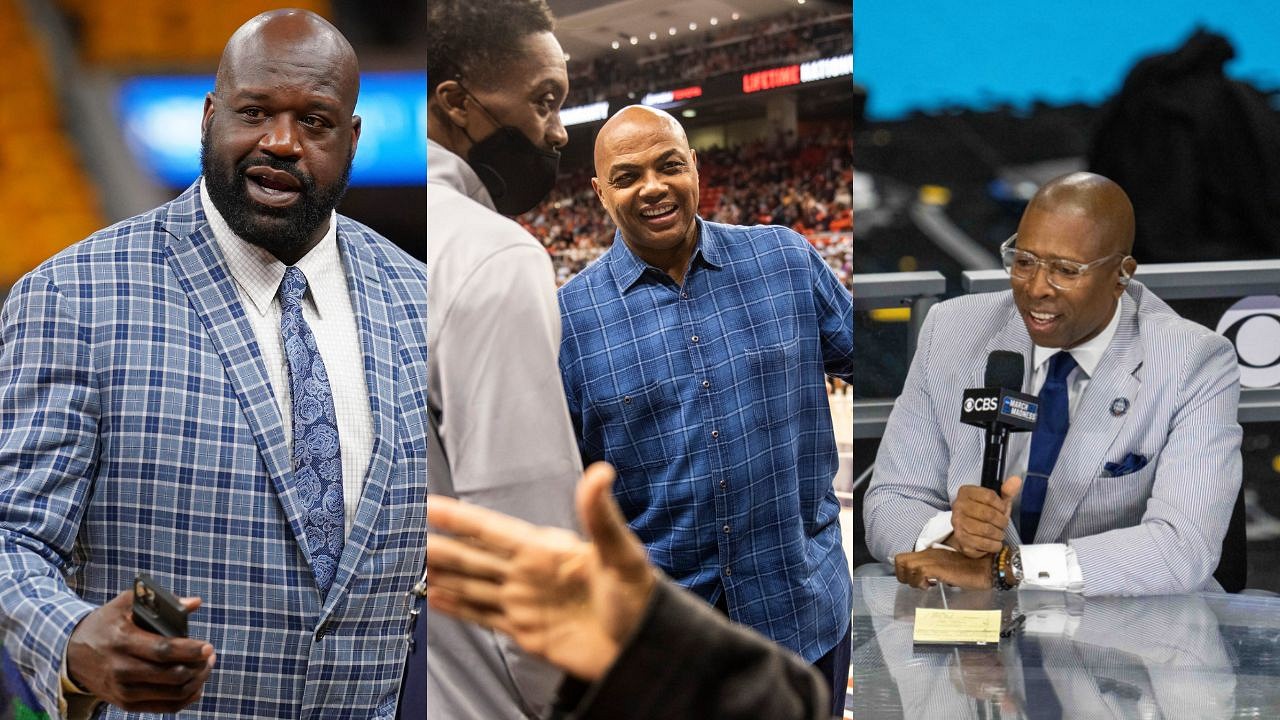 The banter between the award-winning panel on Inside the NBA never fails to give us a laugh, whether it be the constant back-and-forth between Shaquille O'Neal and Charles Barkley or Kenny Smith playing the perfect instigator. Fortunately, there is a mediating factor in the form of Ernie Johnson on the team.
The camaraderie between Shaq and Chuck remains one of the most recalling factors. Over the years, we have seen the two Hall of Famers leave no stone unturned to throw shade or mock each other, having the co-panelists Smith and EJ in splits most of the time.
Whether it is Shaq mocking Chuck for having zero rings or the latter clapping back at the Diesel for riding on Kobe Bryant and Dwyane Wade's coattails. A topic of discussion that never gets old, with The Jet enjoying as a spectator, given his two championships with the Houston Rockets.
Also read: "We are best friends Charles Barkley whether you like it or not": Millionaire Shaquille O'Neal shockingly brought a gift hamper for Chuck, one of which said 'best basketball player'
During a recent segment on the show, Barkley hilariously revealed how TNT hired him cause he was good-looking, unlike Shaq and Kenny.
Nevertheless, the Diesel wasn't one to keep quiet, responding to Chuck via a nickname he coined for himself and Smith.
Shaquille O'Neal's 'Six Rings' response to Charles Barkley's claim of being hired for his good looks.
Well, we all know, what Shaq meant, when he said they call him and Smith 'Six Rings.' The former seven-foot center makes no qualms about rubbing it in on Barkley with four championships. However, this time around, O'Neal had a two-time champion Smith join his wagon too.
"Ernie, we know what we talk about," said Barkley.
"I mean, they hired me cause I'm good-looking, I mean, hired these guys cause they know what they're talking about."
It was only a matter of time before Shaq had his response ready, saying the following.
"That's not why they hire us," said the Diesel adding, "They call me and Kenny, 'Six."'
"They call me and Kenny 'Six'."

"Six what?"

"You already know the answer to that." 🤣💍 pic.twitter.com/qNsPiBSoZv

— NBA on TNT (@NBAonTNT) November 30, 2022
When further quizzed by Chuck, Shaq told Smith how when opened his cabinet the sun would be shining bright on his rings.
Charles Barkley is one of the NBA greats to never win a championship.
One of the greatest power forwards of all time, Barkley played 16 seasons in the NBA, having a stellar career, with some of his accomplishments including a league MVP, eleven All-Star selections, and eleven All-NBA selections among many others.
Addressed as the Round Mound of the Rebound despite being undersized for his position, Barkley was a dominant force, attacking the rim using his strength and aggression.
Also read:  Shaquille O'Neal Hilariously Bets Charles Barkley $10,000 That he Couldn't Spell 'Spectacular'
---
Share this article