"My Legacy Will Never Reach Michael Jordan's!": Kawhi Leonard Once Dismissed Notions of Comparisons With Bulls GOAT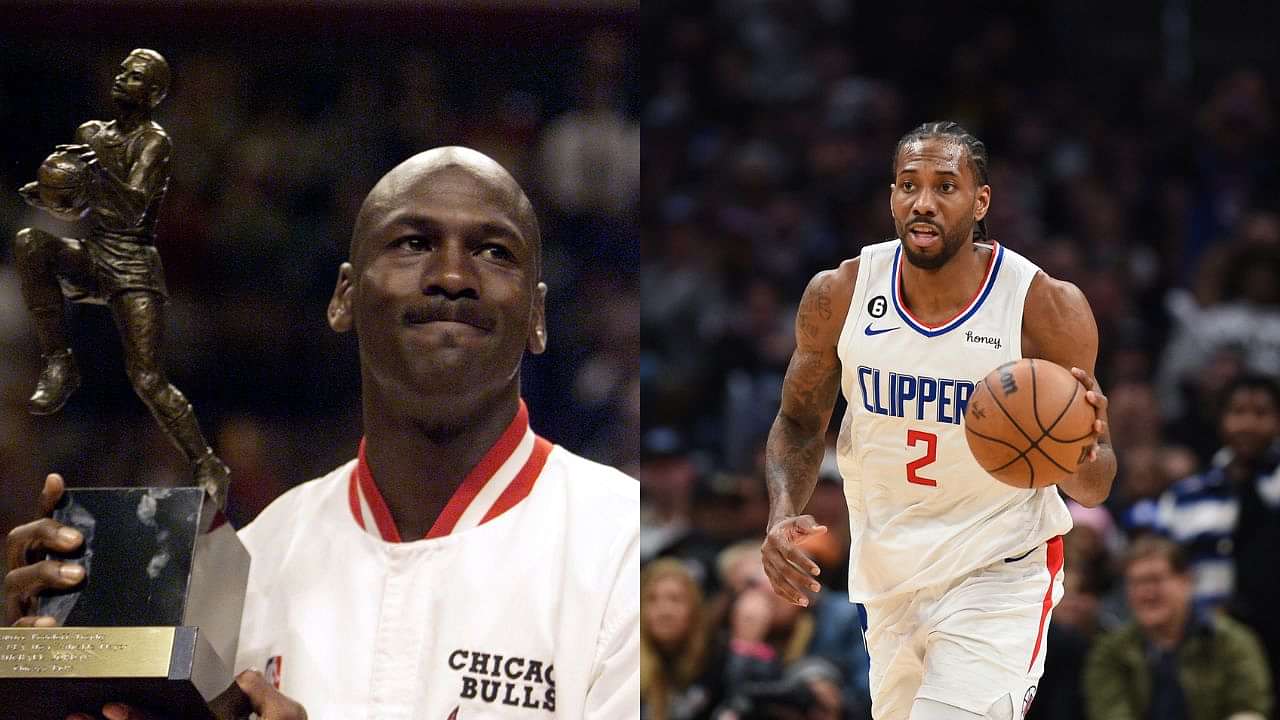 When one thinks of the most clutch playoff performances in recent NBA history, there is one player who makes his way onto everyone's lists. Kawhi Leonard. In 2019, Kawhi delivered Toronto its first-ever NBA Championship as he led the Raptors past the Warriors.
After being traded to the Raptors, Kawhi was on a mission. Playing in the final season of his contract, Kawhi showed up and displayed one of the most brilliant playoff performances of all time. The Klaw scored 30 or more points in 14 different contests during his epic 2019 Playoffs run.
During the playoffs, Kawhi averaged 30.5 points, 9.1 rebounds, and 3.9 assists. This helped him win his 2nd NBA Championship and 2nd Finals MVP. In fact, his performances even led to people drawing comparisons with Michael Jordan. When asked about the same, here is how Kawhi responded,
Also Read: "They Come To the Door, They Ring the Bell": Juanita Vanoy Revealed Why Michael Jordan Built a $14.9 Million Mansion in Chicago
Kawhi Leonard refused to be put in the same category as Michael Jordan
Most of the players who were drafted around the mid-2000s or early 2010s grew up watching Michael Jordan dominate the NBA. Jordan was a polarizing figure, the personification of excellence. Kawhi Leonard is among these players as well.
During the 2019 Finals, when the Raptors won Game 3 in Oracle Arena, the press sat down with Kawhi and asked him quite a few questions. One of them was about his legacy, and how the 2019 Playoffs run had impacted it positively. When the reporter asked Kawhi how he feels when people compare him to Michael Jordan, here is what the Klaw said,
"I was never one of those guys, growing up in high school, the media, the college media. So, I don't really think my legacy is going to reach the potentials of Michael Jordan. You know how the media followed them since they were rookies."
That's quite humble, but at the same time, quite true. Kawhi was never a decorated kid coming out of high school and college. His first few years in the league saw him only as a defensive specialist. However, times have changed, and now he's known as one of the best playoff performers in NBA history.
Also Read: "I Am My Harshest Critic!": Anthony Davis Described His Mindset Before 35-Point Double-Double Over Pelicans
Kawhi used to watch Michael Jordan's highlights in college
As a college kid, Kawhi Leonard was obsessed with becoming the greatest, and in his opinion, there was none greater than Michael Jordan. In a deep-dive interview with the Athletic, here is what Kawhi's former teammates said of his college days,
"Coach Fisher had a no-cellphone policy at team dinners, but Kawhi would have his phone on his lap watching Jordan highlights. He would really study his moves."
Another teammate continued and said,
"On his phone, his background was Michael Jordan. He would always say 'I'm Mike. You like LeBron, you like Kobe? Yeah, they're cool, but I'm Mike. I want to be the best, the greatest.' And from how he carried himself, we knew he was serious. We knew that's what he really wanted."
This explains Kawhi's obsession with being the best, as well as his killer mentality.
Also Read: "Giannis Antetokounmpo Getting These Many FTs Is Not Fair!": Monty Williams Looked Distraught As Bucks Beat Suns 116–104
---