"Giannis Antetokounmpo Getting These Many FTs Is Not Fair!": Monty Williams Looked Distraught As Bucks Beat Suns 116–104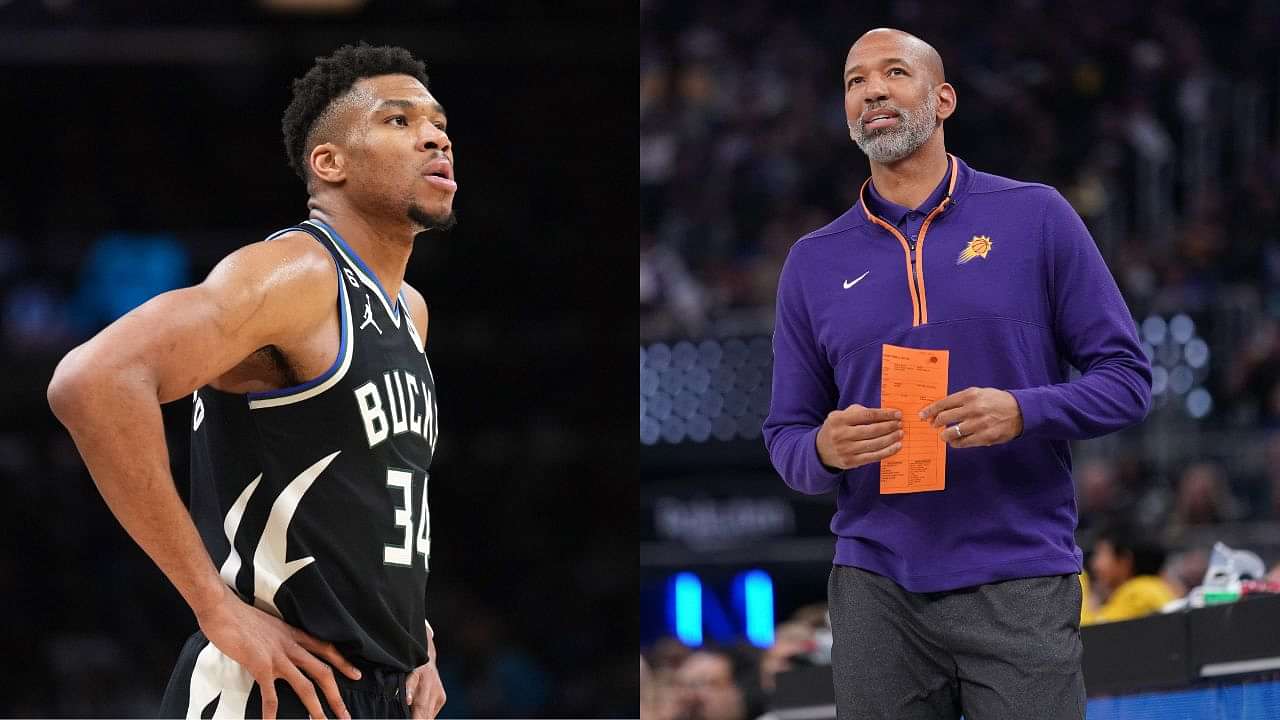 With their win over the Suns, The Milwaukee Bucks became the first team this season to qualify for the Playoffs. Led by Giannis Antetokounmpo, the Bucks went to Phoenix on the 2nd night of a back-to-back for both teams, and won the contest 116-104.
It was a close contest all night long, till the Bucks managed to pull away in the 4th quarter. They built a lead as big as 16 points, and managed to hold it to seal off the win. Giannis led the charge with an almost triple-double. He had 36 points, 11 rebounds, and eight assists.
It was a big win for the Bucks, who have not only clinched a playoff berth, but also strengthened their hold on the #1 seed in the East.
Loading embed tweet https://twitter.com/eric_nehm/status/1635860437500846081?ref_src=twsrc%5Etfw
After the game, Monty Williams spoke about the game and Giannis.
Also Read: "I Am My Harshest Critic!": Anthony Davis Described His Mindset Before 35-Point Double-Double Over Pelicans
Monty Williams complained about Giannis Antetokounmpo getting more FTs than the Suns
With the Bucks coming to town, we were guaranteed an excellent game. After all, it is the 2021 NBA Finals rematch. Despite not having Kevin Durant with the squad right now, the Suns put up a good contest. However, one of the areas they lost out on was free throws. Giannis Antetokounmpo alone had more FTs than the Suns.
Loading embed tweet https://twitter.com/GeraldBourguet/status/1635859525826924544?ref_src=twsrc%5Etfw
Distraught by the same, Monty Williams chose to complain about it in the post-game interview. He called Giannis getting 24 FTs ridiculous. At the same time, he complained about how Devin Booker just had three free throws, despite having Jrue Holiday, a very physical defender, guard him all game long. He even complained about how many times it has happened against the Bucks.
Loading embed tweet https://twitter.com/DuaneRankin/status/1635863480967516161?ref_src=twsrc%5Etfw
Also Read: Watch: Giannis Antetokounmpo Knocks Suns Player's Tooth Out With a Shoulder Barge!
Devin Booker chimed in about Giannis' FTs
After the head coach made his speech about the disparity in free throws, Devin Booker chimed in as well. He argued that some of the fouls that were considered as defensive fouls should have been called offensive fouls on Giannis instead.
Loading embed tweet https://twitter.com/DuaneRankin/status/1635872928528240640?ref_src=twsrc%5Etfw
The way Giannis plays, he sure is going to draw a huge number of fouls. It is impossible to stop him when he gets going with a full head of steam. Instead of complaining about him getting FT calls, teams should look towards finding better ways to stop him/slow him down.
Also Read: Draymond Green Takes Shot at Dillon Brooks After Winning the Best Sports Podcast Award by 'iHeartRadio': "I Guess I am Pretty Good With the Mic"
---