"I Am My Harshest Critic!": Anthony Davis Described His Mindset Before 35-Point Double-Double Over Pelicans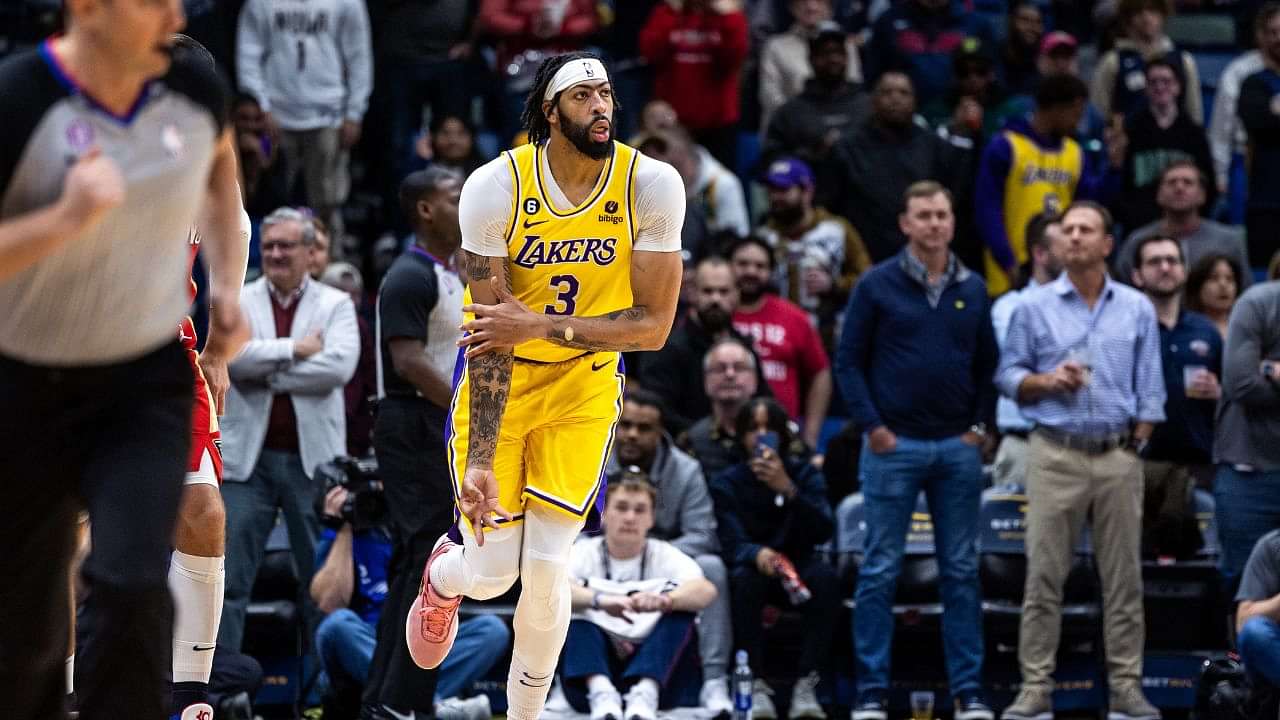 The Los Angeles Lakers kicked off their two-game road trip with a bang tonight. With Anthony Davis leading from the front, the Lakers were able to beat the New Orleans Pelicans 123-108. It was a one-sided first half, with the Lakers building a lead as large as 40 points.
However, the Pelicans came out strong in the 3rd quarter and were on their way to catching the 2020 NBA Champs when 48 minutes ran out. It was an incredible effort from Anthony Davis and the Lakers. With this win, they inch closer to the .500 mark and have a 34-35 record for the season.
They're tied with the Thunder and the Mavericks for the record but hold the 10th spot in the West because of individual tie-breakers. After the game, AD spoke about the importance of his performance tonight and why this win meant so much.
Also Read: "LeBron James Should Defer To Anthony Davis": Paul Pierce Has a Suggestion For Lakers' Betterment
Anthony Davis explains the mindset behind his monster performance
With tonight's performance, AD surpassed Shaquille O'Neal for the most 35+ point, 15+ rebound performances since 2000.
Loading embed tweet https://twitter.com/bballforever_/status/1635828063991906304?ref_src=twsrc%5Etfw
To be compared to Shaq is a huge achievement for any big. To surpass him? AD is really doing something right.
After the game, Davis spoke about how important this performance was for him. He spoke about being his harshest critic and how he had to show up to get the team a much needed win.
Loading embed tweet https://twitter.com/SpectrumSN/status/1635836626214731778?ref_src=twsrc%5Etfw
It's great to see AD playing well, and to see the Lakers win games.
Also Read: "Hurry up, Bron!": Skip Bayless is in LeBron James and Lakers' Corner as Anthony Davis Leads Steamroll Past the Pelicans
Davis talks about not playing back-to-back games
After the game ended, it was announced that Anthony Davis would not play against the Rockets tomorrow. This is to prevent further stress on the foot injury. After the game ended, Davis spoke about how 'tough' it is to play on back-to-back games.
Loading embed tweet https://twitter.com/kylegoon/status/1635848046474039297?ref_src=twsrc%5Etfw
The Lakers will have to manage without AD and LeBron tomorrow, but will look to secure a win on the road.
Also Read: Anthony Davis Passes Shaquille O'Neal on a Peculiar Record With His 35/17 Performance Against Pelicans
---