"No Matter What People Say About Russell Westbrook, He Competes": Stephen Curry Lauds Clippers Guard for Unteachable Trait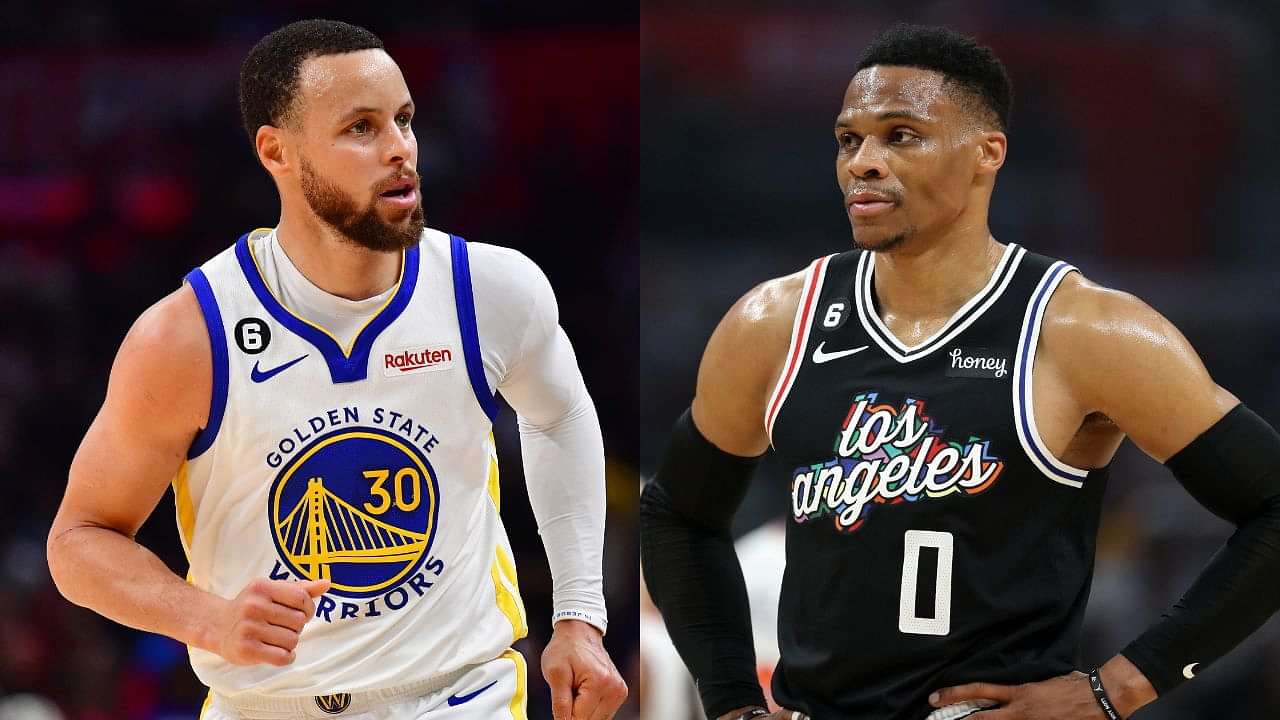 The Los Angeles Clippers-Golden State Warriors bout was as exciting as we expected it to be. With all the stars performing at their highest level, the two California-based franchises produced one action-packed thriller that ended 136-124 in LAC's favour, despite the wizardry from Stephen Curry.
Playing 38:32 minutes, Curry went on a scoring outburst. Apart from recording his 2nd 50-point game of the season, the 6-foot-3 sharpshooter lodged 6 assists and 2 steals.
Loading embed tweet https://twitter.com/NBA/status/1636261018086039552?ref_src=twsrc%5Etfw
However, Steph's scoring rampage was eclipsed by the All-Star duo of Kawhi Leonard and Paul George. While the Claw put up 30 points, 8 rebounds, and 5 assists, PG13 had 24/2/7 in 40:21 minutes.
Loading embed tweet https://twitter.com/TomerAzarly/status/1636227304220422144?ref_src=twsrc%5Etfw
Also Read: Paul George Describes Surviving Stephen Curry's 50-Burger, Praises Russell Westbrook
"Russell Westbrook is starting to figure out his role": Stephen Curry
Russell Westbrook might not have been the 3rd, 4th, or even the 5th-highest scorer. However, the 34-year-old was excellent, both offensively and defensively.
Apart from recording 2 steals, Russ put up 15 points, 9 rebounds, and 7 assists while having 0 turnovers.
After the bout, Chef Curry had some high praises for Mr. Triple-Double. Talking about Westbrook's fit the LA-based franchise, The Baby-Faced Assassin lauded him for competing every night despite all the criticism he receives. The 2-time MVP further said:
"I think he's starting to figure out his role, if that makes sense, in the way that he can impact their team, no matter how teams are defending him. It's one of those, you kind of have to think creatively because they have a very interesting group of guys that, on both ends of the floor, can play the game a lot of different ways. One thing about Russ that we all know, no matter what people say about him or how he's playing, he competes. I know they love that about him. Every night, he shows up and plays hard.
That's something you can't teach. That's something of a lost art, these days."
Loading embed tweet https://twitter.com/SportingTrib/status/1636250308715384833?ref_src=twsrc%5Etfw
Russ' stats since joining the Los Angeles Clippers
After going 0-5 since the acquisition of Westbrook, the team has gone undefeated in the next 4 games.
Throughout this 9-game span, the 2017 MVP has averaged 13.4 points, 4.4 rebounds, and 7.4 assists.
With the Los Angeles Clippers looking in sync, it's about time Ty Lue's boys make a push to clinch a playoff berth.
Also Read: 35-year-old Stephen Curry Keeps Making History, Starts an Elite Club for Himself
---