"Not a Representation Larry Bird Wanted": When an Indianapolis Artist Drew Tattooed Larry Legend Mural and Got a Notice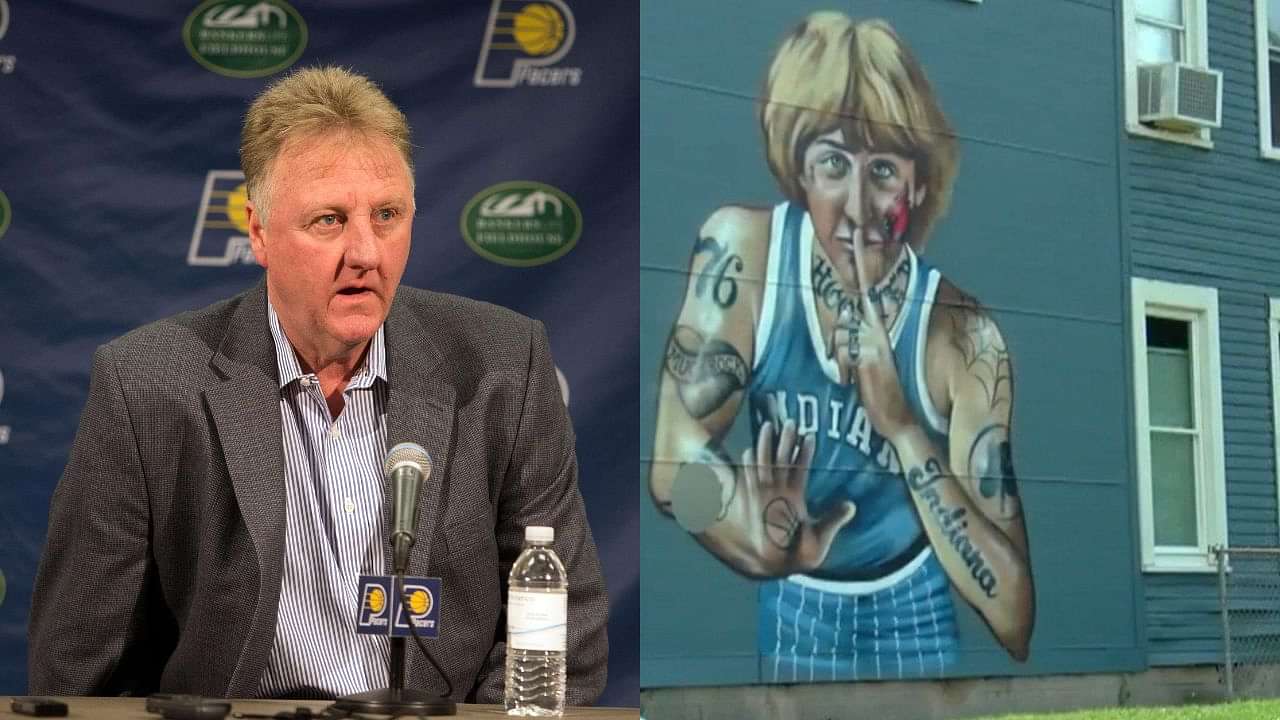 Larry Bird became one of the biggest icons in the game of basketball since his emergence in the late 70s in Indiana, representing Indiana State for 3 years before debuting in the NBA.
The future 3x NBA MVP bringing the Sycamores to the Finals of the NCAA tournament for the first time in 11 years, he became a local legend much before making it to the league in 1979.
And when you become a part of something, the attached people start expecting you to share the common feeling as they do. But every so often it crosses boundaries. And for Bird, the line was his tattooed-up mural on a wall.
Also read: "Larry Bird Said I Would Be the GOAT of Centers!": Shaquille O'Neal Once Opened Up on How Celtics Legend Made Him Great
When a mural irked Larry Bird
An artist who goes by the name Jules Muck, drew a Larry Bird mural on a residential building in Indianapolis, 40 years after Larry first played in the league in 1979.
Although she received compliments for her work when it went viral online, it didn't sit well with the man himself who thought it was not a representation of him.
In a Jalen and Jacoby episode at the time, the former Pacers' player Jalen Rose talked about how Bird has no problem with art and artist expressing himself, but just that the mural "was not a representation he wanted for him."
Notice from Bird's team
Larry's lawyer, Gary Salle, opened up to CNN about his client's distaste for the matter. Their team then informed Muck about the issue via mail, and that she was violating 6 trademarks owned by Bird.
"He's wearing colors that match the building," Muck told CNN affiliated WISH. "It felt to me that it was aesthetically perfect. I also felt if I'm going to paint Larry Bird, I'm going to paint Larry Bird in Indianapolis.
"That being said, I wasn't trying to make a prestigious fancy piece," she said. "I also have fun with my work and I kind of like to make people laugh."
She then agreed to remove all the tattoos other than "Indiana" on Larry's forearm. Some determination. Alas! Their humor didn't go hand in hand.
It was a little bit fun to see a tatted-up Bird, the last of the NBA players, who you would imagine having a tattoo. Now his distaste makes sense.
Also read: "You Can't Beat, What You Can't Catch": 6ft 9′ Larry Bird Once Revealed 1981 FMVPs' Take On Showtime Lakers
---