"Not A Soul in the NBA Can Guard Stephen Curry": Juan Toscano-Anderson Details the Horrific Experience of Defending an in-form GSW MVP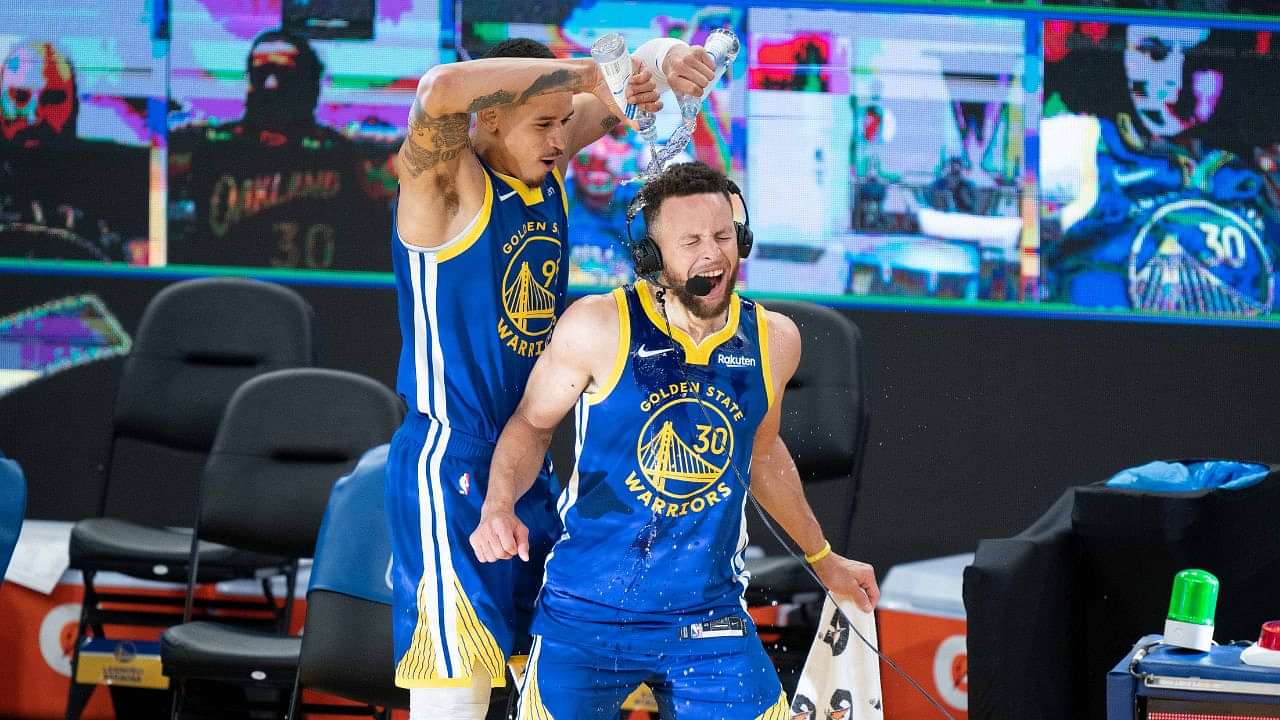 In a league as physical as the NBA, an in-form and slightly undersized 185-pound Stephen Curry can be the most lethal player.
The Golden State Warriors' point guard is one of the greatest players in league history. Possessing the best shooting the league has ever witnessed is what has been an advantage for the 6-foot-2 star. Apart from having an accurate jump shot, Chef Curry also has smooth handles, a combo that is a nightmare for any defender.
Also Read: Gilbert Arenas Claims Warriors' 2x MVP Wouldn't be Impactful in a Gregg Popovich System
Over the past 13 seasons, we have seen The Baby-Faced Assassin go on berserk scoring outbursts. The man can change the outcome of a game in a jiffy. As rightly mentioned by his former teammate, an "in the zone" Steph cannot be guarded by a single player in the league.
"Can't nobody guard him": Juan Toscano-Anderson on Stephen Curry
Juan Toscano-Anderson was a member of the GSW for 3 seasons before signing with the Los Angeles Lakers this offseason. For the most part, JTA has been lucky enough to witness the 2-time MVP torch the opposing teams at his own will.
Recently, the NBA champ made an appearance on an episode of "Buckets". Despite sharing the court with LeBron James and Anthony Davis, the 29-year-old lauded an "in the zone" Curry.
"When he's in his zone — you know when he's in his zone — and he doesn't do s–t like that," Toscano-Anderson said. "He's not an arrogant person. When you push him to that point, when you make him mad and he's trying to prove a point or he's in his zone, then that type of sauce comes out."
"So when he was doing that, I knew it was over. Cause when Steph's in his zone, nobody can stop him. Can't nobody guard him, bro. Nobody. Not a soul in the NBA can guard him."
How is Steph performing this season?
Before going out with a shoulder injury, the defending NBA Finals MVP was playing some of his best basketball.
Despite the San Francisco-based franchise's turbulent start to the season, SC30 has been putting up MVP-type numbers. In the 26 games he played this campaign, the 34-year-old has been averaging 30 points, 6.6 rebounds, and 6.8 assists per game while shooting the ball at an efficient 50/43.3/91.9 split.
The GSW will have to find a way to stay afloat until the future Hall-Of-Famer makes his return to the lineup.
Also Read: Ayesha Curry, Who Was Sued for $10 Million, Recreated Stephen Curry and Her Favorite 'Romantic' Date Order
---