"One, Two, Three, Not One, Two, Back to One": Shaquille O'Neal Isn't Over the Time Charles Barkley Interrupted him Repeatedly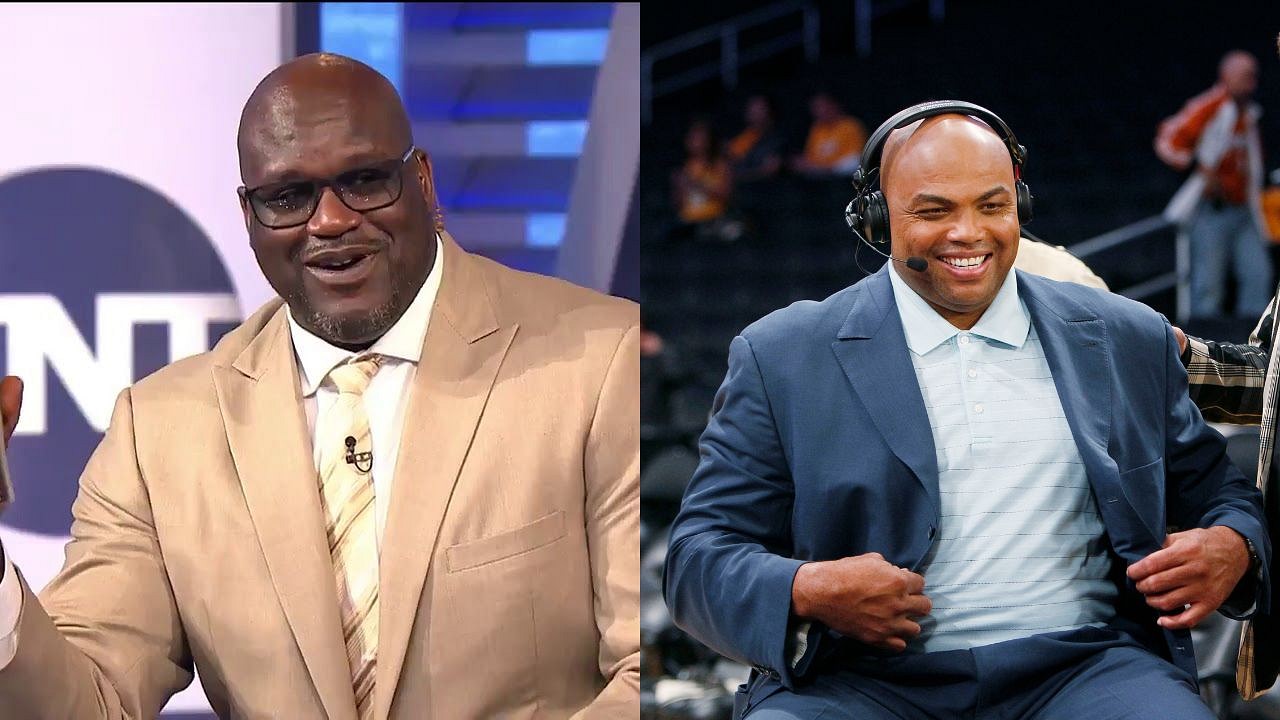 There is a reason why TNT's Inside the NBA makes for a must-watch, having revolutionalized the ways of sports broadcasting. Whether it be the camaraderie between the esteemed panelists or the brilliant creatives of the makers, the pre/post-game show is one-of-a-kind.
It won't be wrong to say that the free-flowing nature of the show, coupled with the candidness of its panelists, make for a lot of its success. Retrieve any clip on YouTube or social media, and it 'guarantee' will make your day better.
One of the highlights and recall factors of the show is the constant bickering between Hall of Fame players Shaquille O'Neal and Charles Barkley. The two opinionated individuals never shy away from taking a swing at each other on live television.
Also read: Shaquille O'Neal Hilariously Bets Charles Barkley $10,000 That he Couldn't Spell 'Spectacular'
Nonetheless, nothing reigns over the segment involving Shaq getting livid over Chuck for interrupting him during a 2019 episode of the Emmy award-winning show.
"I'mma knock your a** out on national television": When Shaquille O'Neal threatened Charles Barkley, making for one of the greatest moments on sports television.
During a segment sponsored by Tissot, veteran host Ernie Johnson set forth the agenda for a discussion that had the panelists discuss the 2019 playoff series between the Trail Blazers and the Nuggets. However, the catch was the conversation being timed for 3-minutes.
The discussion began with Barkley setting forth his points, followed by Smith, with Shaq concluding. However, when it came to the Diesel, he had The Chuckster interrupt him even before the beginning, leaving the Lakers legend livid, who refused to speak any further.
Despite Johnson pressing him further, Shaq was irate over Barkley speaking out of his turn. Amid the seven-foot center letting out his frustration, his co-panelists couldn't help controlling their laughter.
What made things worse was Barkley addressing Shaq as 'Mr. Sensitive,' leading to the Diesel threatening to throw a metal can at the Suns MVP. Trying to play mediator, Johnson couldn't control his laughter at Shaq's following statement.
"It's supposed to be one, two, three, not one, two, back to one," said O'Neal.
Fortunately, things didn't get out of control, given any further instigation, and we could have a metal can being flung from Shaq's end of the panel.
"Y'all laughing, that sh*t ain't funny. I was mad that day": Shaquille O'Neal gives insight into his altercation with Charles Barkley.
Though it may be 3-years to the classic episode, the Big Diesel hasn't forgiven The Chuckster yet. Recalling the moment, Shaq seems to be in no mood to forgive Barkley, giving an insight into the situation on his Big Podcast.
"I was serious," said Shaq stating how Chuck had been doing that for years, even taking a shot at the eleven-time All-Star for constantly repeating himself.
"Y'all laughing, that s–t ain't funny. I was mad that day." 😳

Safe to say @SHAQ is still not over this moment with Charles pic.twitter.com/1nl9lPBPGx

— NBA on TNT (@NBAonTNT) December 17, 2022
Nevertheless, a couple of years later, the two continue to share the panel on Inside the NBA, still never hesitating to throw shots at each other.
Also read: "We are best friends Charles Barkley whether you like it or not": Millionaire Shaquille O'Neal shockingly brought a gift hamper for Chuck, one of which said 'best basketball player'
---
Share this article