"Remember Crying When Pistons Beat Michael Jordan": Allen Iverson Claimed 6ft 6″ Bulls Legend Was His 'Superhero'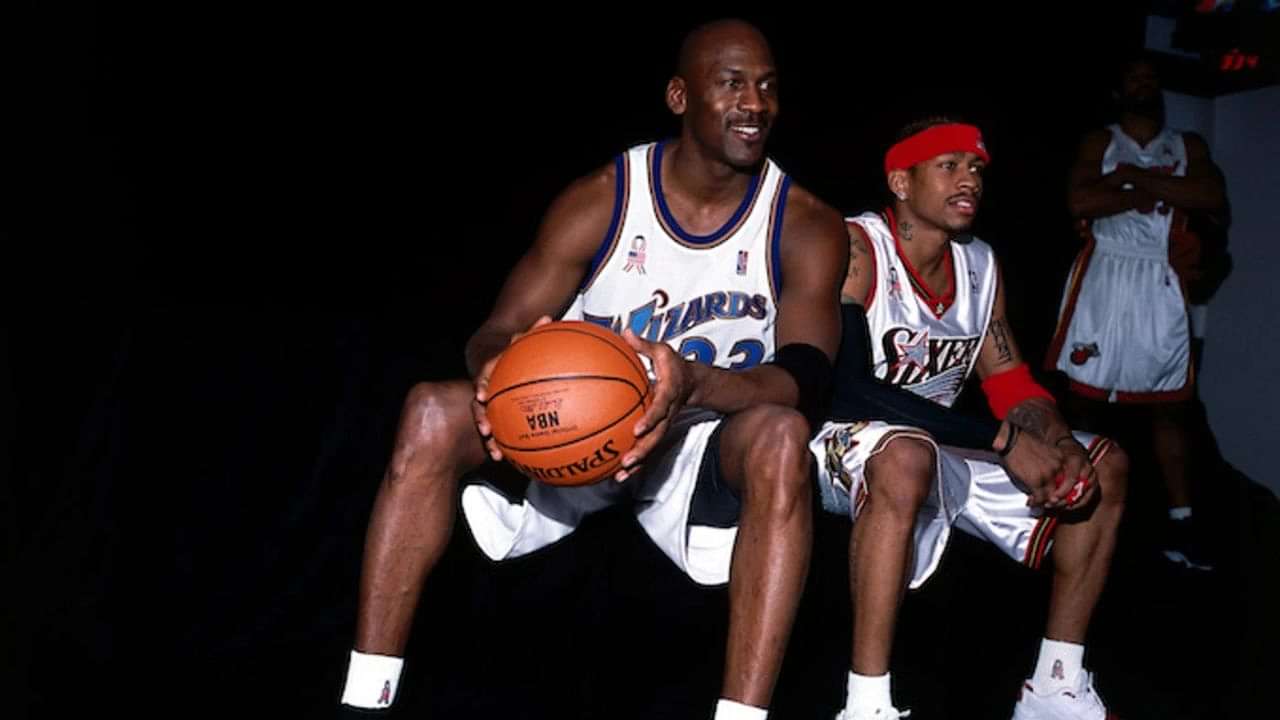 When one thinks about the most influential player the NBA has ever seen, one often imagines a high-flying #23. No, it's not LeBron James, well, he's a worthy candidate, but here we're talking about Michael Jordan. The 6ft 6″ Bulls legend was one of the best players the league and the sport of basketball has ever seen. His teammates knew it, his opponents knew it, and so did the players who grew up watching him. Allen Iverson was one of them.
AI was one of the flashiest players the game had ever seen, both on and off the court. He had a wide array of moves he used to pull in games, and razzle-dazzle people with his ball-handling skills. One of the most iconic moments was when he crossed over Michael Jordan himself.
In a recent interview with GQ, Allen Iverson talked about his playstyle, MJ, jewelry, and a lot more.
Also Read: "Media Doesn't Show Joel Embiid Enough Love": 6ft 11" Center Believes 76ERS' Superstar Deserves to Be Higher Up on the MVP Ladder
Allen Iverson credited Michael Jordan for his playstyle
A lot of people in their 20s grew up watching Allen Iverson. He had an extremely interesting playstyle, with the perfect amount of flash and finesse. Along with his game on the court, his dressing sense and fashion were an inspiration for a lot of people growing up.
In the recent GQ interview, Iverson was asked how his playstyle came into existence. He credited Jordan for the same and said,
"I learned from Mike. I always looked at him like a superhero. That was my guy. The way he wore his wristband, the bald head. I used to like when he had that bald head with the goatee and the brace around his shin, on his calf. The man was my hero. I remember crying back when the Pistons used to beat on him."
"My mom had a TV sitting on a dresser, and I used to sit this close to the TV [puts his hand up to his face], know what I mean? "Back up before you go blind!" That's how much I loved him. I wanted to be that close to him. He gave me the vision to be a basketball player."
Despite AI's love for MJ, the first encounter they had on the court did not go well.
Also Read: "Assumed Shaquille O'Neal Didn't Want My Help!": Kareem Abdul-Jabbar Once Revealed Why Big Diesel Never Heard From Him
How did AI's first game against Jordan go?
Remembering an encounter from his first contest against MJ and the Bulls, AI said,
"There was a hurtful moment my rookie year. We were playing against the Bulls, and I remember Jerry Stackhouse was getting into it with Mike and Scottie Pippen. I was at the free throw line. I wasn't even in the little verbal altercation. And Scottie said something like, "If y'all don't respect nobody, y'all gonna respect us…."
"Me, 21 years old, young and confident, all I said was, "We not gone respect nobody." I was saying we not respecting nobody on the dance floor. They took it and ran with it. He don't respect Michael Jordan?! Just crazy-ass. It was a big-ass fucking deal because I was involved in the shit."
In his debut against His Airness, Iverson scored 32 points on 11 of 23 shooting. He showed MJ and the Bulls why he was the 1st pick in the 1996 Draft.
Also Read: "Shaquille O'Neal, That's Chicken, Not Frog!": Adam Lefkoe Snitches on 7ft 1″ Diesel for Cheating His Way Out of Bet With Ernie Johnson
---