"Shaquille O'Neal, That's Chicken, Not Frog!": Adam Lefkoe Snitches on 7ft 1″ Diesel for Cheating His Way Out of Bet With Ernie Johnson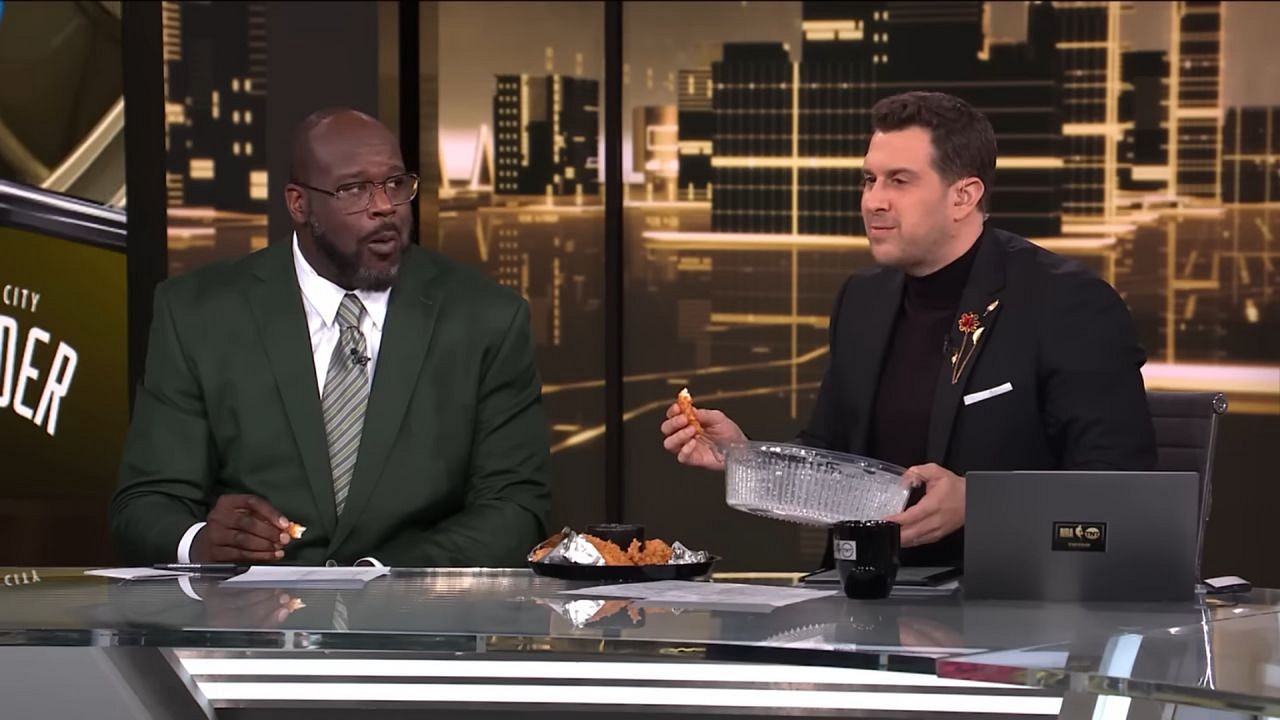 Shaquille O'Neal is one of the most dynamic personalities associated with the NBA. The 7ft 1″ big man has done it all, from rapping to acting in movies, having his own shows, and now, being an on-air analyst. Oh yeah, he also had a Hall-of-Fame career in the NBA while doing all of that.
Big Diesel played in the NBA for 19 seasons, winning four championships. He went down as one of the most dominant players in the history of the league, battling Kareem Abdul-Jabbar for the spot.
Currently, Shaq works with TNT as an on-air analyst. He is part of the Emmy-winning Inside the NBA along with Ernie Johnson, Kenny Smith, and Charles Barkley. Shaq also is a part of their TNT Tuesday cast and has his show, The Big Podcast, with TNT.
Recently, Shaq bet Ernie that he'd eat a horned frog if TCU lost to Georgia in the NCAA Championship game.
.@SHAQ said he'd eat a frog if @GeorgiaFootball wins the National Championship 😳 🐸 pic.twitter.com/Z2xn5CNscm

— NBA on TNT (@NBAonTNT) January 6, 2023
Well, they lost 65-7 yesterday, and it was time for O'Neal to face the music.
Also Read: "You See What LeBron James Did To the Hawks & the Kings?!": Shannon Sharpe Defends Lakers Star For Missing Clash Against Nuggets
Shaquille O'Neal gets caught trying to cheat on his bet
Tonight Shaq was on TNT Tuesday with Candace Parker, Adam Lefkoe, and Jamal Crawford. Crawford was signed as a replacement for Dwyane Wade on the crew. On the show, Shaq brought out a container with fried chicken, and tried to pretend that they were frog legs.
Adam Lefkoe saw the same and called him out for it.
"Shaq, that's chicken! You need to stop lying, I'm not going to let you get away with a bet with Ernie like that."
O'Neal thought Lefkoe won't call his bluff and told him to eat one if it was chicken.
Adam ate a piece and said,
"America, that's chicken. This is embarrassing. Be a man of your word with Ernie."
O'Neal called Adam a snitch and then claimed that he'd do it right on Thursday.
We'll have to wait and see if the big guy actually lives up to his word.
Also Read: "Larry Bird was showing me it was all business now": Michael Jordan revealed how Larry Legend showed him his place in his rookie season
Shaq once bet to super-glue fish on his lips with Jimmy Fallon
This isn't the first time O'Neal has made an outrageous bet. He does that quite regularly. Shaq and Charles Barkley always have some or the other bet going on when they're on-air together. However, once, he bet Jimmy Fallon that he'll use superglue as chapstick and put a fake life-sized fish-head necklace on his lips.
The bet was over the Super Bowl result, and he didn't even care which team won. In fact, he let Fallon have the first pick.
Good thing Jimmy Fallon backed out last minute, else he would have won the bet, and we would have a clip of Shaq wiggling his way out of it.
Also Read: "Assumed Shaquille O'Neal Didn't Want My Help!": Kareem Abdul-Jabbar Once Revealed Why Big Diesel Never Heard From Him
---
Share this article