Shaquille O'Neal, Who Bet Eating a Frog With Ernie Johnson, Congratulates Georgia on Winning NCAA Championship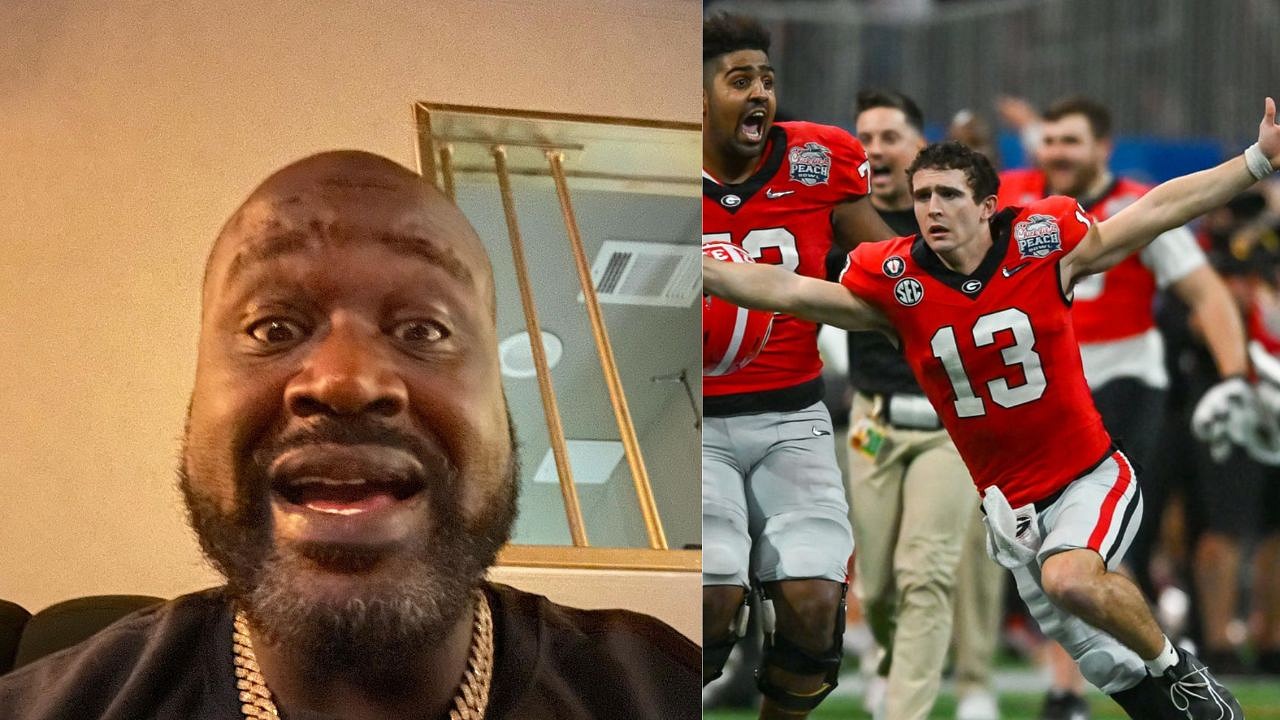 Today was a big day for college football. Georgia Bulldogs stood to defend their title against the challengers: TCU Horned Frogs. It was a highly anticipated matchup, and well, it did not disappoint, at least for the Bulldogs fans. Shaquille O'Neal, just like a lot of us, was watching the game, sitting on the edge of his seat.
Georgia registered a record win, taking down TCU 65-7 in the Championship Game. It was a blowout win, to say the least. Many NBA players had picked sides for the game. Luka Doncic, who had sided with TCU, was in attendance with his head coach, Jason Kidd.
Luka and Jason Kidd pulled up to the #NationalChampionship game 👏

(via @Big12Conference) pic.twitter.com/ZVVDyBnUMH

— Bleacher Report (@BleacherReport) January 10, 2023
Other players such as Donovan Mitchell, Trae Young, and Josh Hart talked about the game on Twitter. After the game, Shaquille O'Neal took to his Instagram to post about the game.
Also Read: "Lose a Few Games… Only the Real Ones Are Here!": Giannis Antetokounmpo Sarcastically Addresses the 3 Reports at Bucks Practice
Shaquille O'Neal faces reality, congratulates Georgia
A few days ago, the Inside the NBA crew were discussing the upcoming NCAA Championship game. Georgia super fan Ernie Johnson brought a Bulldogs helmet to the studio. Well, Shaq being himself, he bet Ernie that he'd eat a horned toad if the Horned Toads lost to the Bulldogs in the Championship game.
.@SHAQ said he'd eat a frog if @GeorgiaFootball wins the National Championship 😳 🐸 pic.twitter.com/Z2xn5CNscm

— NBA on TNT (@NBAonTNT) January 6, 2023
Well, as we saw tonight, that bet didn't go well for Shaq.
Facing reality, he put an Instagram post and captioned it,
"the face u make when u gotta eat horned frog legs congratulations @georgiafootball "
 

View this post on Instagram

 
Well, tomorrow's Inside the NBA is going to be a lot of fun. We have a Thunder-Heat and a Warriors-Suns doubleheader on TNT, and then, obviously, Shaq eating a frog.
Also Read: "LeBron James Isn't Playing? Michael Jordan Played 82 Games 9 Times!": Skip Bayless Mocks Lakers Star for Missing Game With Ankle Soreness
Twitter reacts to Shaq losing the bet
Shaquille O'Neal very confidently bet on TCU. However, it backfired pretty hard. While Shaq prepares to face reality, Twitter couldn't stop laughing.
Me watching pic.twitter.com/hMiyYkOE3U

— Sports Junkie (@someinserious) January 10, 2023
i can fry up them frog legs and bring them to the studio tomorrow!! https://t.co/58ngWyU0rO

— Flu (@LovinTheFLU) January 10, 2023
Fried frog legs are good

— Slightly Rational Knicks Fan (@RationalKnickFn) January 10, 2023
How @TurnerSportsEJ @TheJetOnTNT & Chuck will look while @SHAQ eats 🐸 pic.twitter.com/gkygKGZvru

— Mo_Trendz (@mo_trendz) January 10, 2023
silly thing is that no one challenged Shaq to make the bet. He enjoys putting himself in these situations lol https://t.co/92lLAw4Qsf

— Gabe E. (@Stephon_Urkel10) January 10, 2023
Also Read: "Shaquille O'Neal Can't Handle It!": Candace Parker Once Nastily Threw Down All Over the Big Man Right on National Television
---
Share this article