Stephen Curry "Hopes" to Play With Draymond Green and Klay Thompson Beyond 2022-23 Season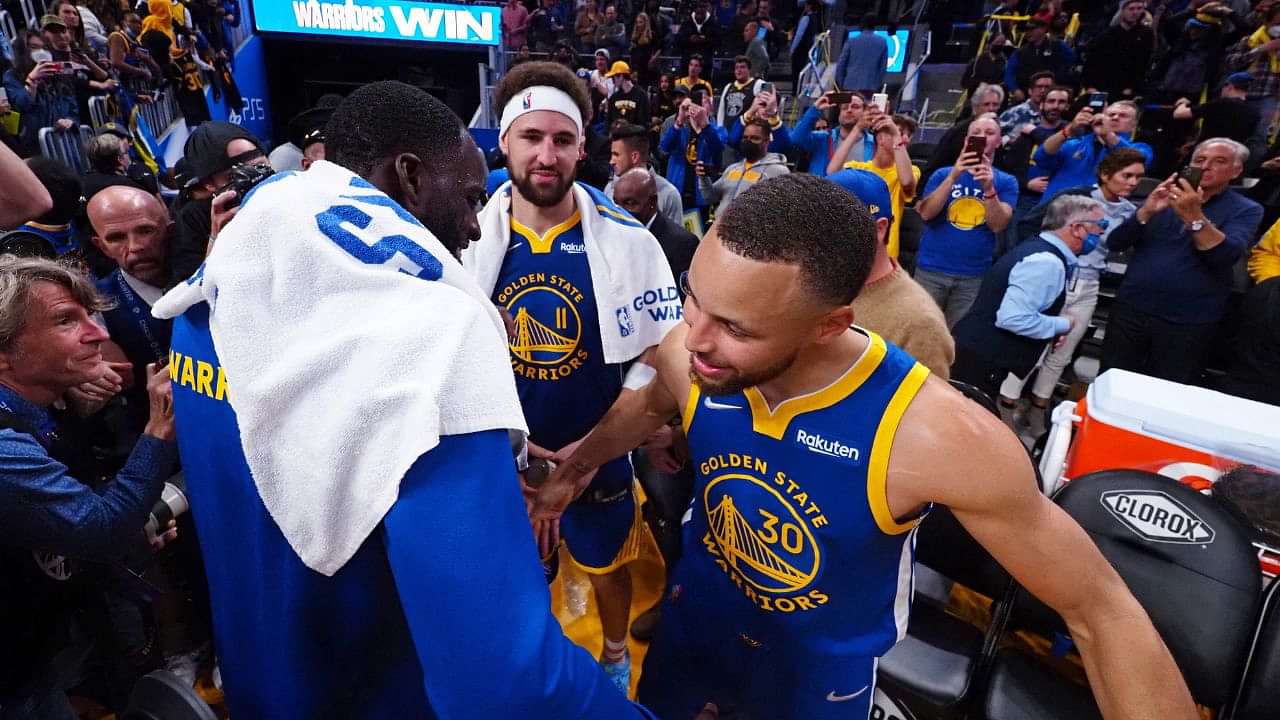 There have been strong suggestions that one of the greatest trios in NBA history will not be together by the start of the 2023-24 season. And it will most likely be Draymond Green who would be taking his talents away from the Warriors and his brothers in crime, Stephen Curry and Klay Thompson.
There has been financial trouble with the team for a couple of years now, given the massive contracts most of its home-grown players have been able to carve out over the years.
Green is the only one among the three who has not had his max contract yet. The 2017 DPOY might be eyeing to play away from the Dubs for the first time in his NBA career. He becomes a free agent at the end of this season.
Steph still hopes they would stay together.
Also read: "It's Nuts": Warriors Head Coach Steve Kerr is Disappointed at Kevin Durant's Prolonged Absence From Warriors Home Games
Stephen Curry is hoping it's not the end for the Warriors' trio
In his recent appearance on the Dubs Talk of NBC Sports Bay Area, 'The Chef' spoke with Kerith Burke and Monte Poole about how it's special and rare in the league to have played and been successful as teammates for more than a decade.
He mentioned the Old Celtics team, Showtime Lakers, and Tim Duncan's Spurs probably pointing out that it doesn't happen anymore.
"There [are] a few examples of teammates that have been together this long and played at the level that we have for as long as we have. So, I don't know if we're truly appreciated to be able to really talk about it until it's over. Hopefully, that's not anytime soon," Curry said.
Also read: "At least One Game": Stephen Curry Ponders the Uncertain Future of the Warriors, Reminisces About Oracle Arena
If this is it for both Green and Thompson, where do the Dubs go from here?
They would most certainly be the last three players to play together this long for one franchise and be this successful. And if this season is it for them, they would like to end it in the best possible way they can.
Winning a championship without Andrew Wiggins would be tough for them, and if they don't, it would be in the best interest of the franchise to move on from either Draymond or Klay or perhaps, both.
The compensation they would get for those two, despite how different they are as a player since 2019, would be massive. It could be so good they might become contenders straight away. But will Curry be able to be his best when these two are not by his side? We'll know soon.
Also read: FACT CHECK: Did Shaquille O'Neal and Stephen Curry Win an OSCAR in 2022?
---