"The 2021 NBA title will be the most unimpressive win in league history": Bill Simmons implies that this championship will have an asterisk next to it due to multiple injuries to superstars like Giannis Antetokounmpo and Trae Young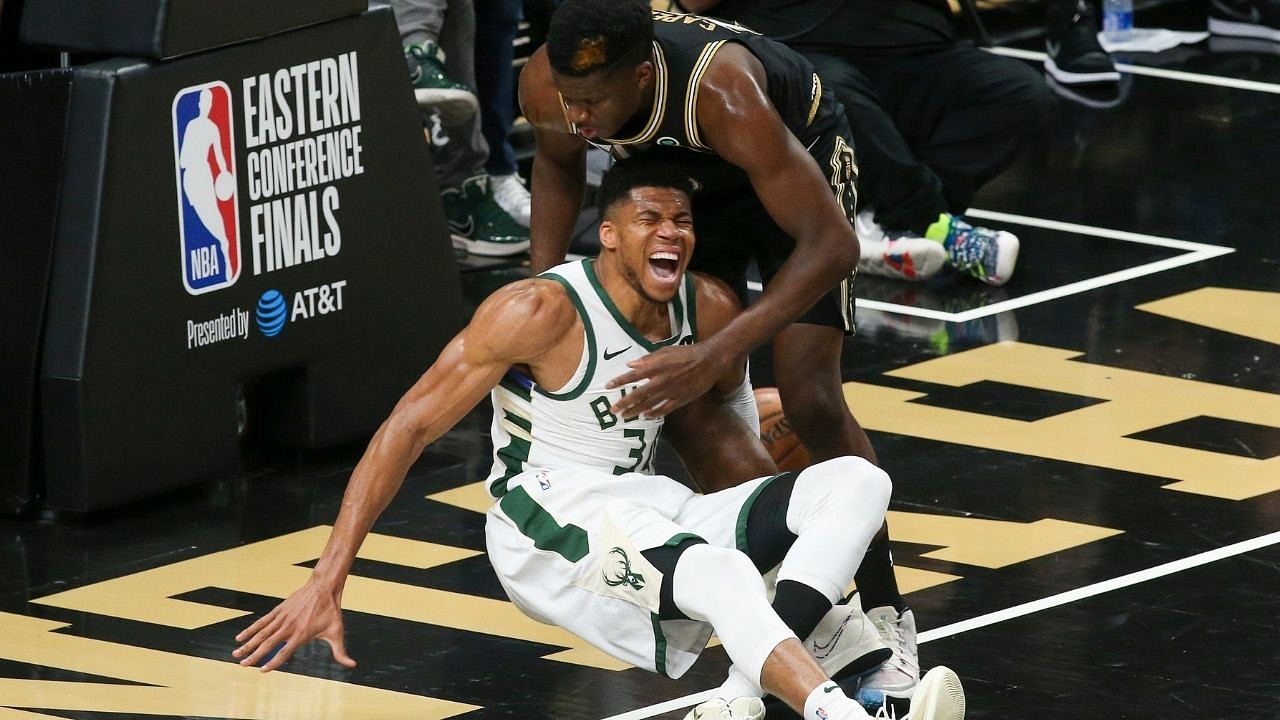 Bill Simmons doesn't think the 2021 Champions will be very impressive, for a very interesting yet questionable opinion.
 These 2021 NBA playoffs have been brutal. Many analysts like Bill Simmons and Kevin O'Connor have often reviewed just how hectic this current season has been for the players. And, with such a packed schedule comes the increased likelihood of injury.
The concept is brutally simple. Athletes need rest. If they don't get it, their body has to endure massive stress with no break in the middle. And once this passes a certain limit, it results in injuries.
The 2020-21 regular season was chock-full of devastating injuries to countless players. And unfortunately, the postseason has been no different.
In a recent podcast with The Ringer, Bill Simmons talked about this very same phenomenon. And after taking it into account, he made quite the hot take about this year's championship.
Let's get into it.
Also Read: Colin Cowherd speculates whether Lakers' front office will trade their forward for Damian Lillard or another superstar
Bill Simmons calls this NBA championship the most "unimpressive" in the history of the NBA
 This edition of the playoffs has definitely come with its fair share of surprises. Nobody in the world believed that big teams like the Lakers and the Nets would fall short of the Conference Finals. But here we are, and it's all thanks to injuries that players have had to suffer.
As NBA fans, you'd hate to watch a player going down and writhing in pain. But according to Bill Simmons, there are other implications of these injuries as well. Here is what he said in a recent podcast with the Ringer.
"Not saying this would be the worst championship team ever, there were definitely worse teams that have won it all. But maybe I should say, this is the most unimpressive way to win a title this year due to all the injuries."
In the NBA, Giannis Antetokounmpo off with knee hyperextension injury. Unfortunately brings many possibilities.
Best case: bone bruise, PCL/capsular sprain
Worst case: ACL injury
Hope for best case but concerned w significant hyperextension movement. 🤞🤞pic.twitter.com/6DYIDcY5SG

— NRL PHYSIO (@nrlphysio) June 30, 2021
Bill Simmons may not be wrong here, but we can't completely agree with him here.
At the end of the day, every team in the final 4 has been riddled with injuries at some point during this postseason. And despite that, every team has managed to play at a high level.
If anything, managing to win it all, despite the injuries, needs to be held in higher regard.
Also Read: NBA Twitter heaps praises on the Hawks' youngster for his Game 4 performance against the Bucks
---