"Them n****s never speak to a n****": LeBron James And Dwyane Wade Ignoring Lil Wayne Infuriated Him To No End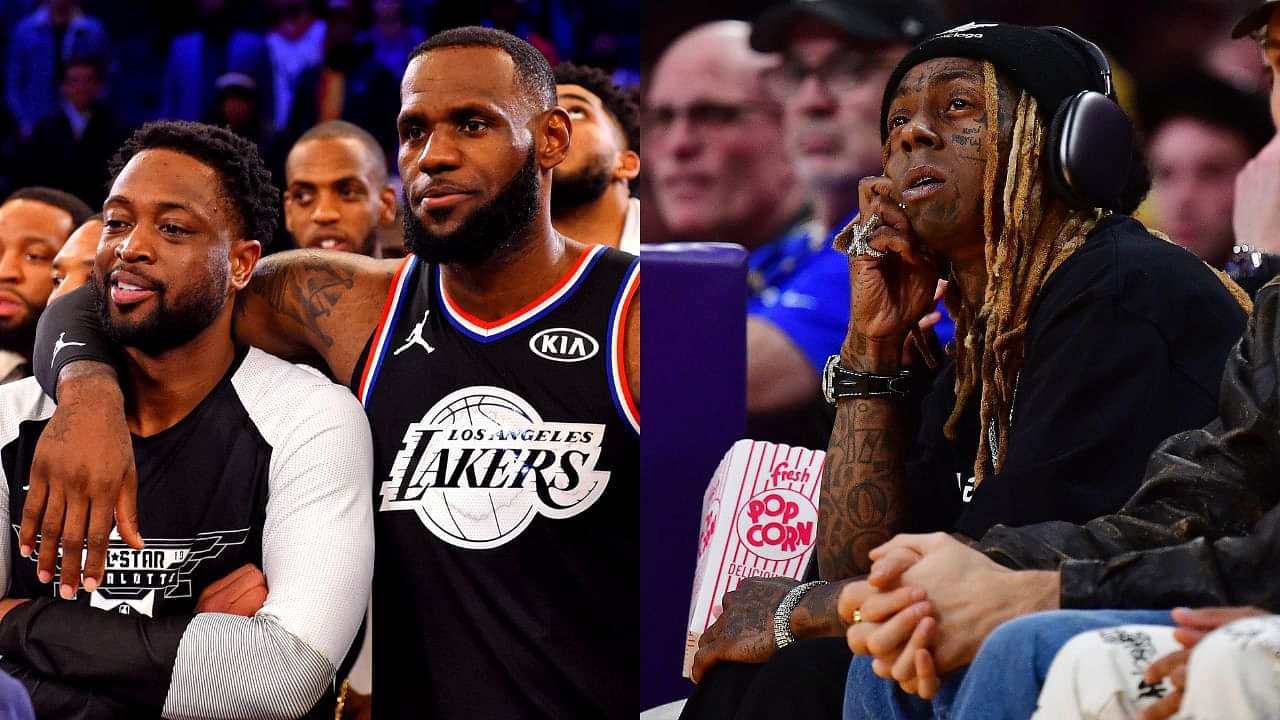 Lil Wayne was once left perplexed and infuriated as former Miami Heat All-Star duo, LeBron James and Dwayne Wade ignored him.
The affiliation between NBA stars and hip-hop artists is an age-old adage. Since their advent into mainstream music, rap artists have made their presence known within the basketball spectrum, making appearances at various matches. 
Some of them have even established close alliances with the greatest NBA stars to have graced the game.
The likes of Kobe Bryant, Allen Iverson, LeBron James, and Kevin Durant to name a few, have acquainted themselves with historic figures such as Snoop Dogg, Ice Cube, Drake, and Lil Wayne. So much so that, these aforementioned names have collaborated with each other on several occasions. 
Lil Wayne in particular, has a rock-solid relationship with LeBron James, thanks to James' appearance in Wayne's music video of the song "Forever". 
Although their close ties, the 40-year-old American was once left livid after James and former Miami Heat teammate, Dwayne Wade failed to acknowledge him. 
Also read: "In Two Years, Dwyane Wane Became Dwyane Wade": Ye, Formerly Kanye West Name-Dropped The Miami Heat Star In His Song And Gave Him A Subtle Hint About It
LeBron James and Dwayne Wade once ignored Lil Wayne! 
LeBron James made a shocking decision to join the Miami Heat in the summer of 2010 alongside Dwyane Wade and Chris Bosh. The trio formed a 'Big Three', with the intention of eclipsing the Boston Celtics and capturing the NBA title. 
Lil Wayne has been an avid supporter of his home team the New Orleans Pelicans, formerly known as the New Orleans Hornets.
As such, when the opportunity arose in 2010 to witness his team play the Miami Heat, following his release from jail, Wayne without a second thought, purchased courtside tickets to the game.
The five-time Grammy award winner was, however, left enraged as Wade and James apparently ignored him. Speaking about the incident in 2011, Wayne gave a rage-fueled response and stated:
"Them n****s never speak to a n****," Lil Wayne exclaimed. "They don't chuck me the deuce or nothing. N***a spent all that money on them f***ing tickets. Come holla at me. We sit right by them little *itch-*ss n****s. At least come ask me why I'm not rooting for you."
Given their relationship, it's understandable why Lil Wayne might have felt the way he did. Yet, a simple concept that a vast number of celebrities fail to comprehend is that these athletes are not obligated to pay them any gestures. 
Nonetheless, the moments in which these stars do acknowledge them are entirely genuine and will eventually make for an incredible memory. 
Also read: "Russell Westbrook Wasn't Lying About Joel Embiid!": Lakers Stars Claims Of Being Held Backed Up By NBA Twitter
The correlation between NBA stars and Hip Hop artists. 
The 21st century gave birth to a rather unpredictable alliance between music artists and NBA stars. The relationships they have cultivated have helped them in collaborating for projects, with the primary being music videos for their songs. 
The likes of Kevin Durant and LeBron James have made multiple appearances in the music videos of Drake, Kanye West, and Lil Wayne. 
Fortunately for Wayne, Kobe Bryant was always appreciative of him.
In fact, back in 2009, Wayne once made a track for his favorite NBA star, Kobe Bryant. Fortunately for Wayne, Kobe Bryant was always appreciative of him. Needless to say, these partnerships will not come to an abrupt halt anytime soon. 
Also read: Dennis Rodman, Who Couldn't Pay $850,000 To Ex-Wife, Revealed He Was 'F**king Selfish' As A Father
---