Watch: 16-year-old Shareef O'Neal Once Impressively Posterized his 7ft 1″ father Shaquille O'Neal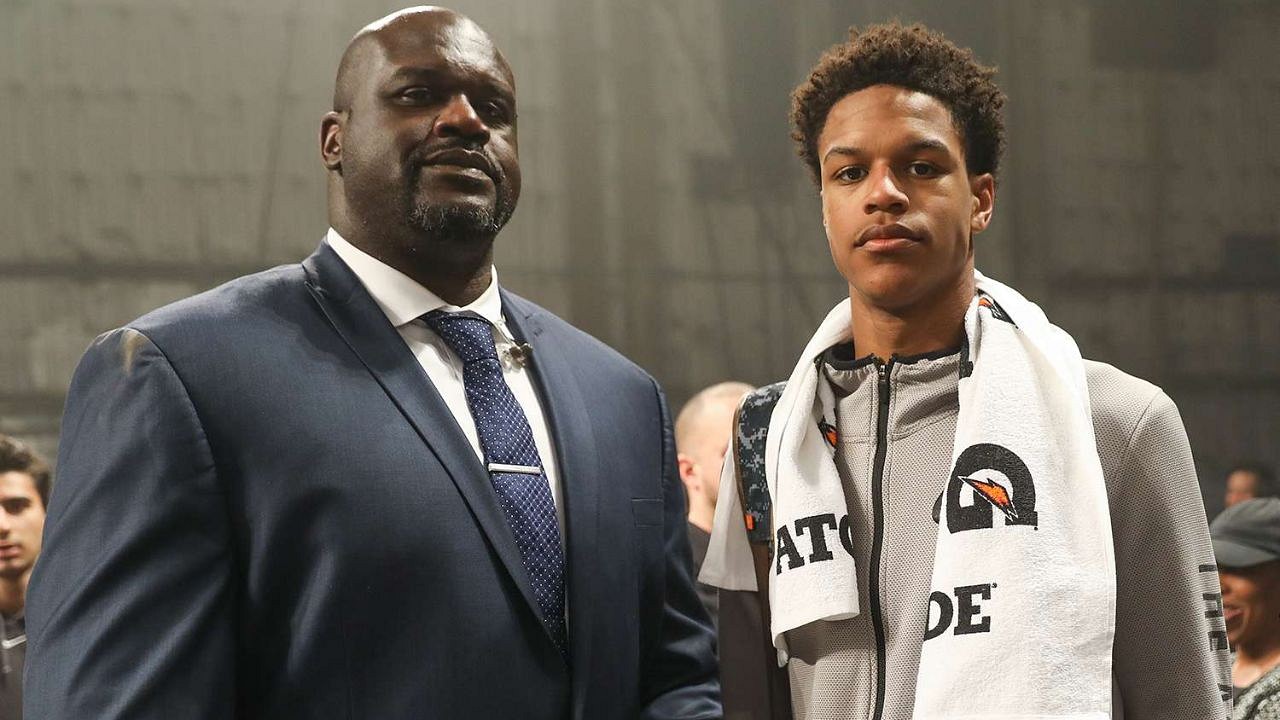 Shaquille O'Neal is one of the greatest athletic specimens the NBA has ever seen. Standing at 7'1″ and weighing close to 325 pounds, Shaq was a force to be reckoned with. He was impossible to guard and equally impossible to score on, resulting in him winning four championships, an MVP, and eventually, making it to the Hall of Fame.
However, with age comes change. And, six years ago, the world was reminded that Big Diesel isn't as dominant as he used to be. Rather, his children are the ones who could be taking up the mantle. After all, fans witnessed his son Shareef easily clear him during practice and completely posterize him.
Also Read: "Kobe Bryant, Does a Ball Have Springs?": Shaquille O'Neal Shares Hilarious Ali G Commercial With The Black Mamba
Shaquille O'Neal once got posterized by a 16-year-old Shareef O'Neal
It takes a lot to stop Shaquille O'Neal. It takes a lot more to score one on him. Many NBA superstars learned that the hard way when they first went up against the Big Aristotle. However, over the years, Shaq has become a lot "softer". It used to be, that he was so competitive, he wouldn't let anyone get one over him, even in practice. Just ask Nate Robinson who once got spanked with a size 20 shoe, just for dunking on him.
But, this isn't the case anymore. After all, Shaq once let Shareef O'Neal posterize him during a practice session. And mind you, at the time, Shareef was just 16 years old.
If this was a prime Shaq, Shareef would not have been safe on the next possession. Luckily for him, his father showed some leniency. The same can't be said for all the bodies he left in his wake during his playing days.
Shaq ended a lot of careers with his powerful dunking ability
Throughout his career, Shaquille O'Neal has been commonly referred to as "the most dominant force in NBA history". To say that is an exaggeration would be a huge lie. The man was a menace on the court and his athleticism and penchant for posterizing opponents led to a lot of early retirements in the league, figuratively speaking.
He truly was a freak of nature. One of those specimens that only come around once every generation. And, while players may have been unlucky enough to cross his path, the fans must have surely felt lucky watching it happen.
Also Read: "I Wanna Hurt Him": Shaquille O'Neal Remembers Mike Tyson's Brutal Fight Against Gangster Reggie Gross on His Instagram
---
Share this article