"I Wanna Hurt Him": Shaquille O'Neal Remembers Mike Tyson's Brutal Fight Against Gangster Reggie Gross on His Instagram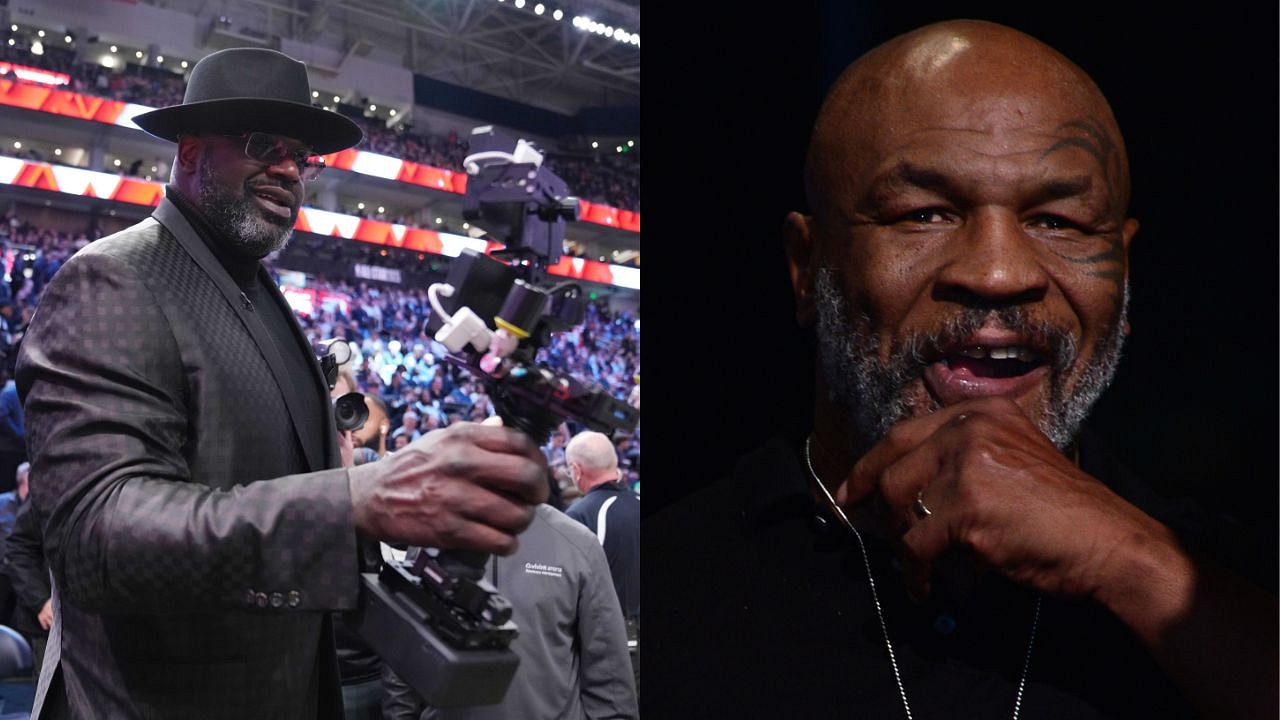 The Brutality of Mike Tyson demanded the world's attention. He was a far more vicious and unhinged fighter than fans were used to. Even in the world of boxing where violence is the norm, Tyson's ferocity stood out. He quickly rose through the ranks and cemented himself as one of the greatest boxers in the history of the sport.
Tyson's prowess and violence remain a major attraction even today. Even amongst the elite athletes, Mike Tyson was akin to a king. And it seems NBA legend Shaquille O'Neal is among such elite athletes who rever Tyson's brutality and skillset in the ring. The 7ft 1″ Lakers legend shared a video of Tyson's infamous fight with Reggie Gross on his Instagram story.
Also read: "Stephen Curry Would've Looked Older if Kevin Durant Played": Skip Bayless Sides With Chris Paul With Childish Argument
Shaquille O'Neal shares old footage of Mike Tyson fighting Reggie Gross
Tyson debuted as a professional boxer in March 1985. He was just 18 when he fought and won his first pro match. By June 1986, Iron Mike had fought a total of 21 matches and won them all. Of his 21 wins, 19 were knockouts. However, he was all set to face Reggie Gross in June 1986. Gross was infamous for upsetting up-and-coming fighters with good records.
Going into the fight, Tyson knew two things. First, Reggie Gross was a good fighter and capable of great damage. And that he could dodge every punch thrown by Gross. But Reggie was a dangerous man too. He worked for a very violent drug gang. 19-year-old Iron Mike, however, had his own plan to battle the tough opponent. Mike, who had an impregnable bobbing and weaving skill, dodged 20 of Gross's punches before landing a lethal left hook that led to the fight ending in the first round.
The video Shaquille O'Neal shared on his Instagram also featured a commentary from Tyson. His commentary only shows how lethal and confident Mike was.
Tyson: "Reggie Gross is a real tough guy. He's a spoiler, he beat a lot of undefeated fighters. Everybody thought he was gonna go at least 10 rounds with me. and give me a tough fight. I have to move my head, I have to be very elusive and I know I wanna hurt him desperately. I wanna dismantle him."
 

View this post on Instagram

 
It's no wonder Shaquille O'Neal chose to share this particular video. It encapsulates not only Iron Mike's skills but also his approach to the sport. Considering how dominant O'Neal was himself, it's not surprising that he chose to share Tyson's fight with Gross on his Instagram.
Legend sharing another legend 🙌🙌 pic.twitter.com/YbOu5ZPurc

— Meloismybabbydaddy (@Melobabbydaddy) March 14, 2023
Gross is incarcerated for a triple homicide
Reggie Gross, a promising fighter, was involved in gang-related activities outside of his career. In 1989, just 3 years after his fight with Mike, Reggie was convicted of murdering three people. The court deemed his actions brutal, pre-meditated, and malicious. He received three life sentences for his crime and has since been imprisoned.
Also read: "We Ain't Taking No S*** From Nobody": Giannis Antetokounmpo Irks De'Aaron Fox & Kings' Coach Into Blasting Him in Post-game Conference
---
Share this article