Watch: Draymond Green Get Into a Heated Argument with a Fan, Asking Officials to Escort Him Out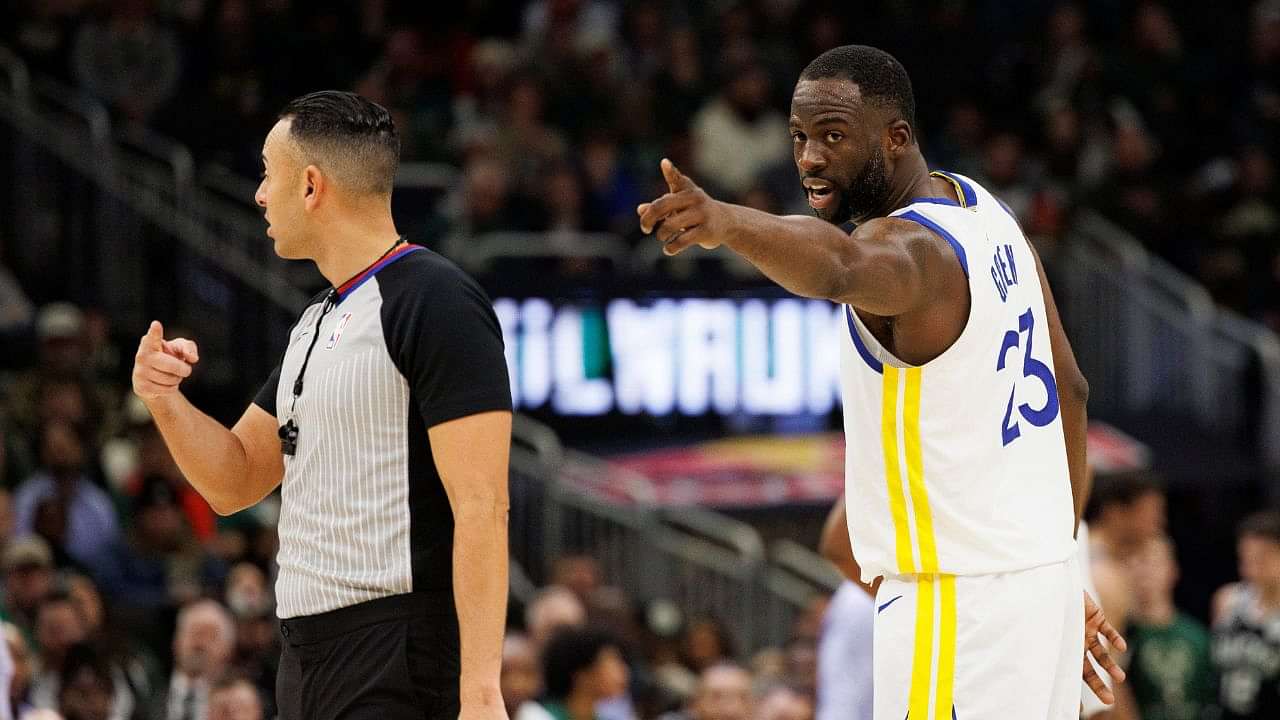 A rather rough night for Dub Nation, who were handed the L against the Milwaukee Bucks. From the looks of it, Coach Steve Kerr and Warriors guard Stephen Curry weren't happy with the officiating during the game, so much so that the coach-player duo didn't hesitate to pick up a row on this, even if it had them receive technicals.
Loading embed tweet https://twitter.com/ClutchPointsApp/status/1602832062150492161?ref_src=twsrc%5Etfw
Unfortunately, things only got worse for the visiting team, who now barely stand at the +500 mark. During the 3rd quarter of the game against the Bucks, veteran forward Draymond Green got into a heated exchange with a fan on courtside, leading to the latter being escorted out by the arena officials.
While the details of what led to the altercation remain unknown, a clip of Draymond calling out the fan from the free throw line would go viral. The former DPOY was in no mood to let the party in concern slip under the radar.
Loading embed tweet https://twitter.com/ClutchPointsApp/status/1602856068467478529?ref_src=twsrc%5Etfw
Despite the officials asking Draymond to exercise patience, the four-time champion was in no mood to listen.
Also read: "Anthony Davis is not a Big Man": 7-Foot Shaquille O'Neal's Candid Take on The Brow's Ranking Among All-Time Lakers Centers
Below is a detailed sequence of the happenings of the event.
Draymond Green gets into a heated situation with a fan in Milwaukee.
Known to voice his opinions on important matters, Draymond has never shied away from being vocal about his opinions, with Tuesday night being no different when the Warriors visited Milwaukee.
The four-time All-Star got involved in a heated exchange with a fan, asking the officials to suspend the latter from the arena.
Loading embed tweet https://twitter.com/ClutchPointsApp/status/1602849190786215937?ref_src=twsrc%5Etfw
Fans getting unruly and misbehaving isn't something new. However, such incidents have seen a rapid increase in the past few years. Thus it's time Commissioner Adam Silver and co plan a stringent course of action in order to minimize such events.
Also read: "LeBron James' Name Should Be Permanently Attached To The Longevity Award": Skip Bayless Heaps Praise On The King After Michael Jordan's Special Award Was Announced
---