WATCH: Shaquille O'Neal Forces Kristen Ledlow to Use His New 'Dark' Nickname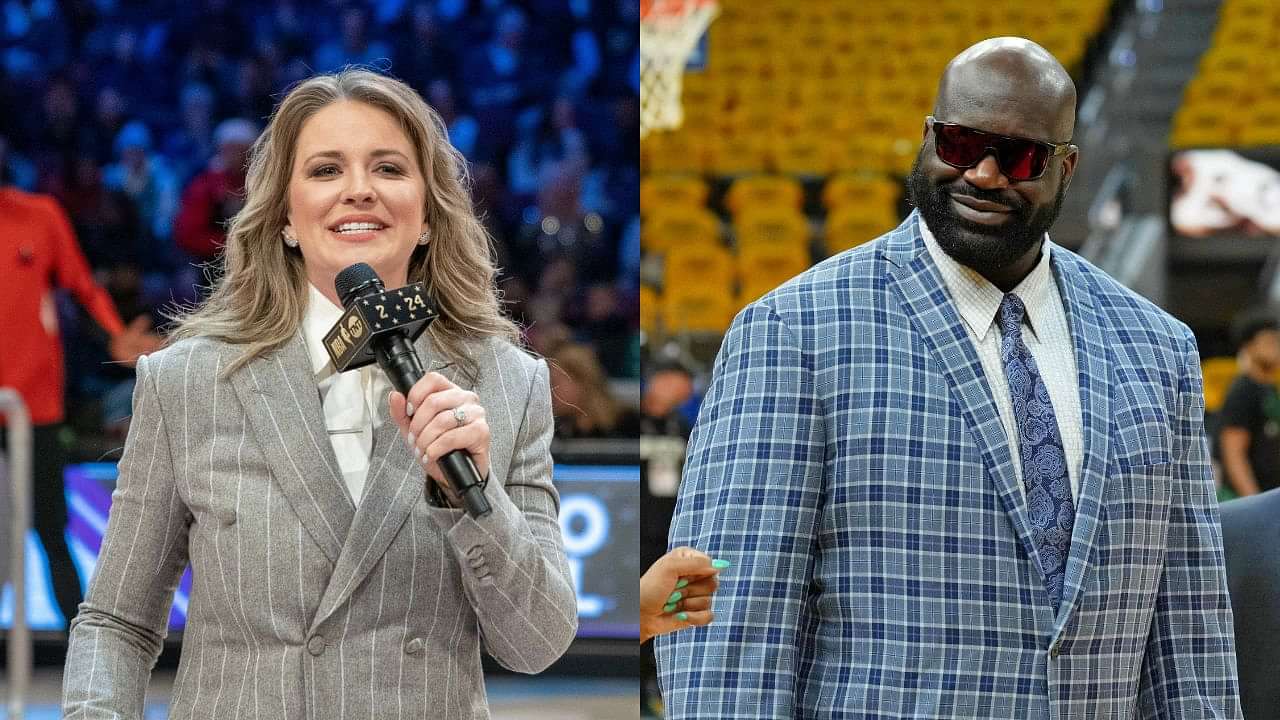 Shaquille O'Neal is one of the most interesting personalities associated with the NBA. The 7ft 1″ big man has a unique charm and brings a different energy whenever he's in a room. Currently, he works for TNT as an on-air analyst and also has his own show, The Big Podcast.
Before he was on TV, Shaq had a successful 19-year NBA career. He was a 4x Champion, 3x Finals MVP, and 1x MVP. Big Diesel was an unstoppable force on the court and went down as one of the best big men in the game's history.
Along with his dominant personality, Shaq was also known for his barrage of nicknames, most of which were self-appointed. Big Diesel, Big Aristotle, Big Shaqtus, Shaq Daddy, and Shaq Fu are just a few. Recently, he made Kristen Ledlow debut his new nickname on National TV.
Also Read: Larry Bird Once Battled Billionaire Donald Trump for Rights to $60 Million Worth of Property
Shaquille O'Neal makes Kristen Ledlow debut his new nickname
The Big Aristotle loves to be in front of a camera and is rather very comfortable doing so as well. Recently, he was on NBA TV with Kristen Ledlow and Jamal Crawford. While on the show, Shaq forced Kristen to call him by his new nickname.
Loading embed tweet https://twitter.com/KristenLedlow/status/1616161475306962946?ref_src=twsrc%5Etfw
We can see how awkward Ledlow was, and how much Shaq was thriving off of it. Shaq wanted to be introduced as 'Dark Nowitzki' and Ledlow wasn't too comfortable calling him that. It certainly wasn't easy for Ledlow but how do you say no to a 7ft 1″ Diesel pressuring you to do it.
Also Read: Stephen Curry Once Humbled Himself and Texted Kevin Durant Before he Signed for Warriors Just to Win More Championships
NBA Twitter reacts to Kristen calling Shaq 'Dark Nowitzki'
As always, NBA Twitter saw this clip and couldn't help themselves but react to it. The first one to do so was none other than Rachel A DeMita.
Loading embed tweet https://twitter.com/RADeMita/status/1616172654125269001?ref_src=twsrc%5Etfw
The other reactions started pouring in soon too.
Loading embed tweet https://twitter.com/BullsFanFran/status/1616219443264360449?ref_src=twsrc%5Etfw
Loading embed tweet https://twitter.com/KristenLedlow/status/1616221400272097281?ref_src=twsrc%5Etfw
Loading embed tweet https://twitter.com/JalenRoseBat/status/1616172536877678592?ref_src=twsrc%5Etfw
Loading embed tweet https://twitter.com/samjfranco/status/1616163014692028416?ref_src=twsrc%5Etfw
Also Read: "At Some Point, It Is Out Of Your Hands": John Wall Recalls Russell Westbrook's Text Message was how he Found Out About his Trade  
---