WATCH: Trae Young Humiliates Stephen Curry By Stealing His Rock, Before Letting Him Know All about It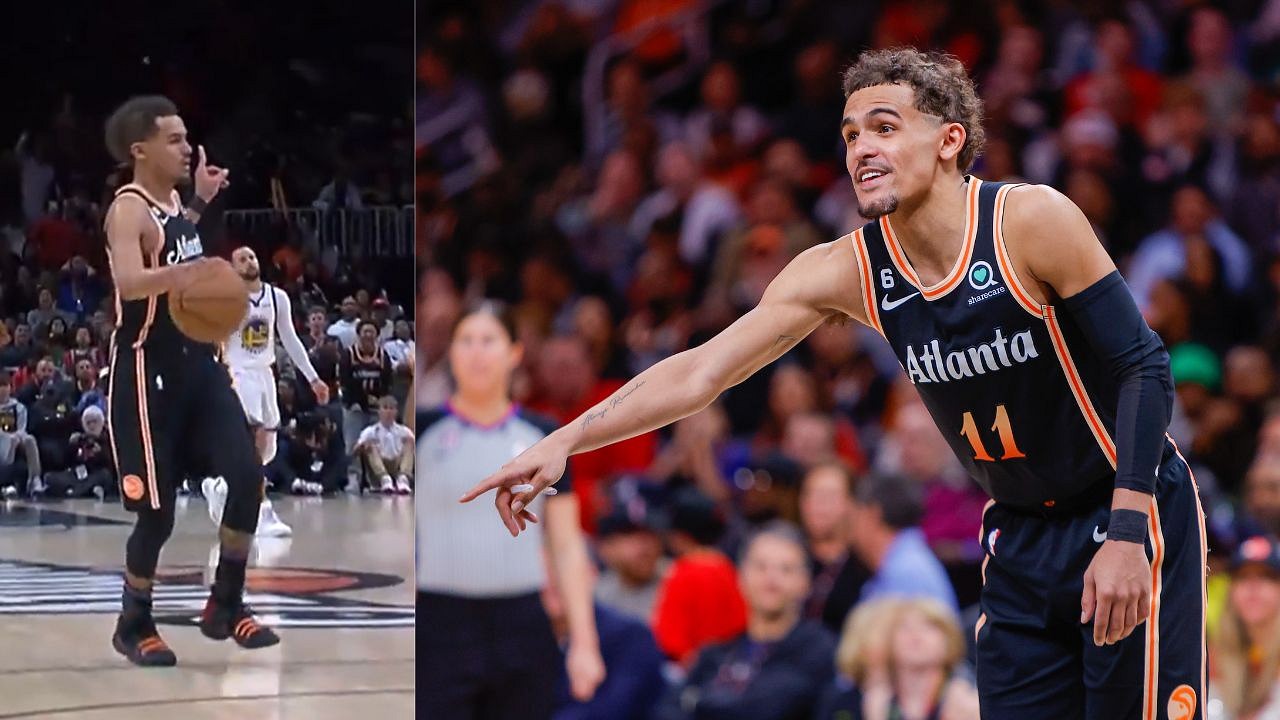 Can the Golden State Warriors even be considered contenders for the title any longer? Stephen Curry and company are unquestionably devastating at home. However, the fact of the matter is, their away record has been beyond abysmal. It's almost like they completely forget how to win games when they aren't at the Chase Center.
Given this fact, it's highly unlikely many people put their money on the Dubs winning their game against the Hawks. And sure enough, they didn't. However, while that is beyond disappointing for the franchise, that's not the humiliation we're going to talk about.
No, the incident we're going to be highlighting here, is how Trae Young locked Stephen Curry up before he let him know all about it.
Also Read: "I Didn't Call Him a Bi**h": LeBron James' Teammate Mario Chalmers Clarifies Comments During Miami Heat's Infamous 'Huddle'
Trae Young knocks the ball right out of Stephen Curry's hands before doing Dikembe Mutombo's infamous taunt to him
Trae Young isn't a good defensive presence very often. In fact, it's fair to say that on most occasions, the man is an absolute liability. However, every dog has its day. And clearly, this was his. Take a look at the clip in the tweet below to see what happened.
Trae Young with the finger wag 👀

🎥 @ATLHawks pic.twitter.com/CdEB8P0reJ

— The Athletic NBA (@TheAthleticNBA) March 18, 2023
Dikembe Mutombo may be a franchise legend, but Trae Young using his infamous finger wag just feels… off. Then again, when you make that kind of a play on arguably the best offensive player in the NBA right now, you can do what you want.
However, despite the trash talk, Young apparently didn't get criminally hyped up regarding the play itself. Heck, the man even had this to say about Curry after the game during his post-game interview.
"He's one of the guys who set the blueprint for guys like me."
"He's one of the guys who set the blueprint for guys like me."

Trae Young talks about his relationship with Steph Curry after the @ATLHawks win. pic.twitter.com/9JP0mSLSpf

— NBA (@NBA) March 18, 2023
At the end of the day, if the respect is intact, no matter how much smack-talk is exchanged between the two, nobody's feelings are ever going to be hurt. And given that the two are said to often work out together, we hope they keep their friendship and admiration for each other going.
Also Read: Andrew Wiggins' Girlfriend Mychal Johnson Responds to 'Cheating' Rumors, Stephen Curry's Sister Sydel Curry-Lee Chimes In
---
Share this article