Andrew Wiggins' Girlfriend Mychal Johnson Responds to 'Cheating' Rumors, Stephen Curry's Sister Sydel Curry-Lee Chimes In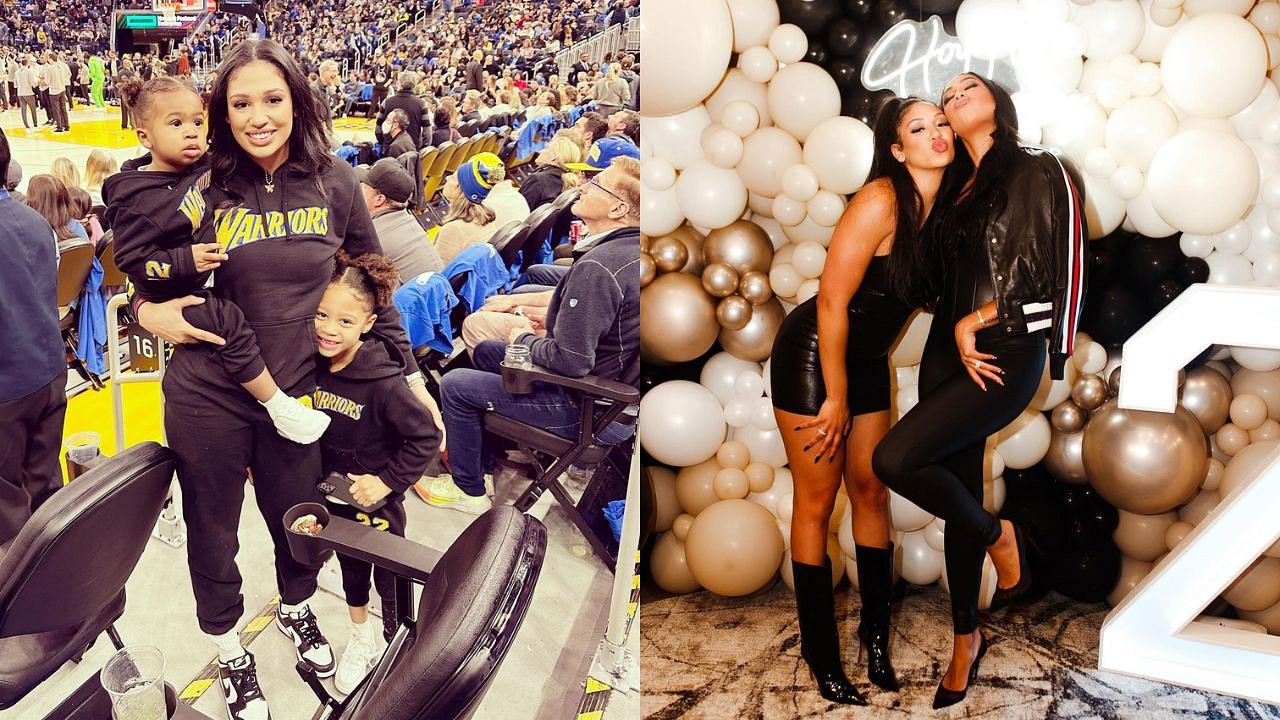 In this day and age of social media, we're seeing a huge rise in the number of people becoming celebrities. At the same time, there has been an unprecedented rise of online trolls who thrive on being anonymous. The latest victims of such online trolls were Warriors star Andrew Wiggins and his girlfriend, Mychal Johnson.
Andrew Wiggins is an important part of the Warriors, and was their 2nd best player on the 2022 Championship team. He's been away from the team since Feb 13th, missing 14 consecutive games due to a serious family affair. Since there is no other information about it, the trolls on Twitter decided to share some nasty cheating rumors.
Rumors: the reason Andrew Wiggins has taken the last month or so off from #DubNation is because he found out his wife has been having an affair with his best friend, and all this time Wiggins has been raising their kid?? Nah man that's just messed up bruhhh 🤦🏽‍♂️ #hoes

— MoondomerPlays (@MoondomerPlays) March 16, 2023
An absolutely reckless rumor has now been addressed by the 'wife' in question, Mychal Johnson.
Also Read: Andrew Wiggins Wife Cheating: Ugly Rumors Emerge About Best Friend and Mychal Johnson
Mychal Johnson responds on cheating rumors, gets support from good friend Sydel Curry-Lee
Andrew Wiggins has been away for a bit, and in that while, the Warriors have managed to worsen their road losing streak to 10 games. It has made the fans jittery, and some person with nothing better to do came up with this rumor.
A vile rumor, to say the least, caught Mychal Johnson's attention yesterday. She took it to Twitter to share her disgust.
The internet is really a sick place🤮

— Mychal Johnson (@mycoool_) March 16, 2023
She also continued and said,
Literally the farthest thing from the truth. It's sad y'all even doing this.

— Mychal Johnson (@mycoool_) March 17, 2023
Not long after her tweets, a famous Warriors fan page, WarriorsTalk, picked up the same and shared it. In the comments, Stephen Curry's sister, and Mychal's good friend, Sydel Curry-Lee, expressed her disgust as well.
Sydel Curry-Lee showed up to support her friend too! https://t.co/J4j9zuavRs pic.twitter.com/LaaUuKSfpt

— DubNation(2022 NBA CHAMPIONS) (@dubs3000) March 18, 2023
It's crazy how far people go to pick on someone who's already dealing with a family matter.
Also Read: Who Is Andrew Wiggins' Best Friend? Twitter Demands Answers As Cheating Rumors Emerge About Warriors' Star's Wife
NBA personalities show up in Wiggins' support
Seeing a player get hit with such nasty rumors at a time when he's attending to a serious family matter is something none of us can stand. Multiple reporters and sportscasters talked about the Wiggins' situation.
Andrew Wiggins should be able to take as much time as he needs to deal with a personal matter without people making up fake, vile lies.

Be respectful and leave him and his family alone. DO BETTER.

— Whitley Sandretto (@WSandretto) March 17, 2023
Leave Andrew Wiggins alone. Let him deal with whatever he got going on in peace.

— Chris Williamson (@CWilliamson44) March 17, 2023
Even Paul Pierce took it to Twitter to question the validity of the same.
Please tell me that Andrew Wiggins rumor not True

— Paul Pierce (@paulpierce34) March 16, 2023
We send our prayers to Andrew in this difficult time and hope he and his family are doing okay.
Also Read: Muddled In Cheating Controversy, Andrew Wiggins Was Once Compared To Michael Jordan As The 'Maple Jordan'
---
Share this article