"Winning An NBA Title Is Better Than Being Intimate": Giannis Antetokounmpo Embraces The Flagrancy And Compares Two Very Different Emotions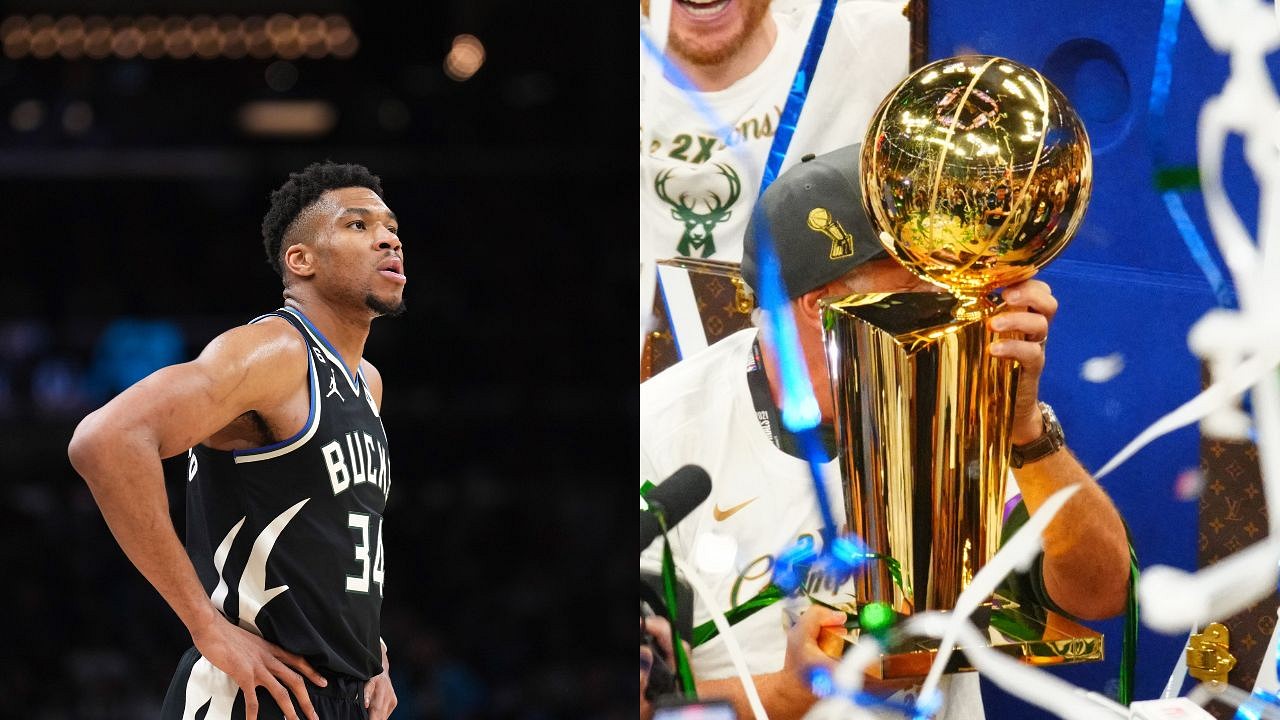 Giannis Antetokounmpo is one of the most polarizing figures in the NBA. The Greek Freak is a must-watch superstar, with his athleticism, skill, and dominance on the court. But, his abilities as a baller aside, he also has a loveable and extremely hilarious personality.
The man loves making jokes, and more often than not makes them without any filter. He's the kind of guy who says something first and then thinks about the consequences later. Case in point is his latest comment, where he compares winning a championship to being intimate with a loved one.
Also Read: "Giannis Antetokounmpo Getting These Many FTs Is Not Fair!": Monty Williams Looked Distraught As Bucks Beat Suns 116–104
Giannis Antetokounmpo claims winning an NBA Championship is better than being intimate
Over the years, Giannis Antetokounmpo has wowed fans with his ferocity on the court. But, he also wows fans off the court, with his unfiltered sense of humor.
The Greek Freak has said some hilarious, ridiculous, and downright crazy things in his 10 seasons as an NBA superstar. From his cringe-worthy Tik Tok videos to his wild press conferences. The man loves his jokes.
But, one thing he loves more than joking around is winning championships. Having gotten a feel for it in 2021, Giannis is eager to recapture that feeling. He is so obsessed with getting another ring, that he even claims it to be better than being intimate.
"It's better than getting intimate."

– Giannis Antetokounmpo on winning championships

(Via @TheAthletic ) pic.twitter.com/hNZXSNh939

— NBACentral (@TheNBACentral) March 16, 2023
Pause. Yes, you read right, Giannis Antetokounmpo has compared winning the Larry O'Brien Championship Trophy to intimacy with a significant other. Safe to say, his partner will have a lot of questions for him.
Giannis may take winning championships over intimacy but his Instagram comments say otherwise
It's pretty obvious that the Greek Freak is just messing around. But, if he was being serious, Mariah Riddlesprigger has the receipts that say otherwise. After all, it was just a few months ago that Giannis left a thread of "eggplant" emojis, the emoji known for its sexual connotations, on one of her Instagram pictures.
Someone needs to stop this man!!! @Giannis_An34 pic.twitter.com/0xot8LcBQI

— Mallory Edens Burner (@MalloryBurner) January 18, 2023
Needless to say that at the end of the day, it is all fun and games with the Milwaukee Bucks superstar. But, there is no denying the fact that he would love to have another championship ring on his finger.
Also Read: Giannis Antetokounmpo, Following The Brook Lopez-Trey Lyles Fight, Will Lose $25,000
---
Share this article