Giannis Antetokounmpo, Following The Brook Lopez-Trey Lyles Fight, Will Lose $25,000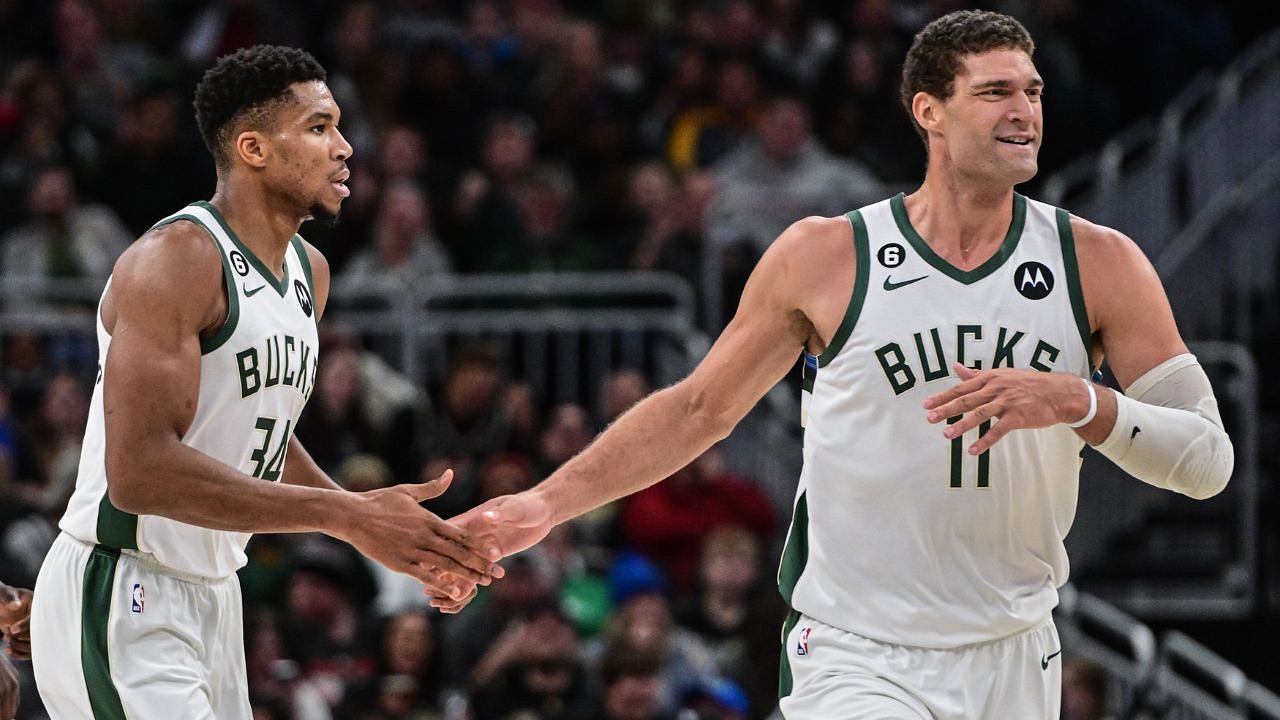 Giannis Antetokounmpo is an amazing basketball player and an equally amazing human being. The man will do anything for his friends, family, and teammates, no matter what the cost. That is why he boldly claimed he would cover Brook Lopez's fines after the latter stood up for him against Sacramento Kings star, Trey Lyles.
Well, the verdict is in. Following his ejection from the game between the Bucks and the Kings on Monday night, Lopez was handed a $25,000 fine. This means the Greek Freak's bank account is going to be $25,000 short.
Also Read: Watch: Giannis Antetokounmpo Knocks Suns Player's Tooth Out With a Shoulder Barge!
Giannis Antetokounmpo will have to cover Brook Lopez's $25,000 fine
Monday night's game between the Sacramento Kings and the Milwaukee Bucks was a wild one. Towards the end of the fourth quarter, things got feisty, as a push on Giannis Antetokounmpo by Trey Lyles ended up in an altercation between himself and Brook Lopez.
Lopez was visibly frustrated with Lyles' actions and got physical with the Kings star. The immediate result saw both men being ejected from the game. But, now the NBA has delivered its sentence. Lyles is banned for one match, while Lopez was fined $25,000.
Given the salary he is on, a $25,000 fine shouldn't be much for Brook. But, luckily for him, his superstar teammate Giannis has committed to covering any fine he receives for the incident, meaning it's the Greek Freak who will have to dig into his purse.
The NBA suspended Sacramento Kings forward Trey Lyles for one game for his role in altercation with Milwaukee Bucks center Brook Lopez on Monday night. Lopez was fined $25,000.

— Shams Charania (@ShamsCharania) March 15, 2023
It will be a bit frustrating for the Bucks and Giannis. But, given how essential Lopez is to Milwaukee's success, they probably will get over it soon enough.
The Sacramento Kings were more angered by Giannis than they were by Brook Lopez
The brawl between Trey Lyles and Brook Lopez didn't just start over spilled milk. Giannis Antetokounmpo, being the competitive spirit that he is, was clearly talking trash to Lyles towards the end of the game, prompting Lyles' response and the following fight. Well, in the post-match interview, the Kings and their head coach Mike Brown made it clear, they weren't mad at Brook. No, they were mad at the Greek Freak.
"I don't know what happened, but we ain't taking no s*** from nobody." – Mike Brown after the Bucks-Kings gamepic.twitter.com/ogOIwJ2OgP

— Action Network (@ActionNetworkHQ) March 14, 2023
A strong response for the Kings. One that will surely be remembered in future meetings between the two organizations.
Also Read: "Giannis Antetokounmpo Getting These Many FTs Is Not Fair!": Monty Williams Looked Distraught As Bucks Beat Suns 116–104
---
Share this article