"Y'all Hate on Nikola Jokic to Hype up Joel Embiid": Kevin Durant Voices Frustrations With NBA Fans' Fickleness on Twitter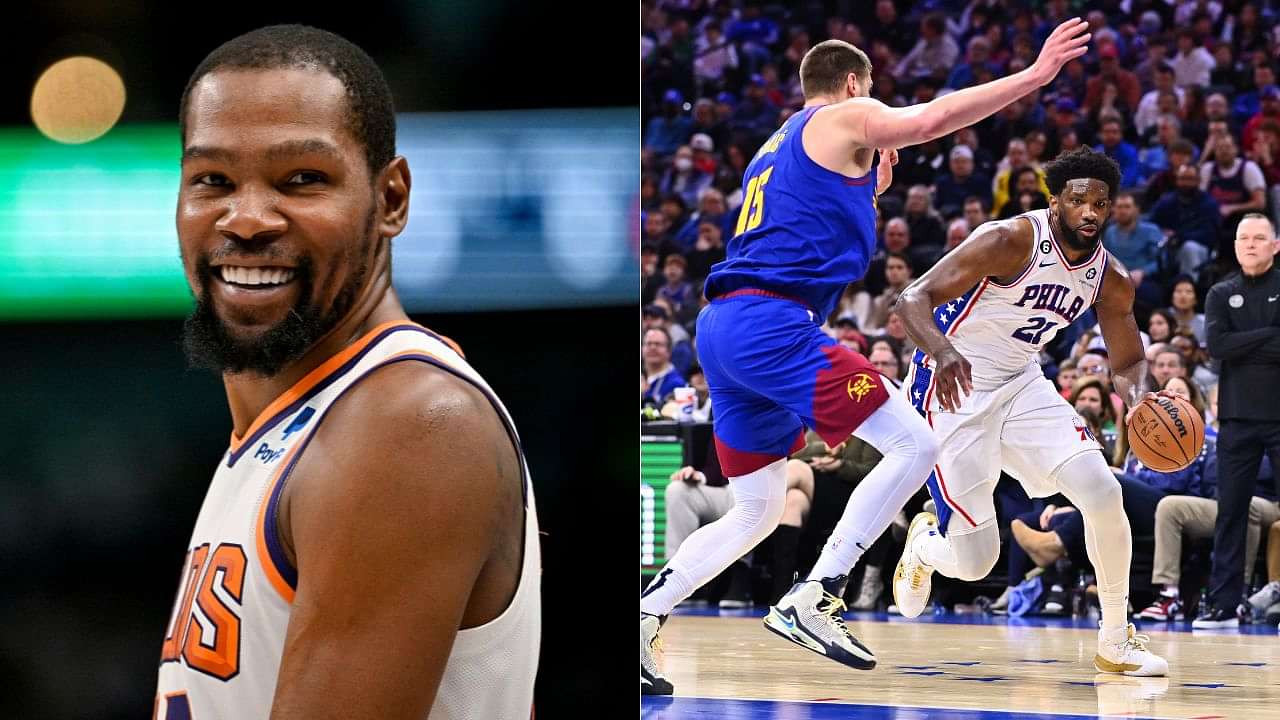 The toxic discourse regarding Nikola Jokic, Joel Embiid, and their MVP candidature even has Kevin Durant feeling peeved and voicing it on Twitter.
It was just a week back that many media outlets had declared the MVP debate to have finished. Nikola Jokic was seen as a runaway favorite during the second straw polls of the year, conducted in mid-February.
Jokic had 77 first-place votes, while Giannis was second with 11. Embiid was 3rd with 6 first-place votes himself. However, the past week or so has seen the pendulum swing in the favor of Embiid.
His Sixers have had a phenomenal road trip in between. Embiid has been leading the Sixers from the front in some morale-boosting wins, while Denver is on a 3-game skid despite Jokic dominating offensively.
Public opinion seems to be neck-and-neck between the two now. Giannis, despite leading the NBA's top team, is falling behind because of missed games.
Loading embed tweet https://twitter.com/NBA/status/1634384425285832707?ref_src=twsrc%5Etfw
Also Read – "Trash Celebration Joel Embiid": Kevin Durant Goes At Sixers 7-Footer As Kyrie Irving Takes Them On During RivalsWeek
Kevin Durant chips in on the Nikola Jokic-Joel Embiid MVP debate
MVP discourse for this season has had quite a lot of mud-slinging from all factions. Kendrick Perkins, who sides with Embiid, accused the media of a pro-White player bias in MVP voting.
NBA Reddit and Twitter have also been discussing their playoff records and Jokic's defensive shortcomings extensively. Both Nuggets fans as well as Sixers fans, in addition to some Bucks fans, have been animatedly dragging their players' MVP rivals through the mud.
Kevin Durant had something to say about this on Twitter. The Slim Reaper seems quite vexed with the whole discussion himself, noting this on Twitter.
Loading embed tweet https://twitter.com/KDTrey5/status/1635288747146366984?ref_src=twsrc%5Etfw
Also Read – "Aye Nikola Jokic, that was a DIME": Kevin Durant, Shannon Sharpe, and NBA Twitter, everyone is dazzled by the Joker's no-look pass
Who would win this year's NBA MVP race?
Kevin Durant was himself getting some MVP love before an unfortunate injury in early January. Since the time the Celtics cooled off, Jokic has been leading NBA.com's MVP ladder.
There have been other movements around him, with Tatum dropping to 4th. Embiid rose from 6th to 2nd on the latest edition of these rankings.
Giannis, Jokic and Embiid all play each other at least once before the end of the season, health permitting. The outcomes of those games could very well indicate the victor in a close home stretch.
---