"You Are Gonna See Me be Myself": When Klay Thompson Ridiculed Kawhi Leonard's Laugh But Paid Heavily For It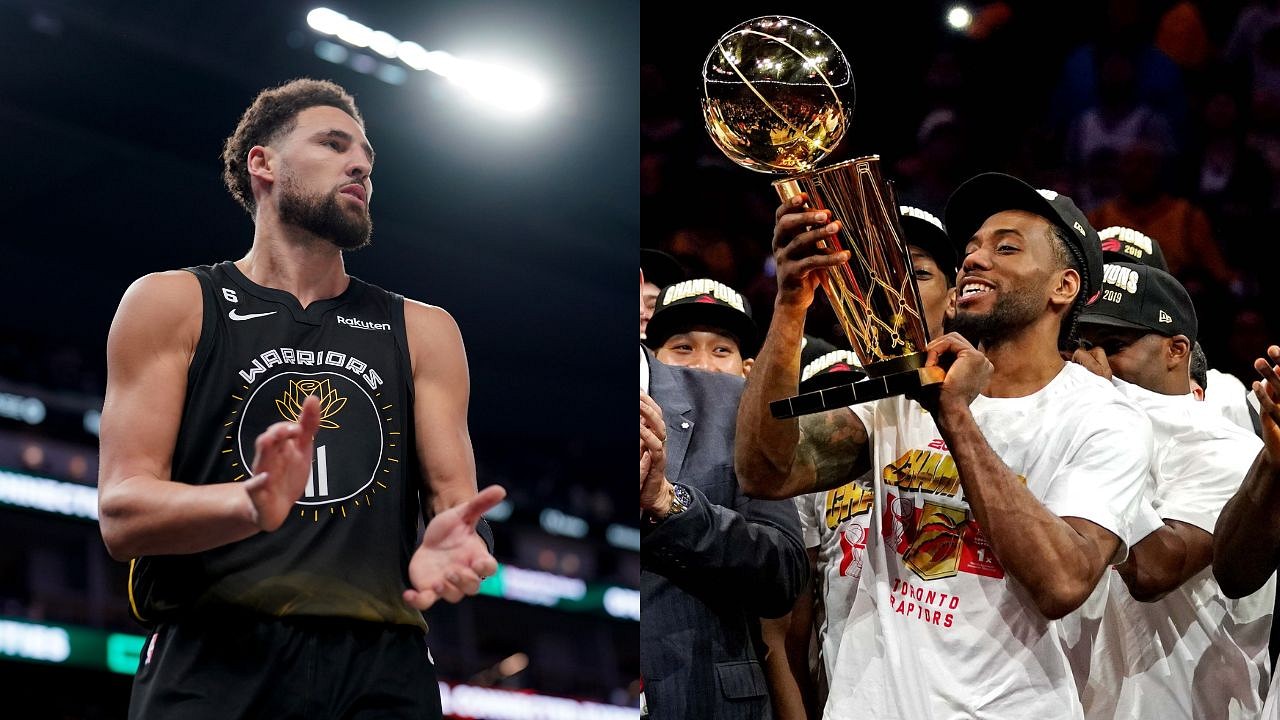 Klay Thompson is one of the best shooters the NBA has ever seen. Cool as a cucumber, the Warriors superstar is perhaps second only to his teammate Stephen Curry. The man is so good, that he has many a time lifted the Dubs in the absence of Steph. Safe to say, the five-time All-Star can hold his own.
That is why he was extremely confident of the Warriors' chances in the 2019 NBA Finals when they faced the Toronto Raptors. So much so, that he openly mocked Kawhi Leonard, despite being 3-1 down.
Also Read: Stephen Curry "Hopes" to Play With Draymond Green and Klay Thompson Beyond 2022-23 Season
Klay Thompson poked fun at Kawhi Leonard and his laugh during the 2019 NBA Finals
In 2018, Kawhi Leonard made headlines when he joined the Toronto Raptors. However, his move to Canada didn't start off too well. After all, his first interview in front of the Raptors faithful ended with him becoming a part of the 21st-century "meme culture".
The Klaw's absurd and equally hilarious laugh was caught on camera, resulting in much ridicule. Even, stand-up comedian Kevin Hart couldn't help but burst out laughing when he first heard it. Fast-forward nine months later, and Kawhi and the Raptors were in the NBA Finals, facing off against the Golden State Warriors.
Having taken a 3-1 lead, many believed the Dubs' championship dominance had come to an end. Enter, Warriors star guard Klay Thompson, who attempted to put the fans' minds at ease. How? By mocking Leonard's laugh and then explaining how Golden State is stronger with its back to a wall.
"Ha ha ha. Um..you're gonna see me and you're gonna see me being myself. And, you're just gonna see a resilient Warriors team. We've been with our backs against the wall before. With the same group. I mean, even last year being down 3-2. Obviously, this is a little more daunting being down 3-1, but usually, with our backs against the wall, we respond the best. So, hopefully, y'all add another part to whatever legacy you want to carve out for me tomorrow…Game 5 Klay whatever, but I just want to come out…you know. If I compete to the best of my ability, I'll be satisfied with the results."
It certainly was a bold statement from Klay. Granted, he had and still has a streak of being a Game 6 performer. But, given how that series ended, it's safe to say his confidence was misplaced.
Kawhi Leonard and the Raptors ran through Klay and the Warriors
Game 5 ended as Klay Thompson wanted. The Warriors came away with a win and would now attempt to defend their title and take the series to a Game 7 in Oakland. Unfortunately, despite a stellar performance from Klay, the Dubs fell to Kawhi Leonard and the Raptors, failing to complete the three-peat, and losing the 2019 NBA Finals 4-2.
2019 NBA Champions… Toronto @Raptors!#WeTheNorth | #NBAFinals pic.twitter.com/OMTYkasW5w

— NBA (@NBA) June 14, 2019
To make matters worse, Thompson suffered a severe ACL injury, sidelining him for the next two seasons. It truly was a disaster both for Klay and the Warriors organization.
Also Read: "It's Three of Them Now?!": Paul George Expressed His Amazement As Jordan Poole Joined Stephen Curry and Klay Thompson on 'Splash Boat'
---
Share this article