"It's Three of Them Now?!": Paul George Expressed His Amazement As Jordan Poole Joined Stephen Curry and Klay Thompson on 'Splash Boat'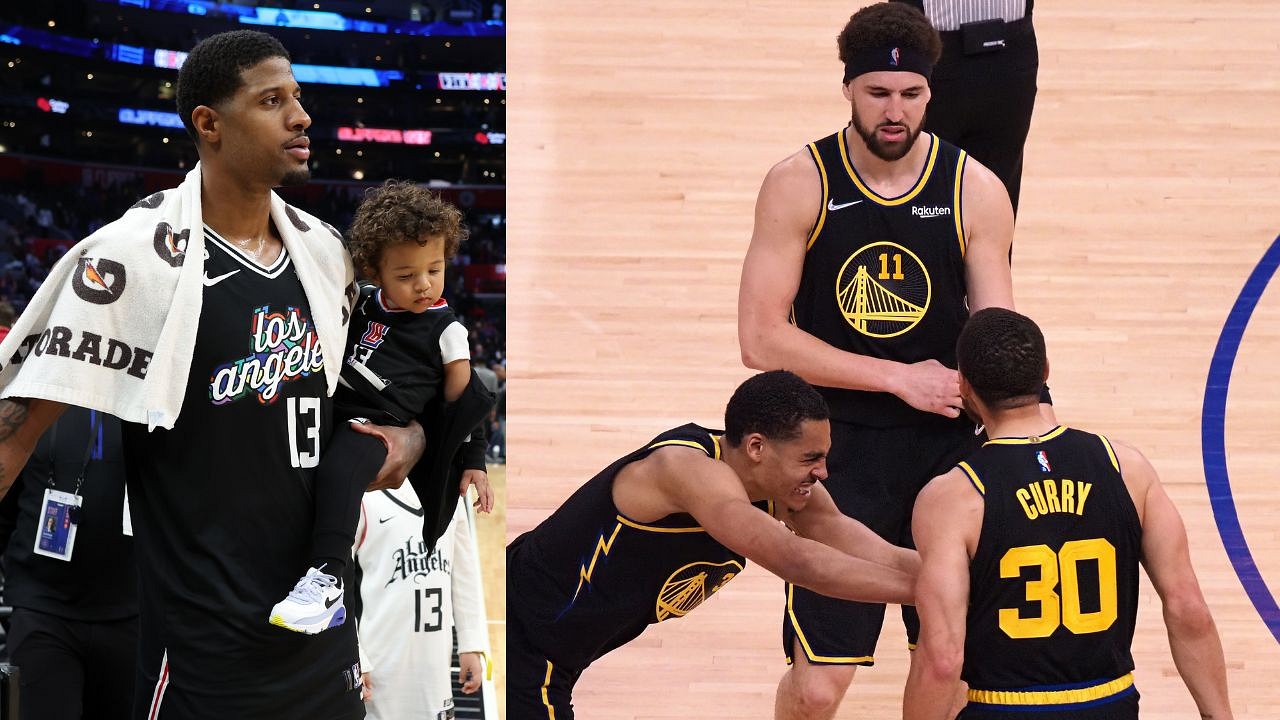 The NBA is a league full of talented individuals who have worked their way to get where they are today. At any given time, there are around 450 players in the NBA. Every year, 60 new players get drafted to the league, but the total number stays the same. This goes to show how even though getting to the NBA is a huge success on its own, becoming successful in the league is no joke. Paul George recently talked about an error he made in 2019-20.
Often, when players get to the NBA, the veterans can look at the younger talent and can gauge their futures. Paul George thought he did the same with Jordan Poole in his first year in the league. However, he couldn't have been more wrong.
On the latest episode of Podcast P with Paul Geroge, the Clippers' star addressed the same.
Also Read: "I Am My Harshest Critic!": Anthony Davis Described His Mindset Before 35-Point Double-Double Over Pelicans
Paul George admits he was wrong about Jordan Poole
Jordan Poole was selected as the 28th pick in the 2019 NBA Draft. It was the worst possible time for a new rookie to join the squad. The Dubs had just lost KD, Klay Thompson was out for the season, and Stephen Curry broke his hand 4 games into the season. In his rookie year, Poole averaged 8.8 points on 33.3% shooting from the field.
It's obvious why Paul George wasn't too impressed with what he saw. However, Poole has flipped a switch since. Right from his 2nd year, he showed great potential and tried to complement Steph in Klay's absence. Last year, he was a key component of the Warriors' playoff roster. This year, he's averaging even more points and playing a much more vital role.
Talking about the same, PG sent in his apologies to Poole, and said, "It's three of them now?!", referring to Steph, Klay, and Poole.
Who else was late to the Poole Party? 🤔 pic.twitter.com/rWdm1l7DHA

— Podcast P with Paul George (@PodcastPShow) March 15, 2023
It's great to see Poole getting the recognition he should. Even though he plays with one of the greatest backcourts in NBA History, Jordan has managed to carve out his own name and identity.
Also Read: "Giannis Antetokounmpo Deserves the NBA MVP": Gilbert Arenas Walks Back on His Last Take About the Greek Freak
How important is Poole to the Warriors' playoff chances?
The Warriors, after their shaky season, are in the 5th seed in the West. They've fought their way back, and are hoping to hold on to this seeding, or improve it. With Andrew Wiggins out due to family reasons, Steph and Klay have added scoring pressure.
There is also a sudden gap in defense, and while Donte DiVincenzo has covered that, the scoring gap needs Jordan Poole. He's already the leader off the bench, and runs the 2nd unit's offense. With Poole performing well, the bench does well. If the Dubs want a playoff berth, they need Poole to do well, especially on their upcoming road trip.
Also Read: "My Legacy Will Never Reach Michael Jordan's!": Kawhi Leonard Once Dismissed Notions of Comparisons With Bulls GOAT
---
Share this article