Deebo Samuel Injury Update: Will He See Action Against The Arizona Cardinals In Week 18?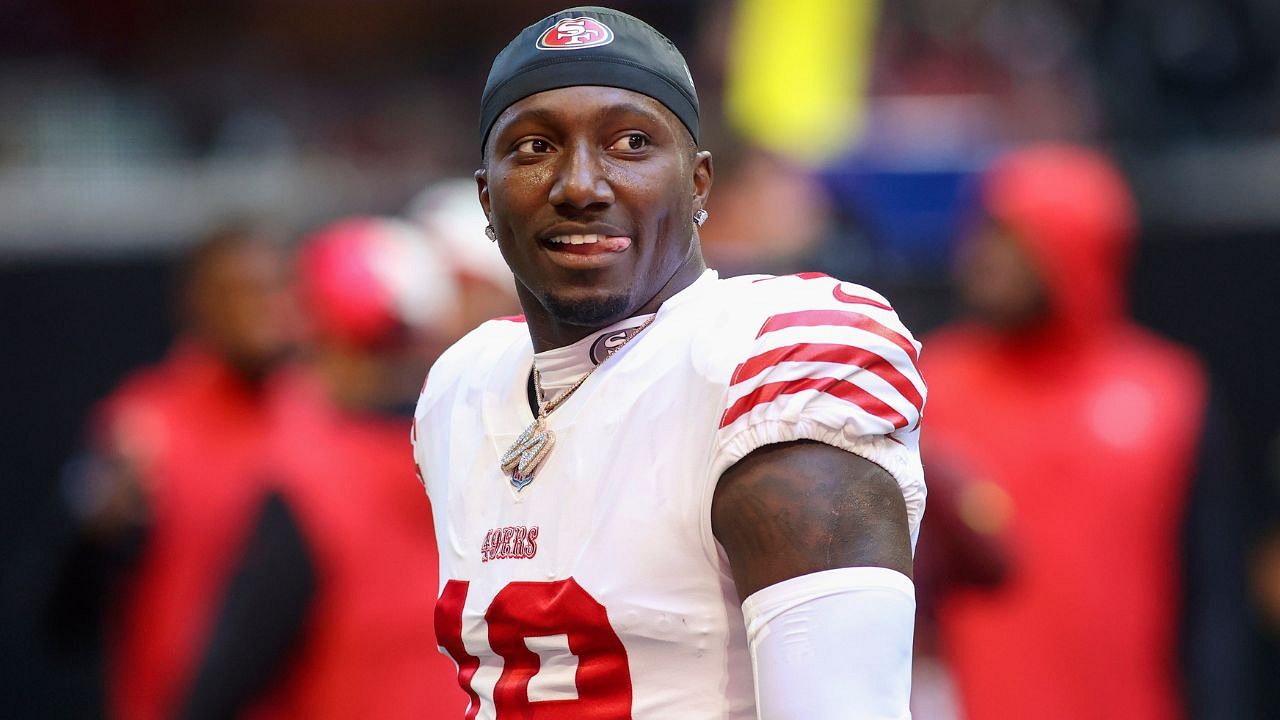 Fans of the San Francisco 49ers have news to rejoice about. Deebo Samuel, their receiver who hasn't played since week 14, is set to make a return in the final game of the regular season. Carted off due to injuries to his knee and ankle, Samuel has successfully recovered from his injuries, as his team hopes to clinch the no. 1 seed in the NFC.
Friday saw Samuel join fellow injured receiver Christian McCaffrey as full participants for practice. Also making it off the injury list successfully is running back Elijah Mitchell, who was injured in week 12. Head Coach Kyle Shanahan said, "They'll be up (Samuel, McCaffrey, and Mitchell). They'll be playing."
Samuel suffered an MCL and an ankle sprain during the game against the Tampa Bay Buccaneers in week 14. A tackle from Bucs' defensive players saw Samuel awkwardly twist his leg. He was ruled out of the game immediately, and later diagnosis confirmed a long rehabilitation. It was the second week the 49ers had lost a key player after QB Jimmy Garropolo broke his left foot a week ago.
Also Read: Heisman Winner Caleb Williams Goes Crazy Viral After Painting "F*CK UTAH" On His Nails Before Crucial Game
Deebo Samuel to bolster 49ers offense as they hope to clinch top seed in NFC
The news about Samuel and the rest making it out of injury will please all 49ers fans. They will be happy to see some of their best players take the field in what could turn out to be a crucial game in the NFC. A win against the Arizona Cardinals is important no matter where they want to end up.
If they do win, they will have to hope for favorable outcomes in other places to make a jump in the conference standings. If the Minnesota Vikings lose, then the 49ers jump to the second spot. However, if the Philadelphia Eagles lose, that takes the 49ers all the way to the top. A bye-week after an exhaustive season is definitely a welcome change for any team, and the 49ers are no less.
Deebo Samuel and the rest will no doubt be treating this game as a warmup to their playoff runs. With rumors of Tom Brady supposedly eyeing the San Fran outfit as a destination next season, the offense will have to put up a show. The 49ers could surely do with a veteran quarterback such as Brady. Especially with their main guy injured. Plus, Brady will give their offense a boost that no one else can.
For all that to happen, the 49ers must play hard. The further they go in the playoffs, the more lucrative their QB spot becomes. How will the 49ers fare in the playoffs? Will they be able to bag the golden goose that is Tom Brady? Or will they crash early in the postseason?
Also Read: "Bengals Have Been Scr*wed": Cincinnati Up In Arms After NFL Proposes Coin Flip As a Resolution Technique
---
Share this article