Aaron Rodgers Wants to Listen to Dolphins' Lovemaking Sounds to Heal Quickly After Tearing His Achilles; "Frequency of That is Actually Healing"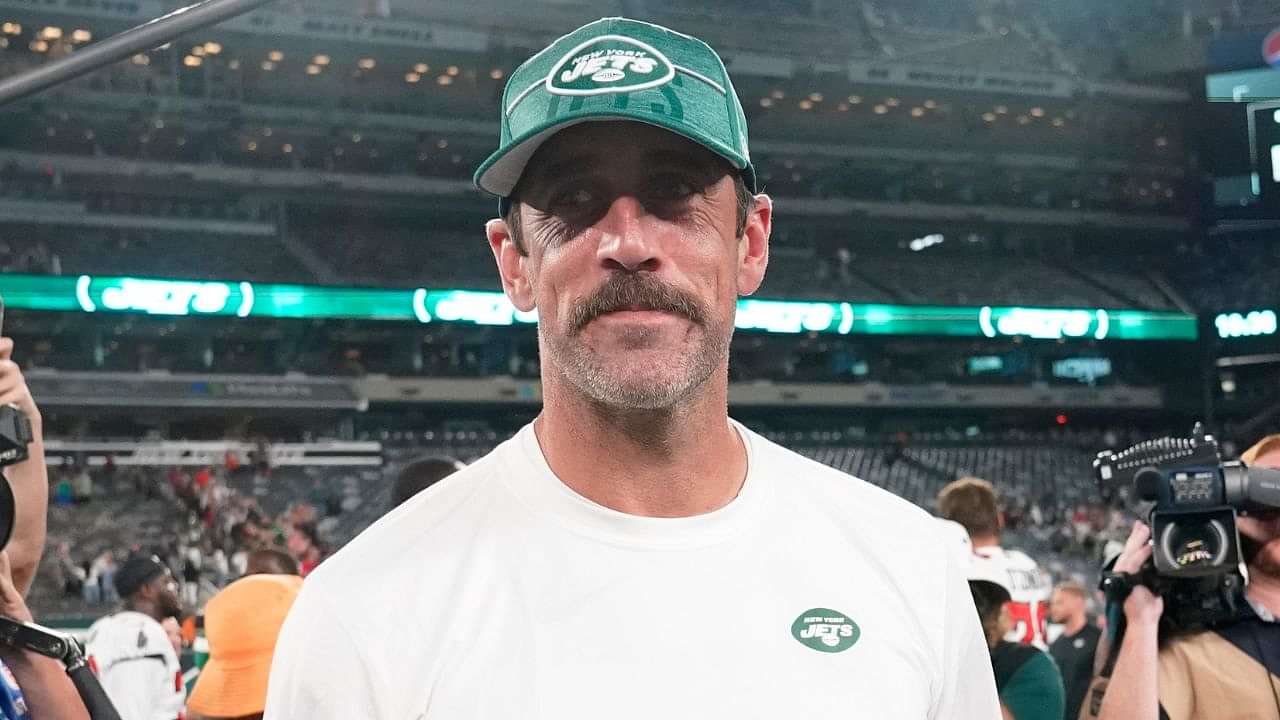 Aaron Rodgers just never ceases to amaze. The New York Jets QB, who tore his Achilles in his season opener against the Bills and then went through a surgery, recently revealed on The Pat McAfee Show that he is looking to make use of other bizarre ways to speed up his recovery.
Aaron told his good friend Pat that in order to return to the field at a rapid pace, he won't shy away from listening to the sounds Dolphins make during s*x. He feels this might help him recover faster. The 39-year-old is, therefore, ready to do whatever he can to take the field again in Jets' jersey.
Aaron Rodgers Might Listen to the Sounds Dolphins Make During Lovemaking, in Order to Recover Quickly  
Aaron Rodgers suffered a season-ending Achilles tendon tear during the Jets' season opener against the Bills. The quarterback has already undergone an innovative surgery to recuperate from the injury, but at the same time, he is also willing to do other things to accelerate the healing process. During his appearance on the Pat McAfee Show, he talked about potentially listening to the sound made by dolphins during lovemaking in a bid to quickly return during the 2023/24 playoffs.
Loading embed tweet https://twitter.com/PatMcAfeeShow/status/1702756402085630344?ref_src=twsrc%5Etfw
Rodgers claimed that the ultrasound frequencies produced by the dolphins during lovemaking have healing effects on the human body. "I didn't really want to mention this, but I'm looking into a number of different modalities…There's ideas that some of the noises from the dolphins, when they're lovemaking, the frequency of that is actually healing to the body. So I might be doing some of that," Rodgers said.
This shocking claim from the Jets quarterback brought about a few laughs from Pat McAfee and his fellow hosts, who were simply stunned by the proposition. However, one can't say for sure if Aaron was really serious or was just trying to make a joke. Nevertheless, the Jets fans would not care one bit about what bizarre methods Aaron Rodgers decides to employ during his rehabilitation, provided the veteran makes a speedy return to the gridiron this season itself.
Aaron Rodgers Posted an Emotional Message For Fans Following his Achilles Injury
After tearing his Achilles on only the fourth play of his Jets career, Aaron Rodgers was visibly left heartbroken as he left the gridiron. Soon after that, he took to his official Instagram account and composed a long post enumerating his feelings. The 4x NFL MVP winner thanked all his fans for connecting with him and urged them to pray for his swift recovery.
Loading embed instagram https://www.instagram.com/p/CxJcE9NSJq0/?utm_source=ig_embed&utm_campaign=loading
Aaron concluded the message with a vow to "rise once again," dismissing rumours of him potentially having played his final NFL game. Having said that, Rodgers will know that returning from an injury of this magnitude at the age of 39 will not be a cakewalk. Therefore, he is leaving no stone unturned to boost his chances of playing football once again this season.
---