C.J Stroud vs Anthony Richardson NFL Combine Stats: Is the Ohio State QB a Better Draft Prospect Than Anthony?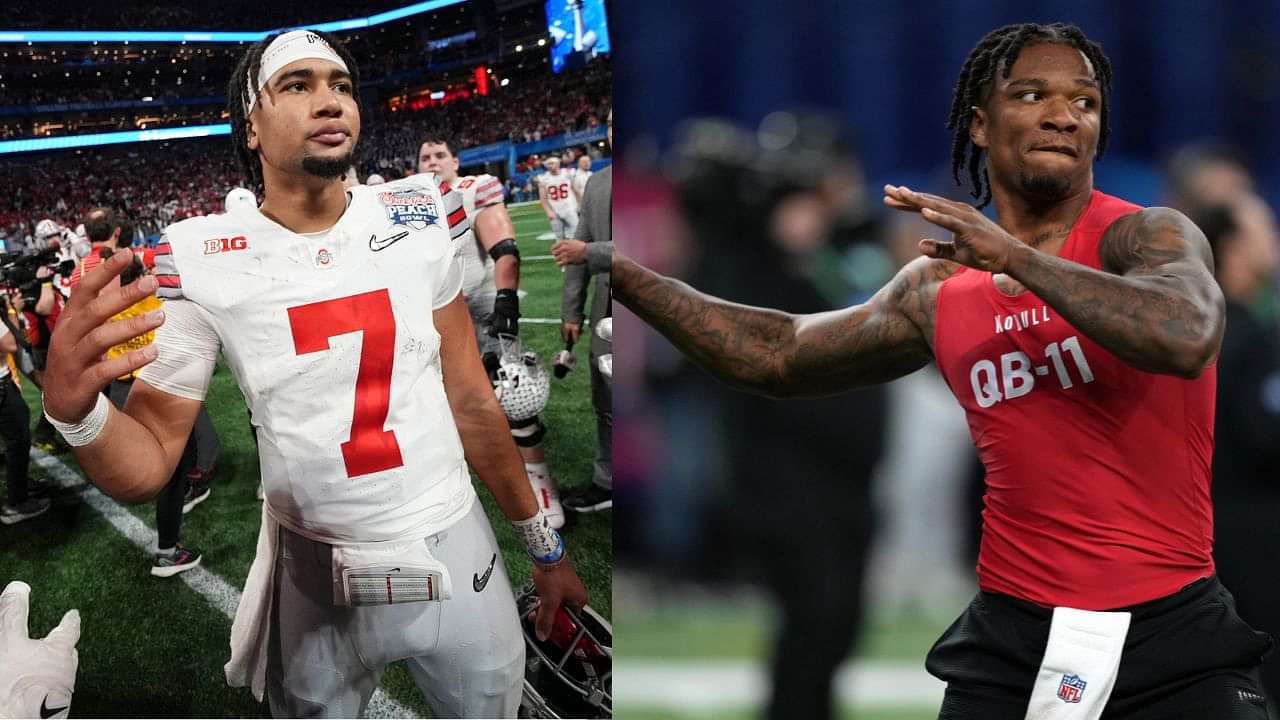 The second last day of the NFL combine gave fans a lot to process ahead of the NFL draft. The biggest debate that came out of the combine is between Anthony Richardson and C.J. Stroud. The two QBs are prospective #1 picks for the NFL draft day, alongside the hugely popular Bryce Young. What's more, these young athletes did not give their fans any reason to doubt their potential to be NFL starting QBs.
This year's Combine has churned out some incredible performances for the NFL community to assess. Chief of those, is Nolan Smith's incredible 40-yard dash and verticle jump stats. With another day left in the combine, expectations are high as fans hope for another standout player to reveal themselves through the workouts.
Anthony Richardson vs C.J. Stroud: Which one is the better prospect?
Stroud and Richardson were by far the best athletes on the field during the second last day of the NFL combine. However, the two did have their differences while attempting the workouts. While Richardson shined in the 40-yard dash, the vertical jump, and the broad jump, Stroud was seen launching balls to the moon and back with ease.
Stroud and Richardson are both on the taller side, standing at 6'3″ and 6'4″ respectively. This gives them both an upper hand over the favorite Bryce Young. While the two only have a half-inch difference in their hand size (Stroud has the bigger one), the weight difference is certainly noteworthy. Stroud stands at 214 pounds, while Richardson is 244 pounds. Both are significantly heavier than Young.
Also Read: "I Let My Family Down" : Bulldogs QB Stetson Bennett Finally Opens Up About His Public Intoxication Arrest
Who will be the main focus on the last day of the NFL combine?
The final day of the combine features workouts from running backs and offensive linemen. Considering the results from the previous days of the combine, this one should also be one to watch. Fans and analysts will be closely monitoring a few prospects who could really buff up an offense. In particular, Georgia Bulldogs' Broderick James will be one to follow closely.
Jones, along with right tackle Warren McClendon, put up a stunning show this season in their team's charge to a second National Championship. What set them apart from other offenses, is that they successfully prevented every defense from landing a sack this season. If Jones is able to put up a good show in the Combine, he could very well be a first-round pick in the draft.
Also Read: "They Never Told Me What To Play": Archie Manning Narrates the Story of His First Ever Game To Peyton Manning
---