"Antonio Brown Was Frustrated He And Tom Brady Weren't On The Same Page": Bucs WR Is Fired Up During Tampa Bay Buccaneers Training Camp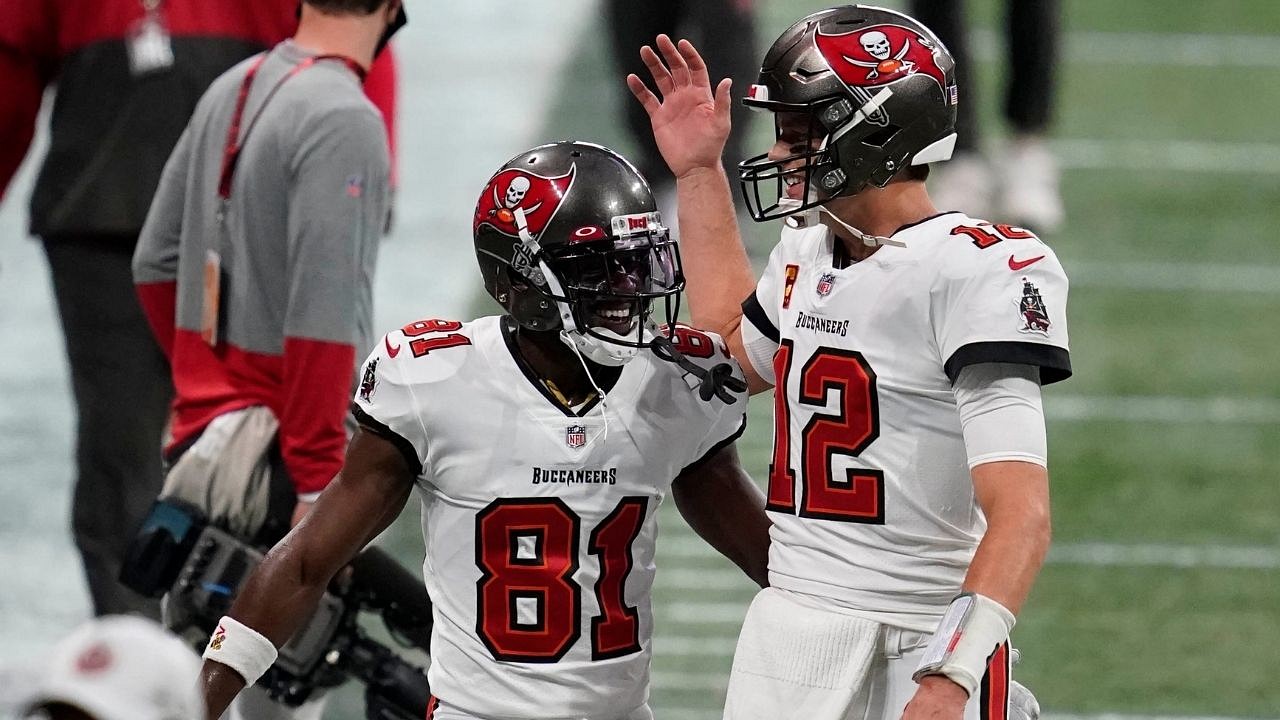 Antonio Brown and Tom Brady found a connection last year that helped propel the Bucs to the Super Bowl, they'll look to build on that in training camp this year.
Tom Brady and the Buccaneers already had an impressive receiving core, but when the opportunity came to pick up Antonio Brown during the season, Brady urged Bruce Arians to take a chance on the embattled wide receiver, and it worked out.
Brown would average a very solid 60.4 receiving yards per game, a stat that averages out to 966 yards over 16 games. On a team that has Mike Evans and Chris Godwin, that's an incredible number.
The Buccaneers managed to retain Brown this offseason, and the wide receiver is set to play in his first full NFL season since 2018, something fans are very excited for.
🚨 Vintage Antonio Brown! pic.twitter.com/UNMOuzxBkM

— Ari Meirov (@MySportsUpdate) January 3, 2021
Also Read: "Katie Ledecky is Tom Brady and Ariarne Titmus Is Patrick Mahomes": Shannon Sharpe Reacts As Olympic 800m Freestyle Women's Gold And Silver Medalists Are Likened To Star Quarterbacks In The NFL
Antonio Brown Was Fired Up During Buccaneers Training Camp, Upset Him And Tom Brady Weren't Clicking
One of the biggest storylines last year was that Tom Brady won a Super Bowl with the Buccaneers in his first season there, without training camp.
Now that Brady has training camp, he'll be looking to build a deeper connection with all his receivers, particularly Antonio Brown who arrived late last year.
Brady throwing to Antonio Brown pic.twitter.com/WfwR6ztR5H

— Full Press Buccaneers (@FPC_Buccaneers) July 25, 2021
Brown is usually a very vocal player, and so if he sees something that bothers him, he isn't going to stand down and do nothing about. Earlier in today's practice, Brown sensed that the Buccaneers were sluggish and not up to their usual mark when it came to intensity.
He also felt like him and Tom Brady weren't connecting the way they were supposed to, and as a result, he was absolutely fired up during practice.
Moments later, Antonio Brown lines up against rookie cornerback Cameron Kinley for a deep touchdown. Tom Brady hit Brown easily in stride and the wheels kept churning. Kinley was also on the other side of a Brown TD (with a double move) yesterday. He's learning.

— JennaLaineESPN (@JennaLaineESPN) July 31, 2021
Antonio Brown appeared to be frustrated that he and Tom Brady weren't on the same page on an earlier route. They talked it through.

— JennaLaineESPN (@JennaLaineESPN) July 31, 2021
Also Read: "Justin Herbert 93 Throw Power? Can We Get A Ratings Adjustor Out Here": Los Angeles Chargers Blast NFL Madden 22 For Underrating Their Star Quarterback
---
Share this article