Atlanta Falcons Training Camp 2021: Start Date, Location, Roster Battles, and Fan Policy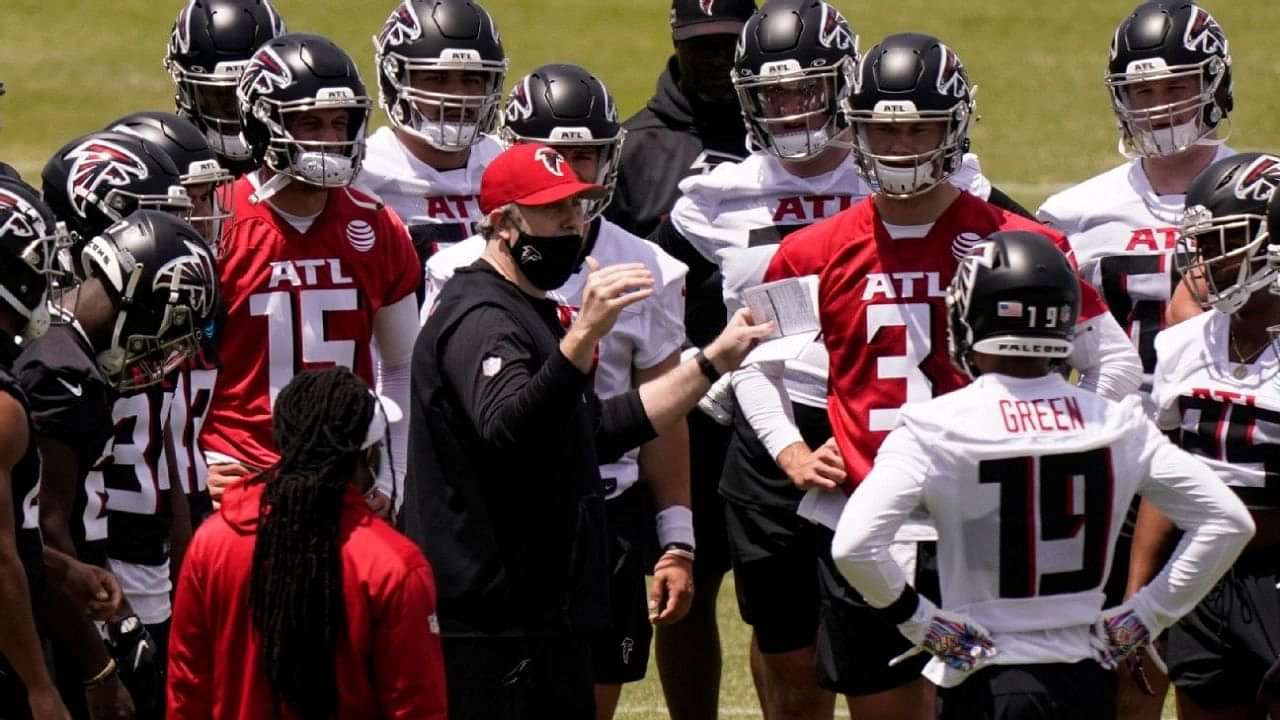 The Atlanta Falcons have a crucial training camp ahead of them if they want to get back on track after a poor 2020 season. When does it start, where will it be held, and are fans allowed to attend?
With phase 3 of the 2021 NFL offseason set to wrap up on June 18th, teams are already looking forward to training camp. It is by far the most grueling and pivotal part of a team's preparations.
Training camps often include busy days for players and coaches, sometimes with 2 practices a day, weight training, team meetings, and film sessions.
Per the league's Collective Bargaining Agreement (CBA), no contact is permitted during the first 3 days of camp. Days 4 and 5 will see players at full speed in light equipment called "spiders and shells", day 6 is a mandatory day off, and finally fully-padded practices start on the 7th day.
Along with the strenuous schedule, full-speed practices mean that both contact and non-contact injuries are very common. Regardless, training camp is mandatory for all players, unlike OTAs which are voluntary. If a player doesn't show up, they risk getting cut by their team.
When Does Training Camp Start for the Atlanta Falcons?
For the first time in NFL history, there will be a unified start for training camp. 29 franchises, including the Falcons, will kick off their training camps on Tuesday, July 27th.
However, the Cowboys and Steelers, who will play in the preseason Hall of Fame game, are allowed to begin training camp as early as July 21st. The Buccaneers will also be allowed to start training camp 3 days earlier on the 24th, as they play the season opener against Dallas on a Thursday night.
Loading embed tweet https://twitter.com/TomPelissero/status/1397282172365463552?ref_src=twsrc%5Etfw
Where is the Falcons Training Camp Being Held?
Normally, NFL teams are permitted to hold training camp at outside facilities to improve accessibility for fans, However last year, due to the uncertainty caused by the COVID pandemic, teams were instructed to conduct camp at their own training facilities.
This year, the rules have been eased, a good sign that things are getting back to normal. The Dolphins will hold training camp at the IBM Performance Field in Flowery Branch
Atlanta Falcons Training Camp Roster: Key Position Battles to Watch
As usual, teams will start camp with 90-man rosters. They must cut down to 85 players by August 17th and to 80 by August 24th, before settling on a final 53-man r oster by August 31st.
Arthur Smith will be tasked with a difficult job in his first year with the Falcons. The team won just 4 games last season, finishing last in the NFC South, not to mention the fact that Julio Jones is no longer with the team.
Atlanta struggled to control the line of scrimmage all year long, meaning that a lot of positions on both the offensive and defensive lines are up for grabs.
On the offensive side, center and left guard will be particular areas of concern and on defense, no player except Grady Jarrett can 100% say they have a starting job in 2021.
The Falcons will also be hoping to sort out their wide receiver situation. Following Julio's departure, budding superstar Calvin Ridley will move up to the #1 spot and Russell Gage is expected to be the 2nd option.
However, Gage will have some tough competition from the likes of Tajae Sharpe and Frank Darby.
Will Fans Be Allowed to Attend Falcons Training Camp?
After a year without fans at training camp, NFL teams have done their best to give their fans a good experience. The Falcons will allow fans to attend 5 practices at IBM Performance Field for free, plus an additional practice at the Mercedes-Benz stadium which will cost $5 to watch, with the proceeds going towards medical research.
Also Read: New England Patriots Training Camp 2021: Start Date, Location, Roster Battles, and Fan Policy
---