Before Getting His Bald Head Autographed by Travis Kelce, Diaper-Clad Jason Kelce Strips During Live 'New Heights' Event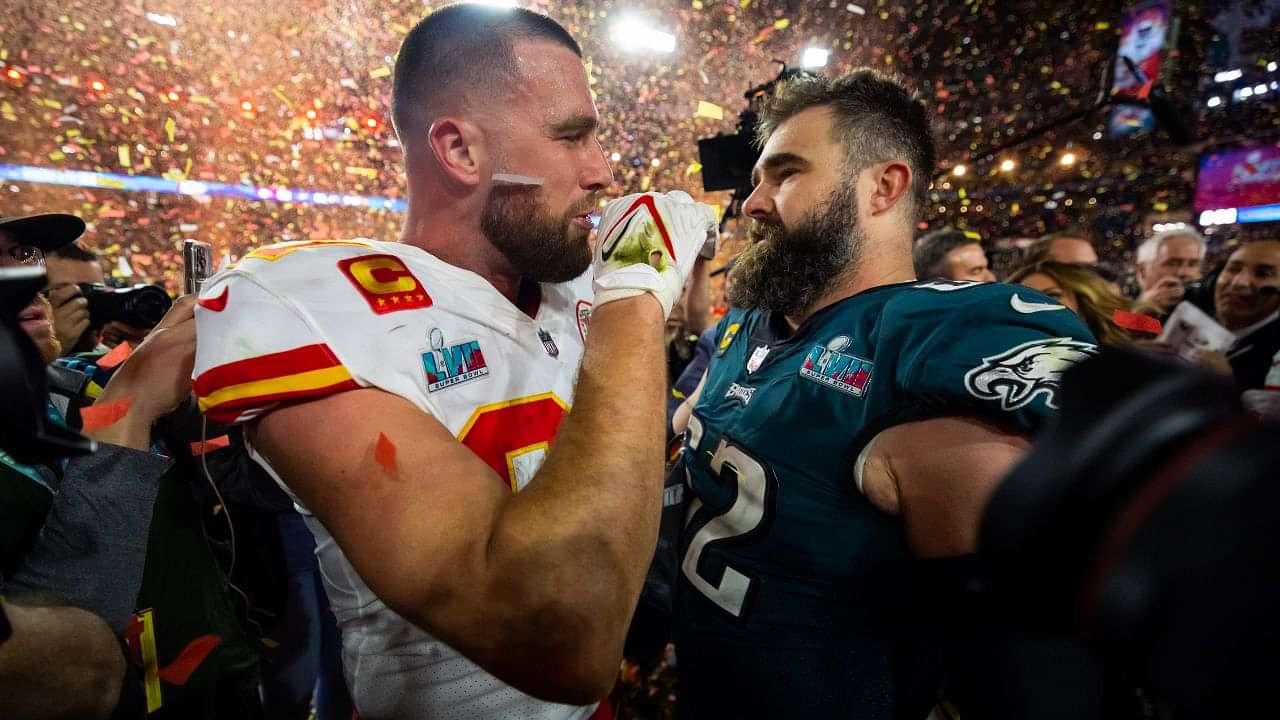 A lot was on stake when the Kansas City Chiefs and the Philadelphia Eagles played against each other in this year's Super Bowl championship game. The Kansas City Chiefs pulled a big win and defeated their rivals in a splendid fashion. It was a historic game for many reasons, one of it being that for the first time, two brothers,  Travis Kelce from the Chiefs, and Jason Kelce from the Eagles went against each other in the finale. Obviously, the brothers had a fun bet in place. The bet was whoever would lose the Super Bowl game, will shave his head and wear a diaper.
As we all know, it was Jason who lost the game. He, then out of compulsion, had to do what he promised. Hence, in the most bizarre way, Travis made sure for his brother to pay up. He not only got his older brother to keep his end of the deal, but had the entire Kansas City rejoice in his evil yet humorous plan!
Jason Kelce receives an autograph from his younger brother on his shaved head
The duo did a live event of their hit podcast, New Heights. It was there that fans saw the All-Pro centre sport a diaper and show off his freshly shaved head after paying off his debt. Travis made fun of his brother in the video and called him a "bearded baby" and also autographed his head. The older brother stripped down to a diaper in order to make his younger brother know that did keep his promise.
Loading embed tweet https://twitter.com/sierrajasso4/status/1651419733995008000?ref_src=twsrc%5Etfw
The origins of the bet can be traced back to a podcast conversation in November, where Travis and Jason discussed peculiar autograph requests they had received as athletes. Travis shared his refusal to sign an autograph on a baby, while Jason, a father himself, was willing to take the risk and mark a baby with a Sharpie. Throughout the season, Jason willingly signed a baby doll on multiple occasions.
Later, the Super Bowl bet was proposed. If Jason lost, he would have to undergo a transformation resembling a baby (with the exception of his beard) and Travis would autograph him. While one would have thought that the two brothers were joking, now we know they surely weren't.
Travis wants to act more
The two-time Super Bowl-winning tight end has managed to amass a massive fan following. Not only is a talented player, but is also a well-liked figure who recently set foot in the world of entertainment by hosting an episode of 'Saturday Night Live.' The tight end's podcast is also off to a fantastic start.
Loading embed tweet https://twitter.com/CNN/status/1632452193797259266?ref_src=twsrc%5Etfw
While talking to PEOPLE in an exclusive interview, he opened up about his interest in an acting career. He said:
"I'm definitely interested, but that's a whole new craft that I feel like I really got to lock in and focus on … It was an experience that was like nothing else that I've ever gone through. We grew up watching SNL whenever we had a chance to sit down on Saturday nights … goofing around, having fun and kind of imitating what we saw on TV, both in the sports world and the comedy world."
Travis was thankful to his fans for supporting him throughout his several endeavors. Moreover, winning a Super Bowl opened doors for him to embrace such opportunities. It won't be a surprise if Travis ends up making a name for himself in the entertainment world as well, once he decides to call it quits.
---