Best Cornerbacks in NFL 2020: Top 10 cornerbacks entering the 2020 NFL season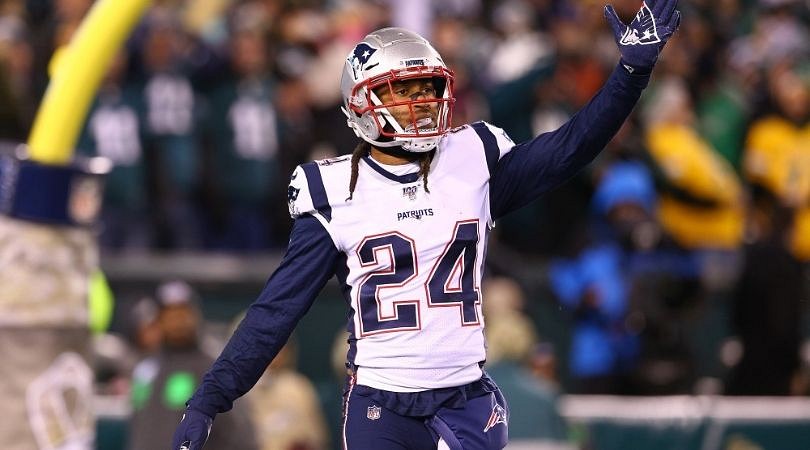 Best Cornerbacks in NFL 2020: Check out our top 10 cornerbacks entering the upcoming NFL season.
The NFL is filled with talent especially at the cornerback position. These cornerbacks shutdown receivers throughout the season, from making highlight-type plays, to having crazy interceptions, and limiting receivers to even 0 catches.
Also read: Which NFL Stadiums will be allowing fans in attendance for the 2020 season?
1. Stephon Gilmore
Gilmore led the league in both interceptions ( 6 ) and pass deflections ( 20 ).  NFL analysts suggest its practically safer to throw the ball out of bounds instead of towards Stephon Gilmore.
Stephon Gilmore has allowed an NFL passer rating of 32.8 on throws into his coverage this season. The NFL passer rating for throwing the ball away on every play is 39.6. pic.twitter.com/ii9dYaGUNA

— PFF (@PFF) December 17, 2019
NFL fans might think that Gillmore has played against quarterbacks with bad accuracy, that's just not true; As per PFF, Stephon Gilmore in coverage when the opposing QB had a clean pocket in 2019: 91.5 PFF Grade (1st among all CBs)  0 TDs and  5 INTs.
Thus proving it's just safer not to take a shot against Gillmore. Since joining the Patriots in 2017, he's had more interceptions ( 12 ) than touchdowns allowed ( 10 ). Stephon Gillmore has shown nothing but consistency being the highest-graded cornerback ( 92.2 ) in the NFL since 2017.
Being 29 years old he should be just at his prime right now, and it'll last a while for sure.
2. Tre'Davious White
Believe it or not, Tre'Davious White has allowed only 5 touchdowns in his entire career. In 2019, he allowed 0 touchdowns. White is perhaps the best man-coverage cornerback having a lower passer rating than even Stephon Gillmore of 46.3.
White has proved to be consistent allowing a passer rating of 60.6 since 2017 ( second in the league ). The Bills can now continue to watch him develop after signing him to a four-year, $69 million extension that will run through the 2025 season.
By many metrics, White has been among the best cornerbacks in the NFL and being just 25 years old, he has a long journey ahead.
3. J.C Jackson
J.C Jackson allowed the lowest passer rating in 2019 of 37.0. Being an undrafted defensive back out of Maryland, Jackson has shot above and beyond expectations coming out of college.
"He has the best ball skills I've seen, and I've seen a lot of corners," Gilmore said in 2019, via NESN. "He plays the ball as good as anybody." Since 2017, Jackson has been shutting down receivers at a constant rate.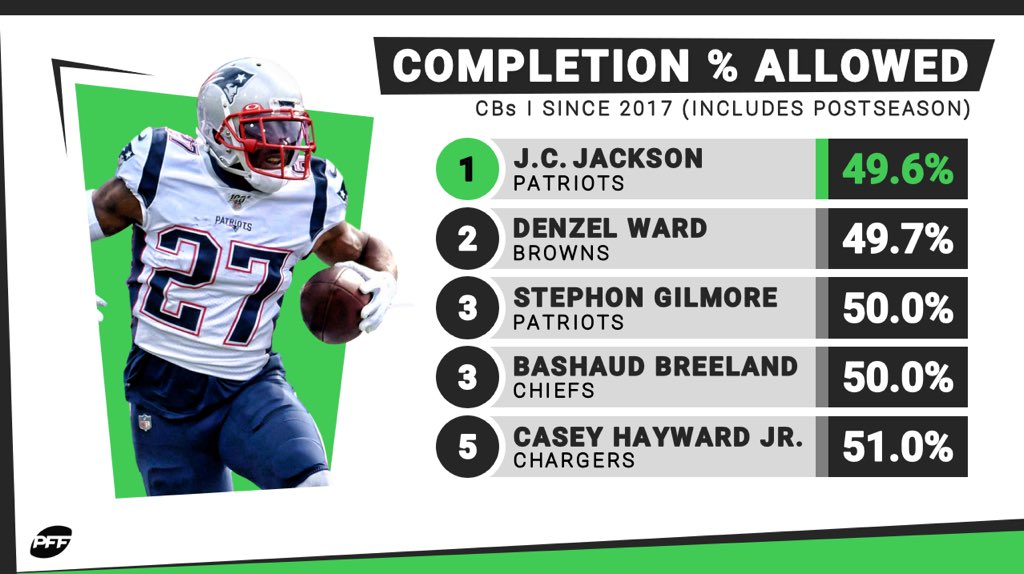 Stephon Gillmore and J.C Jackson create arguably the best cornerback duo in the whole of the NFL. Quarterbacks opposing the patriots secondary have struggled to find open receivers in the past and will continue to do so in the future.
Also read: Jalen Ramsey Contract: Rams CB signs 5 year extension , Becomes highest paid cornerback in NFL history
4. Richard Sherman
Team: San Francisco 49ers
5. Quinton Dunbar
Team: Seattle Seahawks
6. Marcus Peters
Team: Baltimore Ravens
7. Marlon Humphrey
Team: Baltimore Ravens
8. Casey Howard
Team: Los Angeles Chargers
9. Jalen Ramsey
Team: Los Angeles Rams
10. Byron Jones
Team: Miami Dolphins
---