Damar Hamlin Injury Video: Bills Safety Horribly Collapses Mid-Game After Taking a Hit; Worried Fans Gather Outside UC Medical Facility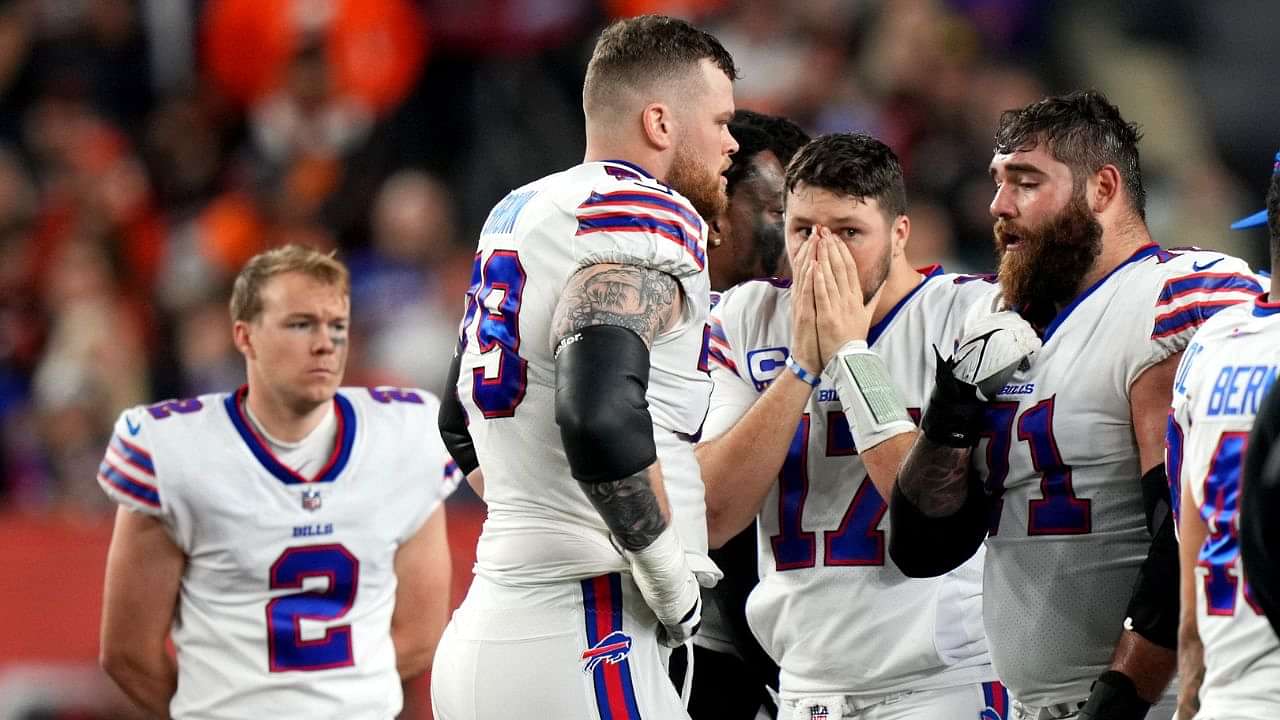 The NFL is one of the biggest leagues on the planet. A sport that pays you a lot if you are a player but at the same time, demands a lot from you as well. It ain't that easy money, it just ain't.
Sometimes, the hits footballers endure on the field, they end up having lifetime repercussions and we hope that doesn't turn out to be the case after what happened a few hours ago on MNF.
Last season's Super Bowl runner-ups, the Cincinnati Bengals took on this season's Super Bowl contenders, the Buffalo Bills. Fans were expecting a riveting encounter but something happened mid-game which really left every football fan absolutely shell-shocked.
Bills' young safety Damar Hamlin tackled Bengals Wide Receiver in the initial stages of the game and then quickly got up. Nothing seemed out of the ordinary until Hamlin abruptly collapsed and was unable to get up.
Loading embed tweet https://twitter.com/ben_kew/status/1610129300014993413?ref_src=twsrc%5Etfw
Also Read: Russell Wilson is Finally Getting Support From Broncos Teammates After Seething Criticism From NFL Community
Damar Hamlin is in critical condition at this point
Trainers rushed out immediately to see what had happened and soon, a stretcher was brought in. Soon after that, he was taken to the University of Cincinnati medical center in an ambulance.
"Hamlin received immediate medical attention on the field by team and independent medical staff and local paramedics. He was then transported to a local hospital where he is in critical condition," NFL said in a recently rolled out statement.
"Our thoughts are with Damar and the Buffalo Bills. We will provide more information as it becomes available. The NFL has been in constant communication with the NFL Players Association which is in agreement with postponing the game," the statement further read.
The players looked visibly distressed and the league took the right call to postpone the game. "The NFLPA and everyone in our community is praying for Damar Hamlin," the union's statement read. "We have been in touch with Bills and Bengals players, and with the NFL. The only thing that matters at this moment is Damar's health and well being."
Loading embed tweet https://twitter.com/JoeyDeBerardino/status/1610131186407428096?ref_src=twsrc%5Etfw
Right from his own teammates to the opponents, everyone sent out prayers for Hamlin's well-being. Moreover, both, Bengals and Bills fans have gathered outside the UC medical facility in support of the talented safety. As per recent updates, Hamlin's condition is still critical. We are all hoping that the star footballer recovers soon.
Also Read: Tampa Bay Star Blaine Gabbert Heroically Rescues Passengers After a Helicopter Crash
---