"Not Coming Here to be Drew Brees": Derek Carr's Message to the Saints Fans After Trade Ignites Twitter Troll Fest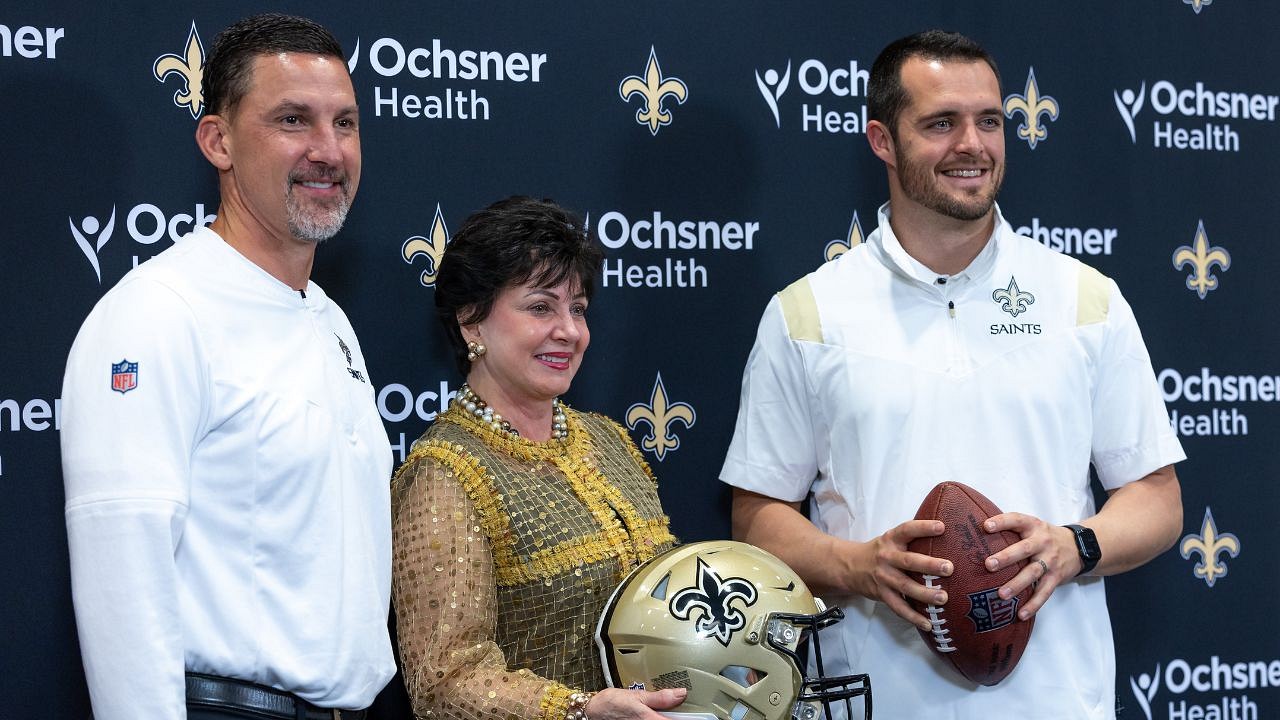 4x Pro Bowler Derek Carr, who started his stint with the Las Vegas Raiders in 2014, is finally going to feature for a different franchise in the upcoming NFL season. After a forgettable 2022 season, when Carr declined to waive the no-trade clause in his contract, the Raiders decided to let him go.
Given his credentials, it was evident that in a QB hungry market, someone will definitely rope him in without wasting much time. After getting released on February 14, Carr signed a new 4-year deal on March 6 with the New Orleans Saints. Moreover, the star QB has already started reaching out to Saints fans.
Also Read: XFL 3 Point Conversion: XFL Extra Point Rules Explained
Derek Carr gets trolled for his 'Drew Brees' comment
In a recent press conference, Carr thanked Saints' head coach Dennis Allen for valuing him as a quarterback. "The fact they(Saints) were even willing to trade for me, that meant something. That shows me that you are showing value without showing me value," Derek stated as per NFL.com.
While these comments show that Derek felt a strong emotional connect with the Saints' coach which ultimately made it easier for him to move on from the Raiders, his recent comment on Drew Brees in a possible quest to reach out to the New Orleans fan-base actually ended up sparking a troll fest on Twitter.
As reported by ESPN Saints reported Katherine Terrell, Derek recently claimed that he does not want to come to New Orleans trying to be like Drew Brees as all his focus is on establishing his own identity. "I'm not coming here trying to be Drew Brees. That man is a Hall of Fame quarterback. I'm coming here to be Derek Carr," the QB stated. While his intentions were clearly not wrong, several fans saw this as an opportunity to mercilessly troll him.
Nobody would ever confuse the two lol

— Draft AR15 (or get Lamar) (@247sportstalks) March 11, 2023
Derek Carr gonna Derek Carr. 😂 pic.twitter.com/LPipTSfKxe

— your real dad (@BeLikeCaseyG) March 12, 2023
Atleast he's honest about being mid

— AlecZeoli (@CarBombs4Evry1) March 11, 2023
LMAOOOOOOO 1 year of hard coaching under McDaniels broke this man 🤣🤣🤣🤣

— dee (@DylannJabroo) March 11, 2023
Brother can't even endorse himself

— Shane (@nomorekicks) March 11, 2023
Derek Carr's NFL contracts through the years
Derek Carr, after being roped in by the Raiders in the second round of the 2014 draft, had signed a 4-year $5.3 million rookie deal. On the back of numerous impressive performances, Carr was given a $125 million 5-year extension by the franchise in 2017.
Moreover, in 2022, he signed another extension with the Raiders, this time worth $121.5 million for a three-year period. However, the Raiders decided to let him go after a below-par 2022 season after which, he signed a fresh $150 million 4-year deal with the New Orleans Saints.
It will be interesting to see how the talented quarterback performs for his new team.
Also Read: How Much do XFL Coaches Make? XFL Coaches 2023 Salary
---
Share this article