"I've gone through situations where I haven't been chosen." Justin Fields isn't flustered after falling to 11th in the 2021 NFL draft.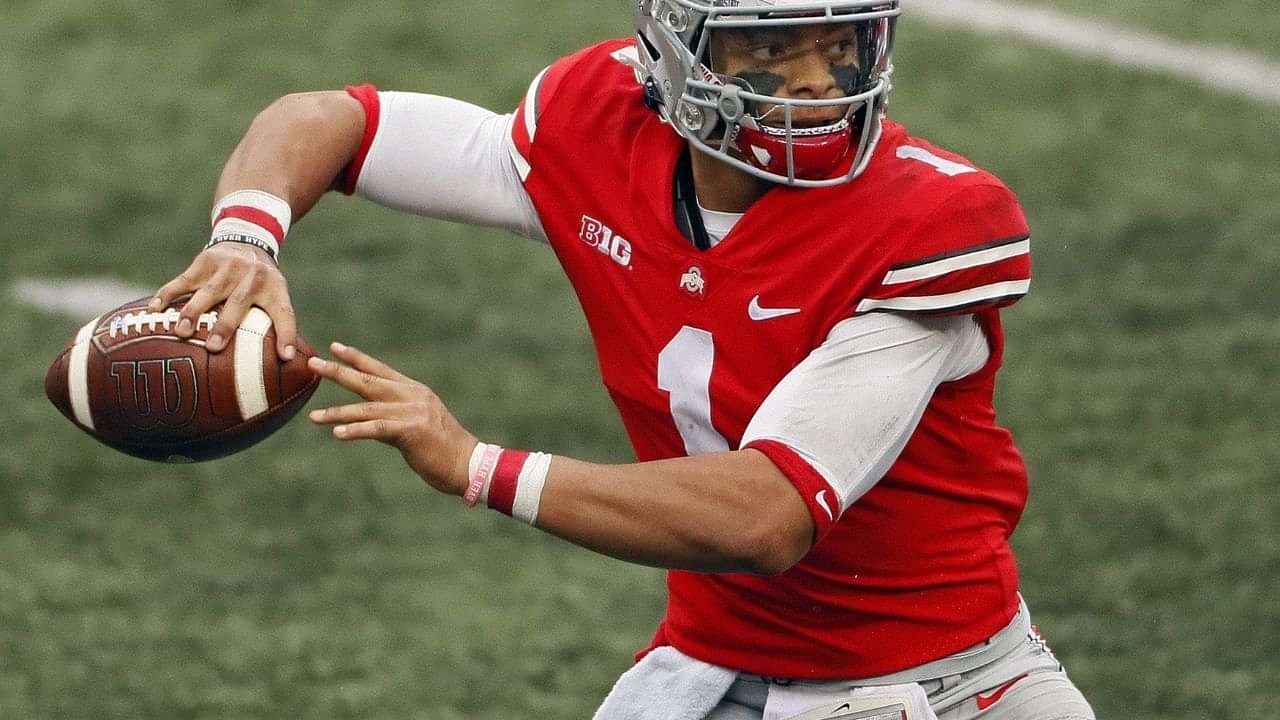 To all Bears fan's pleasure, Justin Fields was drafted by the organization after he fell out of the top 10 in the NFL draft. Justin Fields was rated by a lot of analysts as the 2nd best QB on the board. Which is why his slide out of the top 10 was uncharacteristic. But regardless of his doubters, Fields had a blunt message for all his critics.
In the biggest surprise of last night, the Chicago Bears traded up from 20 to No. 11 and selected Ohio State star QB Justin Fields to be their leader of the future. But even though he will be thrilled to be an NFL pro, it won't be a surprise to see him fall to becoming the 4th QB taken in the draft, even after having a spectacular collegiate career.
Loading embed tweet https://twitter.com/NFL/status/1387949841184026624?ref_src=twsrc%5Etfw
All he did this year was lead Ohio State to the national championship game, and absolutely obliterated Lawrence's Clemson Tigers in the process, in one of the most impressive performances of the 2020 college football season.
And even so, he was passed by two quarterbacks that essentially rode single big seasons to their picks, New York Jets No. 2 pick Zach Wilson, and San Francisco 49ers' No. 3 pick Trey Lance.
Loading embed tweet https://twitter.com/espn/status/1387928083114696709?ref_src=twsrc%5Etfw
Loading embed tweet https://twitter.com/BleacherReport/status/1387930101875019778?ref_src=twsrc%5Etfw
Justin Fields wasn't too flustered by being passed on my 10 teams
Fields has been privy to his fair share of doubters ever since he made the leap to becoming a college quarterback. Even though Fields was the No.2 prospect in the nation coming into college, Georgia HC Kirby Smart opted to play vet Jake Fromm over Justin. The following year, Fields opted to transfer to Ohio State, and took the whole nation by storm, on his way to becoming a 2-time Big 10 offensive player of the year.
And he made a subtle reference to his time at Georgia.
Loading embed tweet https://twitter.com/nwbaird/status/1387954926714822659?ref_src=twsrc%5Etfw

At the same time, he's excited to be in Chicago, with a team that clearly wanted him badly. "They're going to get a hard worker, a guy that's going to put himself out there to win every game. A leader on and off the field," Justin Fields said on Thursday night. "So I'm just excited and ready to go to work."
Justin Fields will hope to change the stereotype surrounding QBs in Chicago. And the Bears will hope he's the solution to quarterback issues that have plagued the franchise for years now. Regardless of whether he is QB1 at the end of training camp, it will be very interesting to see if Fields will be able to continue his magic in the Pros.
Also Read: "About time we got us a real quarterback.": Chicago Bears safety Eddie Jackson is stoked after Bears draft QB Justin Fields.
---